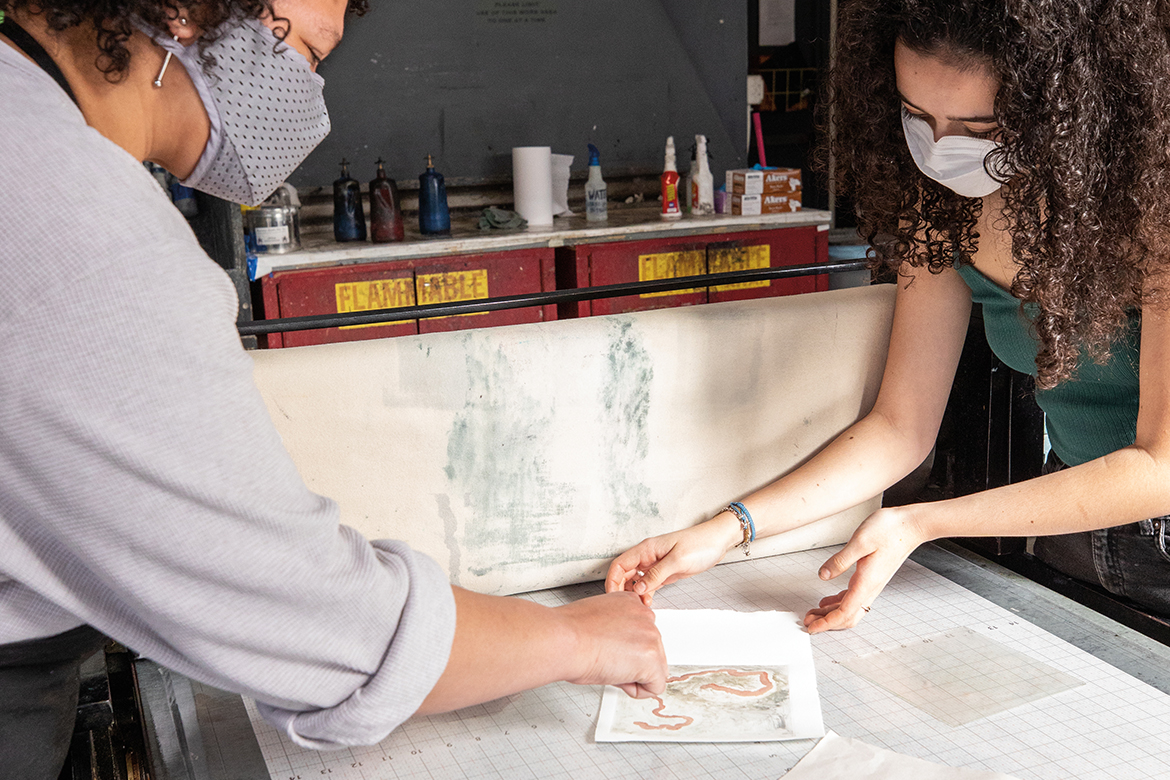 Discover how donors and volunteers are improving the lives of students, deepening our connections with each other and shaping the future of art and design.
Spring 2021
This issue features stories of generosity and creativity.  President Somerson reflects on her presidency as it draws to a close and the power of RISD to make change. Buoyed by financial aid, students discuss their creative work and experiences at RISD. Faculty and donors share how philanthropy supports teaching innovation and graduate education. Friends honor the legacy of Roger Mandle HD 09, who served as president of RISD from 1993–2008. The RISD Museum embarks on an exciting new effort to research and display Native North American works of art and design. Alumni bid farewell to Christina Hartley 74 IL P 09, a longtime leader of Alumni + Family Relations. Four volunteers share their strategy to engage alumni in the greater Boston area.
---
President Somerson reflects on her presidency as it draws to a close and the extraordinary potential of RISD to make change when we work together.
---
Rallying in Support of RISD
Generous community members are choosing to invest in the future of art and design education.
---
Drawing Inspiration from Family
Financial aid propels Hannah Latham 21 PH as she explores the lived experiences of her grandparents.
---
Exploring Material Possibilities
Miguel Lastra MFA 22 CR treasures the gift of time and the freedom to experiment that financial aid affords him.
---
Finding His Creative Voice
Scholarship support inspires Teddy Smarz 22 AP to push through challenging moments in the studio.
---
Celebrating an Enduring Friendship
Friends honor the legacy of former RISD president Roger Mandle HD 09 by supporting future generations of artists and designers.
---
Fast Retailing Foundation invests in the future of fashion by supporting RISD graduate students.
---
Integrating New Ways to Learn
Generous support from the Davis Educational Foundation and Fred M. Roddy Foundation spurs teaching innovation.
---
Accelerating Collections Care and Research
Philanthropy establishes a new Native North American Collections Fellowship at the RISD Museum.
---
The RISD community celebrates Christina Hartley 74 IL P 09, its beloved and longtime leader of Alumni Relations, upon her retirement.
---
Friendship-Forward Leadership
Leaders of the RISD Alumni Club of Boston work as a team to engage alumni throughout the greater Boston area and beyond.
---
RISD takes creative and flexible approaches to signature events.
---
Writing Our Story Together
RISD donors and volunteers help shape a brighter future for us all.
---