RISD Alumni Club of Los Angeles did a cleanup of Rosies Dog Beach for Founders Day. Photo by Jennifer Hale 93 PH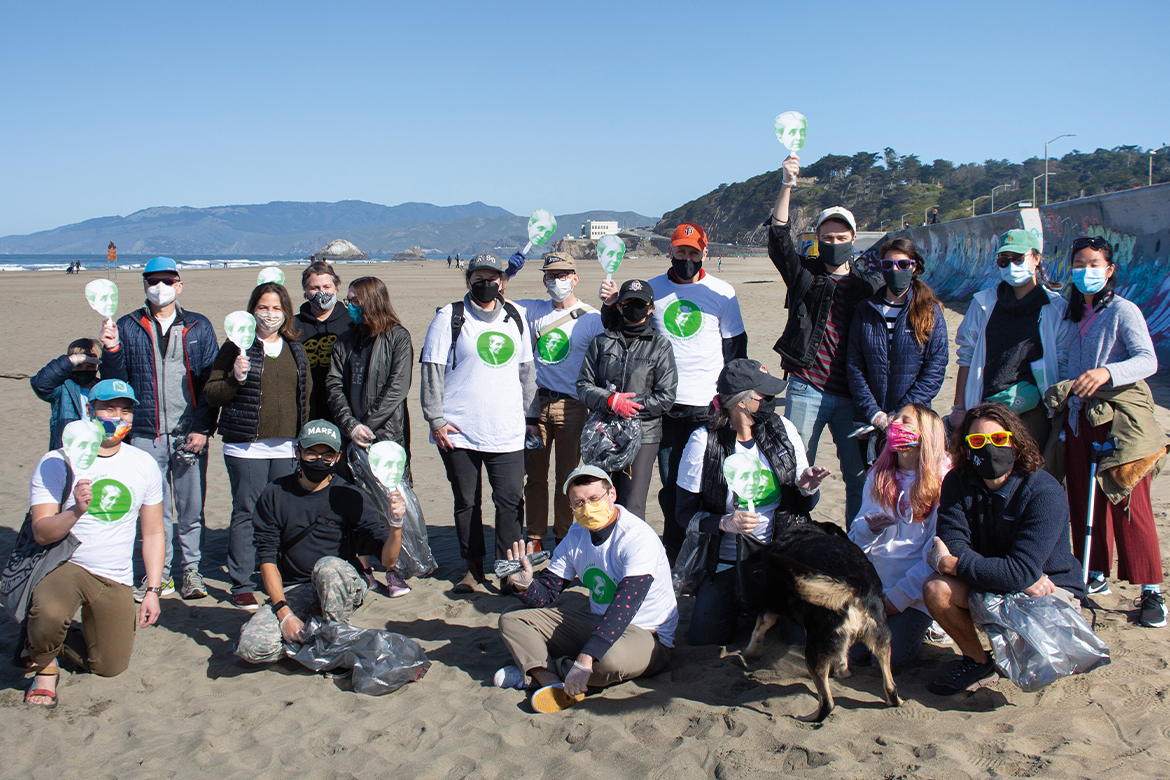 Adapting to Uncertainty
RISD takes creative and flexible approaches to signature events.
COVID-19 demanded a lot of change when it came to events in 2020. Some events, particularly early in the pandemic, were canceled outright, and others moved online. This year is requiring a similar nimbleness in planning.
RISD celebrated Founders Day this March. The inaugural event was held in March 2019 and has evolved into an annual event series commemorating RISD's founding on March 22, 1877. President Somerson kicked off this year's celebration on March 1 and mused about the women who took the bold step of founding a school for art and design at a time when the nation was retrenching from its post–Civil War Reconstruction commitments and struggling to heal deep political divisions. She channeled their optimism and determination and urged the community to join together in acts of service and to share their journeys as part of the RISD story.

Virtual events included an Archives and Special Collections Tour, an exploration of a few paintings and sculptures in the RISD Museum collection, an alumni panel featuring founders and another featuring alumni working in nonprofits. A land acknowledgment program led by Cassius Spears Jr. (Narragansett) and endawnis Spears (Diné/Ojibwa/Chickasaw/Choctaw) discussed the Narragansett landscapes upon which RISD was founded and explored ecological knowledge, kinship, culture, resilience and the reclamation work of tribal nations.
Regional alumni clubs and affinity groups held RISD Serves events, paying homage to RISD's founders through acts of service in their communities. Alumni club events included mask making for the homeless in Washington, DC, cleanups of Rosie's Dog Beach in Los Angeles and Ocean Beach in San Francisco, making cards for those making a difference in their local communities in Seattle, assisting the National Braille Press with assembling print/braille books for blind children in Boston and a cleanup of India Point Park in Providence. RISD Alumni for Social Impact organized a Zoom talk with the founder of Make a Mark, an organization connecting designers and developers with nonprofits in need.

Happily, Rhode Island is expected to raise its outdoor gathering limit to 1,000 people in May, making it possible for RISD to host an in-person degree conferral for the Class of 2021 on June 5. Due to state health guidelines, the ceremony will be livestreamed for families and the larger community. RISD also will survey the Class of 2020 about when they would like to have their in-person celebration and what they want for activities and programs.

Class reunions will be held during RISD Weekend, which welcomes families and alumni to campus for open studios and special programs. Classes ending in 0, 1, 5 and 6 are invited to return to campus this fall for reunions if conditions allow.
Mark your calendar!
Commencement June 5, 2021
RISD Weekend October 8–10, 2021
Founders Day March 22, 2022