Recipient of the Butler Family Graduate Fellowship and Windgate Foundation support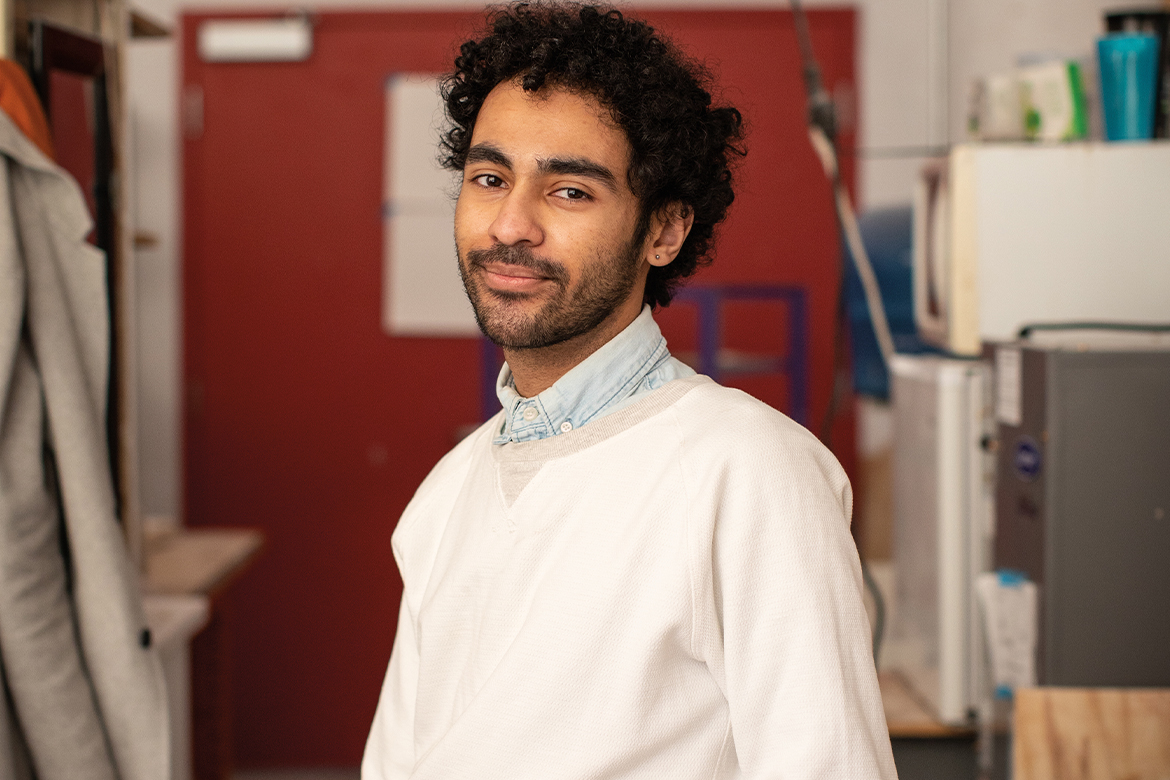 Exploring Material Possibilities
Miguel Lastra treasures the gift of time and the freedom to experiment that financial aid affords him.
Although his father offered Miguel Lastra MFA 22 CR drawing lessons when he was young, it was his first encounter with clay at age 15 that proved decisive. "While my mother urged me to translate my knack for academic writing into a career, I followed my passion and focused on sculpture," he recalls. "I later discovered the irony in this choice—my father has the unfulfilled dream of becoming a sculptor.

"RISD is known as one of the most influential art programs in the US. As I progressed in undergraduate ceramics, RISD kept appearing in conversations with professors in Albuquerque and among those with whom I studied in Prague. I decided to consider RISD to introduce another great element of growth in my practice," he says and is confident about his decision.

Resources like the Edna W. Lawrence Nature Lab have been pivotal to his experience. "I am exploring the potential of plant and insect collaborators, using computation, revisiting textiles and adding sound to some of my work. Showing respect, understanding and care for the materials I use is important to me, as is harnessing language and history. Clay is the focal point for many pieces. As a fundamental material in human history, it becomes a site for conversations as I transform it into figurative sculpture. Other materials augment these clay bodies and are integrated through installation," he says. "I explore ideas around mortality, anthropocentrism, interspecies collaboration, climate crisis, sustainability, queer bodies and space making through my work."
"The gift of time is a true currency that I have used to make great leaps in my work."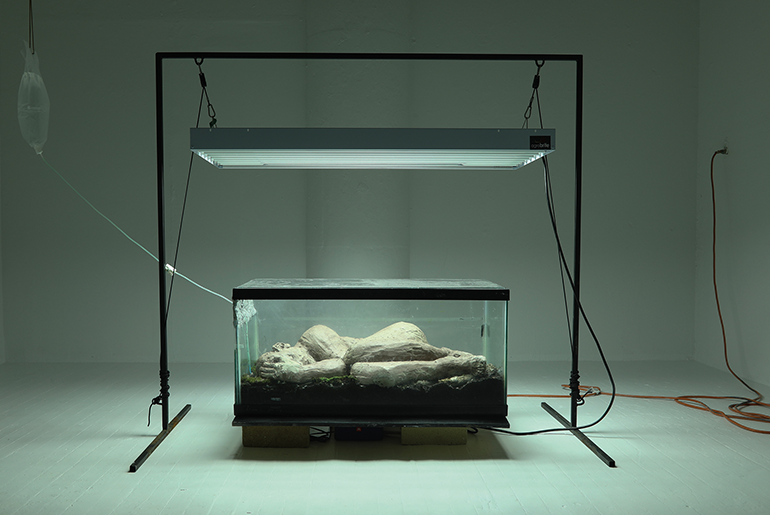 Lastra feels fortunate to be eligible for federal work-study and to receive support from the Butler Family Graduate Fellowship, recently established by Karen Butler Connell MFA 95 PT/PR, the Windgate Foundation and the Materials Fund. "Financial aid provides for the privilege of ease and risk taking in my studies. I came from the all-too-common reality of needing to work while I obtained my undergraduate degree. And while the lessons in that journey were plentiful, I can't help but reflect now on certain outcomes I might have had then had I received funding to focus solely on school. Here at RISD, assistantships and fellowships give me the flexibility to work within the institution and to spend more time on research and in the studio."
Hyperbiospheric Chamber #1, 2020, by Miguel Lastra conveys how the decaying body/society yields to nonhuman organisms. Interspecies union and the flattening of hierarchy of importance amongst "things" is key to transformation and expansion of possibilities.