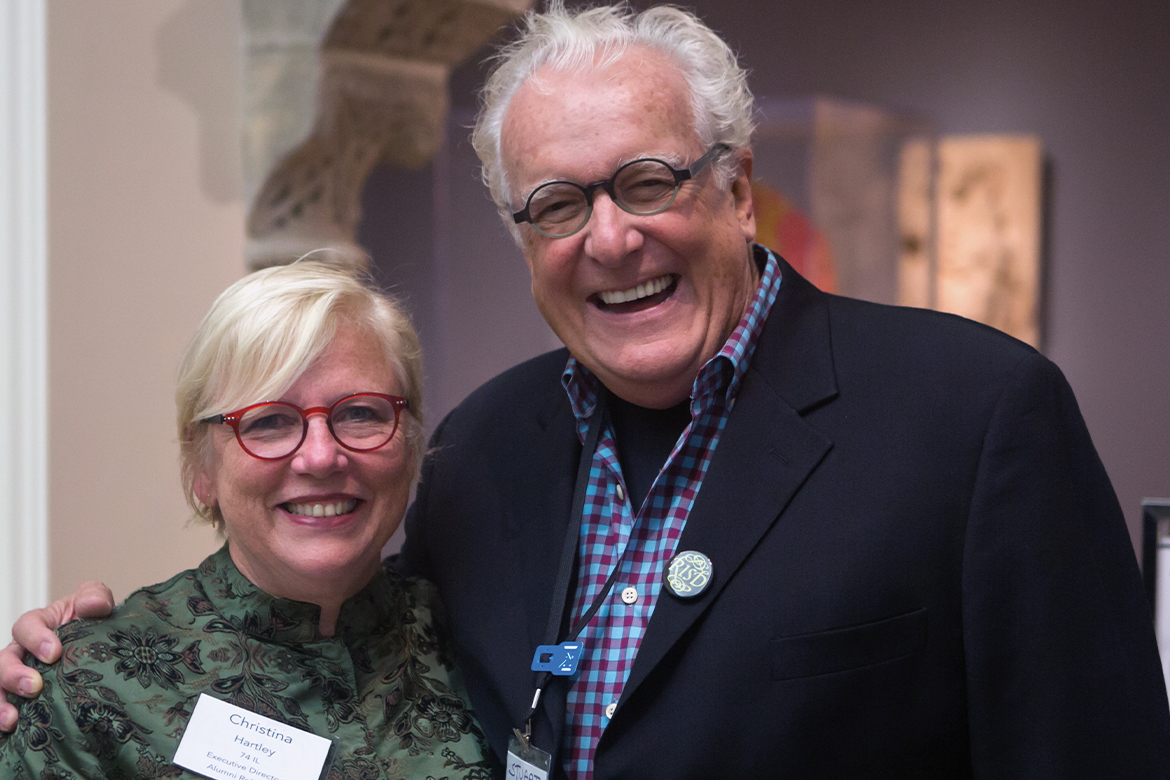 Paying Tribute
The RISD community celebrates Chris Hartley, its beloved and longtime leader of Alumni Relations, upon her retirement.
For more than 20 years, Christina Hartley 74 IL P 09 spearheaded RISD's Alumni Relations efforts and expanded programming to also serve RISD families. The reinvigoration of the RISD Alumni Association—which now boasts nearly 50 regional clubs and affinity groups—has been a priority of the Office of Alumni + Family Relations under Christina Hartley's leadership. She and her team also launched the new RISD Families Association last year. While there is a long list of accomplishments that could be cited, the true impact of her leadership is best described by RISD's volunteer leaders.

"It has been an honor to know and work with Chris for so many years. Her remarkable leadership has made the dreams of alumni be realized. For so long, many of us yearned to deepen global connections with each other and to more easily support RISD and its students," says RISD Alumni Association president Donald Choi BArch 82 P 07. "It has been exciting to watch so many new regional clubs and affinity groups form and offer such interesting programs. She and her colleagues have transformed the alumni experience and for this, we owe her a debt of gratitude."

"If the train was running smoothly, you knew Chris was in charge. The RISD trip to China in 2007 with Chris managing from the top continues to be a special memory, especially of bonding with fellow trustees and spouses," recalls board of trustees vice chair Richard Haining Sr. P 05.

"I remember Chris in crisp khakis, holding a clipboard, 40 years ago when she was a resident advisor for my dorm. Then, as now, she was efficient and serious about getting the job done, but with a twinkle in her eyes. She led then with warmth and energy, and that has not changed," says Amy Cohen 76 TX, chair of the RISD Club of Rhode Island. "Chris is a human repository of all things RISD and has been an invaluable resource for the school and the many alumni whose lives she has touched."

"Christina is a great supporter of alumni who want to be fully engaged and take initiative. We have become fast friends over the more than 15 years we have worked together, and she has been a constant cheerleader. She excels at getting things done—whether budget-restricted or blue-sky ideas—and this has made it possible for me to support RISD out in the world," says Becky Fong Hughes 05 GD, co-chair of the RISD Club of Boston. "She and her team elevated alumni engagement and built a structure to support its growth. We are in debt to her for strengthening the RISD alumni community."

"Chris was a big part of why I wanted to be involved with RISD after graduation. She's inclusive and nonjudgmental, and she thinks critically about how each of us can best contribute to the school. She also makes participating in alumni activities fun as well as informative," says Greg Kanaan 02 FAV, leader of the RISD Lawyers affinity group. "She makes us feel like a community and will be missed!"

"Chris Hartley is a dog person. This is funny because most of her career at RISD was spent herding cats and she is an exceptional cat herder. I met Chris when Laila Ahmadinejad 01 GD was then president of the RISD Club of Philadelphia. After Laila and Mike Martella BArch 91 tricked me into a leadership position, I had the pleasure of working with Chris for 13 years," recalls Marty Henry BArch 87. "She was able to shepherd our club to safety after a series of self-induced crises and magically made us look good. She gave us a vision, listened to our complaints, and found money for us in the cushions of her office couch."

To learn more about the many offerings of the RISD Alumni Association and RISD Families Association, please visit alumni.risd.edu and families.risd.edu.