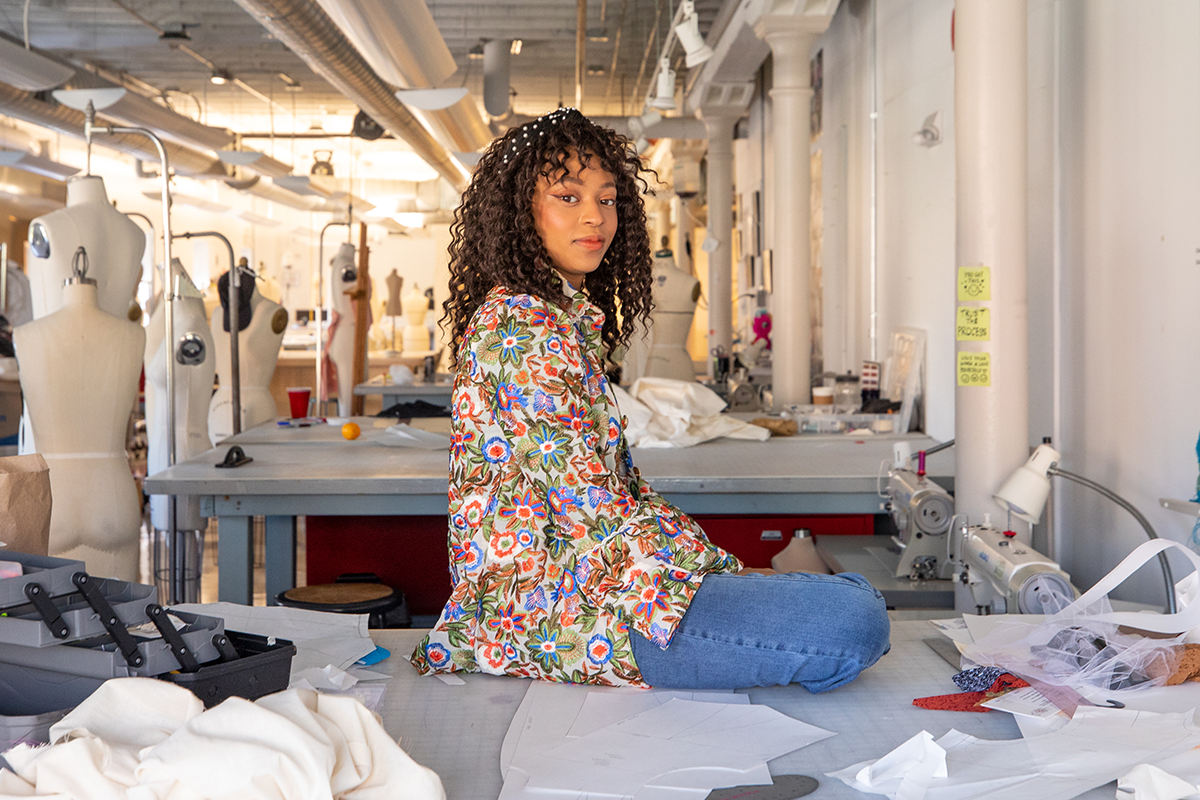 Stories of success and impact. Learn how donors and volunteers are making a difference for students, building community and securing a bright future for RISD students and faculty.
Fall 2022
In this issue of Momentum, be inspired by the many ways philanthropy supports possibilities, helping students to find their community, embrace their creativity and pursue their vision. Learn how alumni donors are providing the support needed to ensure that the next generation of RISD graduates has the opportunity to live their dreams and how a lifetime of giving is making it possible for the RISD Museum to deepen its connection to the community.
A few weeks ago, during Inauguration Weekend, RISD students, staff, faculty, alums, parents, and friends came together in a profoundly moving way.
---
Supporting Student Opportunities
RISD Limited Editions returns for Fall 2022 with another exciting collection supporting RISD students.
---
RISD Welcomes Eight New Presidential Fellows
The Society of Presidential Fellows program, which RISD launched in 2019 to fully fund exceptional students' graduate studies, grew significantly this year with three new fellowship opportunities: the LoveFrom, Presidential Fellowship, the Jerome Zimmerman (MFA 65 SC) and Salli Zimmerman (65 AE) Fellowship and the Maxwell/Hanrahan Presidential Fellowship.
---
Matthew Fabrizio 23 IL cannot remember a time in his life when he did not want to be an artist. With the help of two scholarships, he has found a community and new avenues for his art at RISD.
---
Support from a scholarship gives Sofía Carrera-Britten FAV 23 the freedom to articulate his creative vision.
---
Within a network of peers open to collaborating, Josephine and Bernard Chaus Scholar Sahara Clemons 23 AP has found the projects that speak to her.
---
A Scholarship for the Moment
Rafael de Cárdenas 96 AP likes design that speaks to the contemporary moment, and created a scholarship to support students as they pursue their own visions.
---
The Jerome Zimmerman (MFA 65 SC) and Salli Zimmerman (65 AE) Fellowship supports graduate students and honors Jerome's fierce dedication to his practice.
---
Through decades of volunteering and a new bequest, Gloria Winston deepens the RISD Museum's connection to the community.
---
Tech Trek Takes RISD Students to the Heart of the Bay Area's Tech Sector
With donor support and the help of alumni volunteers, RISD students get up close and personal with major players in tech.
---
Building Momentum Together
A powerful part of a Rhode Island School of Design education is the opportunity students have to develop within and with the support of a highly creative community. From collaborating with peers and faculty to finding a place in the lineage of RISD artists and designers, our students are part of an expansive but closely knit community.
---