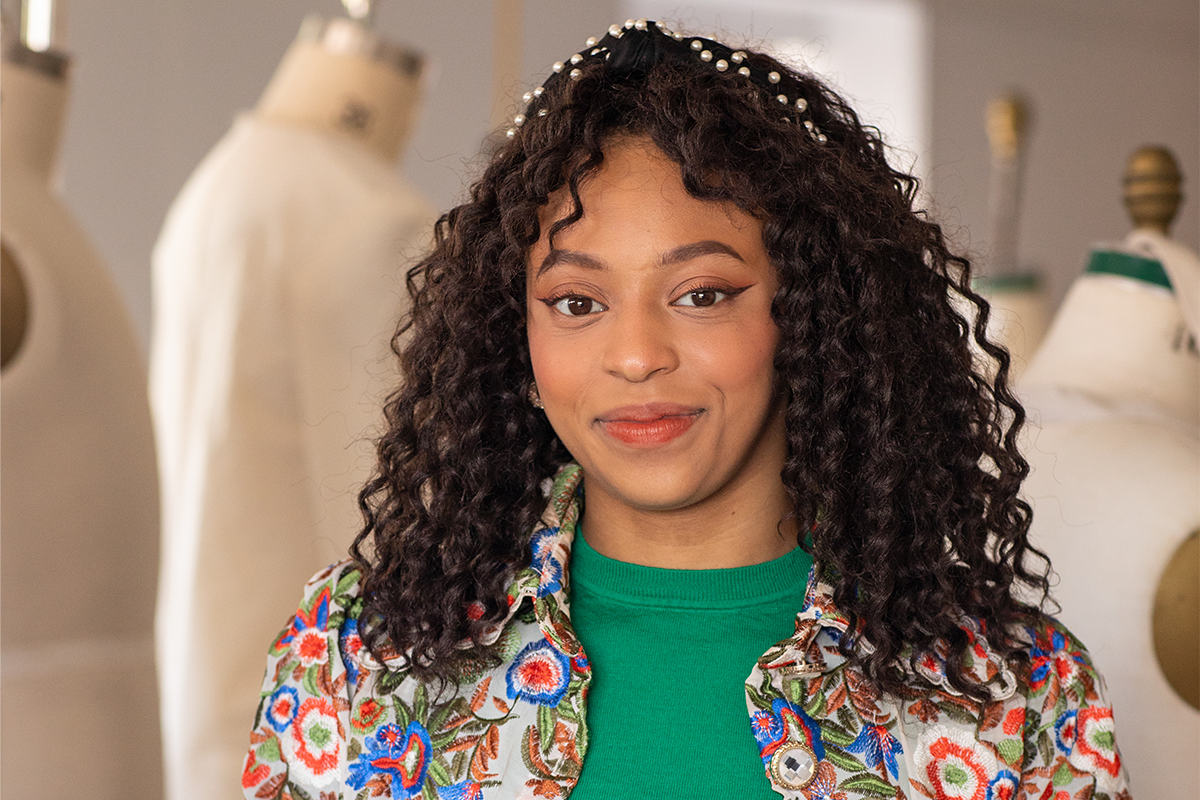 Building a Community
Within a network of peers open to collaborating, Josephine and Bernard Chaus Scholar Sahara Clemons 23 AP has found the projects that speak to her.
When Sahara Clemons 23 AP first toured RISD, she was impressed by the apparel facilities and the many tools, like laser cutters, available to students.

She liked that Providence was a good mix of her hometown of Charlottesville, Virginia and New York City—a combination of the familiar and the exciting. But what may have cemented her decision to come to RISD was a cookie.

"I'm allergic to a lot of things, and the Met had vegan chocolate chip cookies the day I visited so I was like, okay, this is the place," Clemons said, laughing. "This must be destiny." Also important to Clemons, who was awarded the Bernard and Josephine Chaus Scholarship, was feeling that RISD believed in her.

"Something I really appreciated when opening that scholarship letter was that others feel confident in my trajectory in and beyond college," Clemons said.

Clemons grew up painting, drawing and sewing. Starting at age seven, she took classes at a sewing shop in her hometown and learned to make apparel. At RISD, she considered majoring in painting or textiles, but chose apparel after realizing she could incorporate elements of those disciplines into apparel, which offered something extra as a wearable artform.

"The one thing I was missing in painting and textiles was that intimate quality the audience experiences with my work. When I make a garment, I can see someone wear it and it becomes alive on the wearer," Clemons said. "I can see it in motion on the body."

Clemons said she enjoys the math, pattern-making, trial and error and problem-solving apparel requires, and values being part of a community where she can explore multiple disciplines and learn from peers. "If I don't have the full skills or the full knowledge necessary for work associated with one major, there are people here that are friendly and want to build something together," she said.

Building things can range from collaborative projects to essential support networks. Clemons' friends helped her feel like she had a family on campus during the strange early days of the COVID-19 pandemic, and friends contributed to a major project during her sophomore year in which she responded to an open-ended prompt to create a garment specific to her identity. Clemons wanted to explore traditional Black hairstyles, specifically braids, and made a corset and skirt out of synthetic pink braided hair. A Film/ Animation/Video major made a video featuring the garments, and incorporated recorded comments from Clemons' friends.

"I was able to have a share circle with the Black women that I've met here at RISD and have a two-hour conversation with them that was recorded, discussing our dilemmas and laying out how Black hair has affected us, how being a Black woman has affected us walking through life. That was really powerful for me just because I hadn't gotten to experience that," Clemons said. "And the video itself is something I was really happy with. It was a pivotal moment at RISD."
"If I don't have the. . . full knowledge necessary for work associated with one major, there are people here that are friendly and want to build something together"
Another important moment for Clemons was having her first apparel piece selected for the Black Biennial, an April 2022 show that featured work by Black RISD students, staff and alumni and by Black artists and designers from the Providence area. She was honored to be included and excited to be exposed to the work of the broader community beyond RISD.

Clemons aims to spend her final year at RISD balancing studio and academic work with more deep-rooted engagement with clubs, including a Black feminist reading group, a book club and Black Artists and Designers, a student-led creative community informing and promoting Blackness and its intersections at RISD.