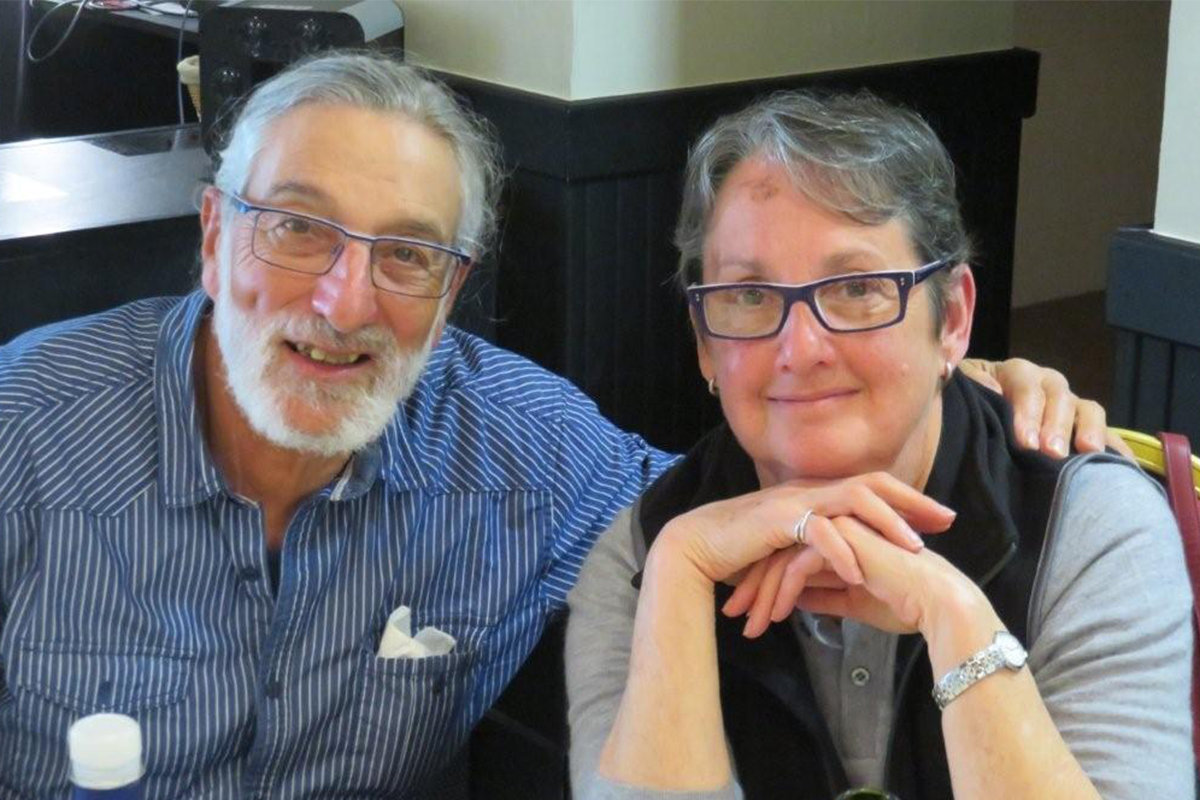 Life and Legacy
The Jerome Zimmerman (MFA 65 SC) and Salli Zimmerman (65 AE) Fellowship supports graduate students and honors Jerome's fierce dedication to his practice.
Jerome Zimmerman MFA 65 SC played many roles. A long-time teacher. A Brooklynite who didn't want to live anywhere but New York— until he traveled to France, enrolled in intensive language courses and discovered the joy of village living and good camembert. Husband to Salli Zimmerman 65 AE for 56 years. And, above all, a sculptor for whom making was a way of life.
Now, a fund created in his memory will make an artist's life possible for new generations of RISD graduate students.

"He described making art as setting a problem for yourself and grappling with it over time," Salli explains. "His work was very intricate, and people would say, 'Well how long did it take you to make this?' And he'd say 'My whole life.'"

In that life, Jerome displayed a dual commitment to art and education. The son of parents who didn't complete high school, he was grateful for the scholarship that made RISD possible and the faculty members who took students' ideas and ambitions seriously. In his 35-year career as a professor and administrator at Long Island University's Post campus, he viewed his students' work with the same level of respect.
"His work was very intricate, and people would say, 'Well how long did it take you to make this?' And he'd say 'My whole life.'"
"Teaching was not secondary to his art practice, it was a corollary," says Salli, who also made a career in art education. "It was important to him to show students that making art was something that was real, something that was serious."

In retirement, the Zimmermans began spending more time at their home and studios in southern France. It was there that they began conversations about how they could continue to support generations of students. When Jerome became ill, and, in 2021, passed away, friends and family were not able to be there due to pandemic travel restrictions. Many were eager to find a way to memorialize his life, including Salli's brother, Michael Putziger, and his former spouse, Myrna Putziger, who were close friends to Jerome. Like Salli, they knew that art and art education was his legacy.

The three joined together to create the Jerome Zimmerman (MFA 65 SC) and Salli Zimmerman (65 AE) Fellowship, which supports a RISD graduate student in Fine Arts. In addition to this initial gift, Salli has created a bequest by including RISD in her will so that the fund will continue to grow and eventually become a Presidential Fellowship, a fellowship for highly talented graduate students.

RISD is the perfect place to establish Jerome's legacy. It was, after all, where he and Salli met as students, at a dinner hosted by Hardu Keck MFA 64 PT, who would go on to serve as a chair of Foundation Studies and later, as provost.

Remembering that dinner, Salli, who grew up in Montreal, laughs and says, "I swore I'd never date a man from Brooklyn!" But despite her reservations, the sculpture student and the painting student found a deep connection and married not long after graduation. They settled in Jerome's beloved New York, where he started his career at Post and Salli attended graduate school at Pratt Institute before becoming a faculty member at Nassau Community College.

Salli believes that creating the fund is the best way to honor her husband's life and passion. "Jerome had a number of exhibitions," she says, "but that wasn't his reason for making art. It was the way he expressed himself. The best way to describe it is that Jerome thought that making art was the most important thing in his life. And he was very aware of how being a RISD graduate student made that possible."
Photo credit: Jerome and Salli, who met at a dinner party at RISD, were married for 56 years. Courtesy of Salli Zimmerman