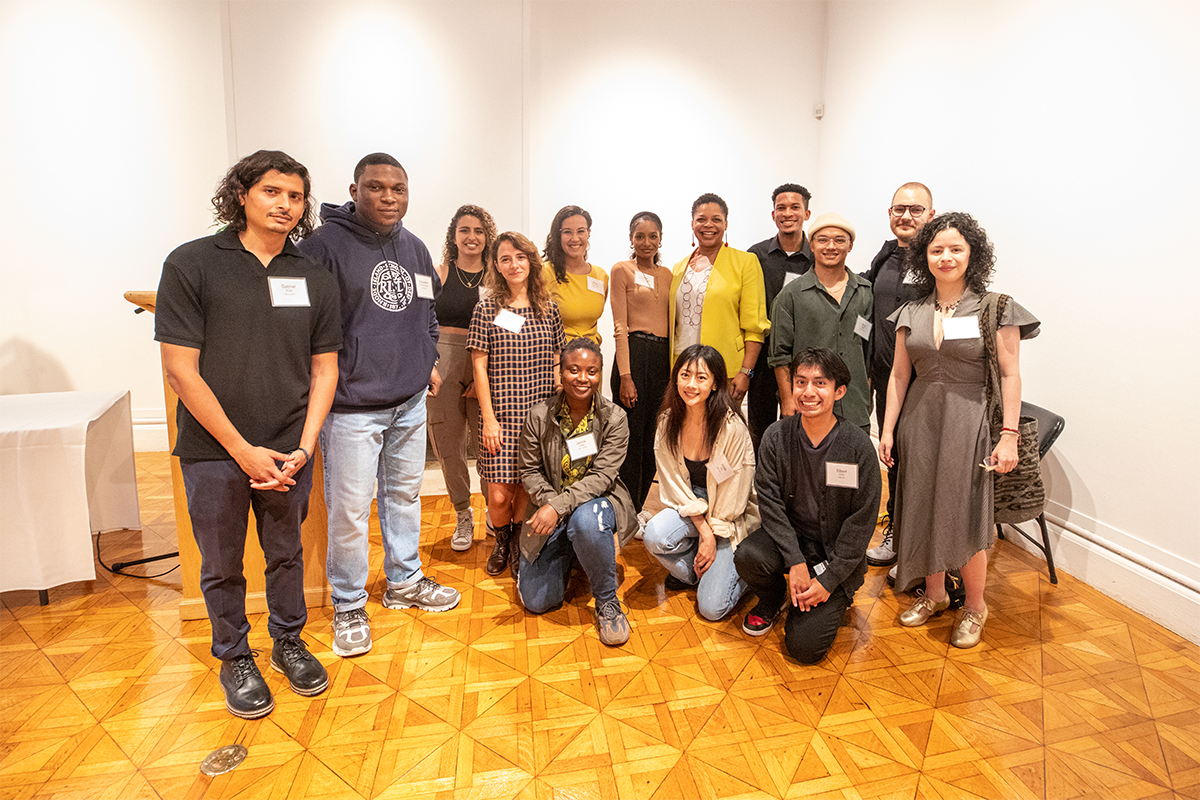 RISD Welcomes Eight New Presidential Fellows
The Society of Presidential Fellows program, which RISD launched in 2019 to fully fund exceptional students' graduate studies, grew significantly this year with three new fellowship opportunities: the LoveFrom, Presidential Fellowship, the Jerome Zimmerman (MFA 65 SC) and Salli Zimmerman (65 AE) Fellowship and the Maxwell/Hanrahan Presidential Fellowship.
The program offers robust opportunities and full support for graduate students like Zoë Pulley MFA 23 GD. Pulley, the recipient of the Hillary Blumberg (92 FAV) Presidential Fellowship, was part of the first group of presidential scholars and is on track to finish her master's this spring. Zoë, who was asked to speak to the incoming class at the opening convocation of the 2022 academic year, gave advice to the assembled students that reflected her own approach to student life at RISD: "Take advantage of everything!" she said. "Meet all the people, do all the things and make all the stuff."

Among those Zoë was addressing were the eight members of the third cohort of Presidential Fellows. This group brings to 24 the number of advanced degree students who have come to RISD through the program. Selected through a highly competitive process, the fellows receive faculty mentorship and career development opportunities as well as funding through the program, and add great vitality to RISD's creative community.

Husna Swaleh Abubakar MFA 24 GD
LOVEFROM, PRESIDENTIAL FELLOWSHIP
BS Graphic Design & Business Management, Pensacola State College

"I will be the first to receive a master's in my family, and to be able to attain a high level of education will change the trajectory of my lineage. It sounds dramatic, but it truly has changed everything for me and how I see my future moving forward after having attended RISD."

Husna Swaleh Abubakar was born in Mombasa, Kenya, and grew up in the United States. While pursuing her master's degree in graphic design at RISD, she plans to use the medium of print design to explore Swahili as a cultural identity, focusing in particular on questions about pre-colonization versus modern Swahili identity. Abubakar intends to use an interdisciplinary approach, incorporating typography, print media, photography, textiles and film, and she looks forward to being part of a guiding and open environment.

Yasmine Awad Hassan MID 24
BUILDING TALL PRESIDENTIAL FELLOWSHIP
ScB Mechanical Engineering, Brown University

"Beyond exploring conventional industrial design, I'd like to understand how to collaboratively launch spaces and initiatives that dare to glimpse beyond the limiting norms and repressive politics of existing sectors."

Yasmine Awad Hassan is an engineer and artist interested in how civic participation can democratize design practices. Having taught for several years, at RISD Yasmine will focus on developing her own practice, exploring how affective computing and art might give voice to underrepresented populations through narrative, empowering marginalized people to reshape their environments and examining how designers can create affordable, culturally-competent educational opportunities within formal and informal contexts.

Anuj Malla MFA 24 FD
PRESIDENTIAL FELLOWSHIP
BFA Painting, Maryland Institute College of Art

"My goal is to learn more advanced skills and techniques to elevate my work from experimental furniture to products with high quality of consideration. I want to produce one-of-a-kind objects with potential for small-scale production."

Anuj Malla is fascinated by the history of everyday objects and the way mass production of such objects strips them of flaws, and therefore of qualities that he sees as essential to the human experience. His works include objects like a chair made out of a playground slide and part of a wicker chair, a mismatch of parts that provokes frustration and discomfort as users struggle to make the chair conform to their expectations. Anuj describes his approach to furniture design as congruent with how he approaches installations; he considers installation a space to explore ideas in the abstract where he is free to be highly experimental and intuitive.

Aaron Neal MA 23 AR
HILLARY BLUMBERG (92 FAV) PRESIDENTIAL FELLOWSHIP
BA Architecture and Interior Architecture, Auburn University

"Through adaptive reuse, communities can be revitalized while helping the environment and exploring a new language through architecture… Instead of a community changing overnight, a more gradual change will benefit the existing residents. By separating the shell from the program, communities can be stitched back together."

Aaron Neal is deeply concerned about urban expansion and sprawl, and the impact those phenomena have on African American urban communities. He intends to explore the use of light, transparency and redundancy within interior spaces to allow communities to rewrite their futures through adaptive reuse. Rather than have a space be defined by a single function, Neal values spaces that can adapt to different uses so a range of meaningful experiences can be had within the shell of a building.

Boluwatife Promise Oyediran MFA 24 PT
HILLARY BLUMBERG (92 FAV) PRESIDENTIAL FELLOWSHIP
BFA Painting and Graphics, Emmanuel Alayande College of Education, Oyo, Nigeria

"As I consider working at Rhode Island School of Design, my work and life experience give me confidence. I am as much a writer as I am a painter; I express ideas that I cannot visually represent on canvas in forms of short stories."

Boluwatife Promise Oyediran is a writer and painter working primarily with figuration and text. His practice is informed by a deep commitment to reimagining and reorienting Blackness in the canons of history, religion and Western art, using cotton as an essential symbol of interrogation. Currently at work on his first novel, Oyediran is excited to join the literary and creative community at RISD and Brown, and is looking forward to a rigorous studio experience, mentorship opportunities, critique and interdisciplinary explorations.

Shey 'Rí Acu' Rivera Ríos MA 23 GAC
MAXWELL/HANRAHAN PRESIDENTIAL FELLOWSHIP
BA Psychology and Sociology, University of Puerto Rico, Río Piedras

"As time passes, we continue to see the strong impact of art, culture, narrative, and storytelling as drivers of social transformation. I'm a 'weaver' and a 'creator', with a goal of aligning people across sectors and identities to make sense of our society, envision new possibilities, co-create liberatory systems, and center care-based practices. I'm passionate about the connections between culture, self-determination, and civic infrastructure."

Shey 'Rí Acu' Rivera Ríos is an interdisciplinary artist, community organizer and cultural strategist whose educational background includes graduate studies in contemporary media and culture at the University of Sagrado Corazón in San Juan. Having worked for 12 years in the arts, Ríos is passionate about helping communities and artists realize justice through creative practice with a social impact. Their practice is informed by the frameworks of design justice principles, participatory action research and critical race theory, and centers storytelling and agency over one's narrative to find a path toward decolonization.

Rosanna Valencia MArch 24
BUILDING TALL PRESIDENTIAL FELLOWSHIP
BS Architecture/ minor in Environmental Design, University at Buffalo.

During her undergraduate studies Rosanna Valencia was selected to conduct research at the Food Systems Planning and Healthy Communities Lab, where she applied her interests in community engagement and people centered design. Her research focused on the effects of design on food accessibility in the cornerstones of an under-resourced neighborhood. Rosanna is passionate about advocating for students. As an undergraduate student she was a founder and served as president of AASAP, a student-led club catering to African American Students of Architecture and Planning. Her artistic interests in painting are inspired by her upbringing in the Dominican Republic and they include exploring the roles of migration and memory in space-making for migrant groups. At RISD she is looking forward to being engaged with the artistic community, interdisciplinary classes and mentorship opportunities to expand on her talents and interests.

Angie Zou MFA 24 IL
HILLARY BLUMBERG (92 FAV) PRESIDENTIAL FELLOWSHIP
BS Neuroscience, University of Michigan, Ann Arbor

"I've found that my way of touching hands between my multicultural experience and the mainstream culture is through the confluence of illustration with new media. …Art has always been the vehicle I use to achieve greater freedom, connection and understanding."

Angie Zou makes art rooted in her experience growing up in a polygynous Chinese, Hmong and Cambodian household in suburban Michigan. In her work, she strives to cross the boundaries of age, language and socioeconomic barriers. At RISD, Angie plans to devote herself to deepening the poetic narrative of her illustrations and build her understanding of critical theory. She also plans to investigate practices in printmaking, textile design, 3D design and painting to create multimedia art that carries greater conceptual and historical complexity.