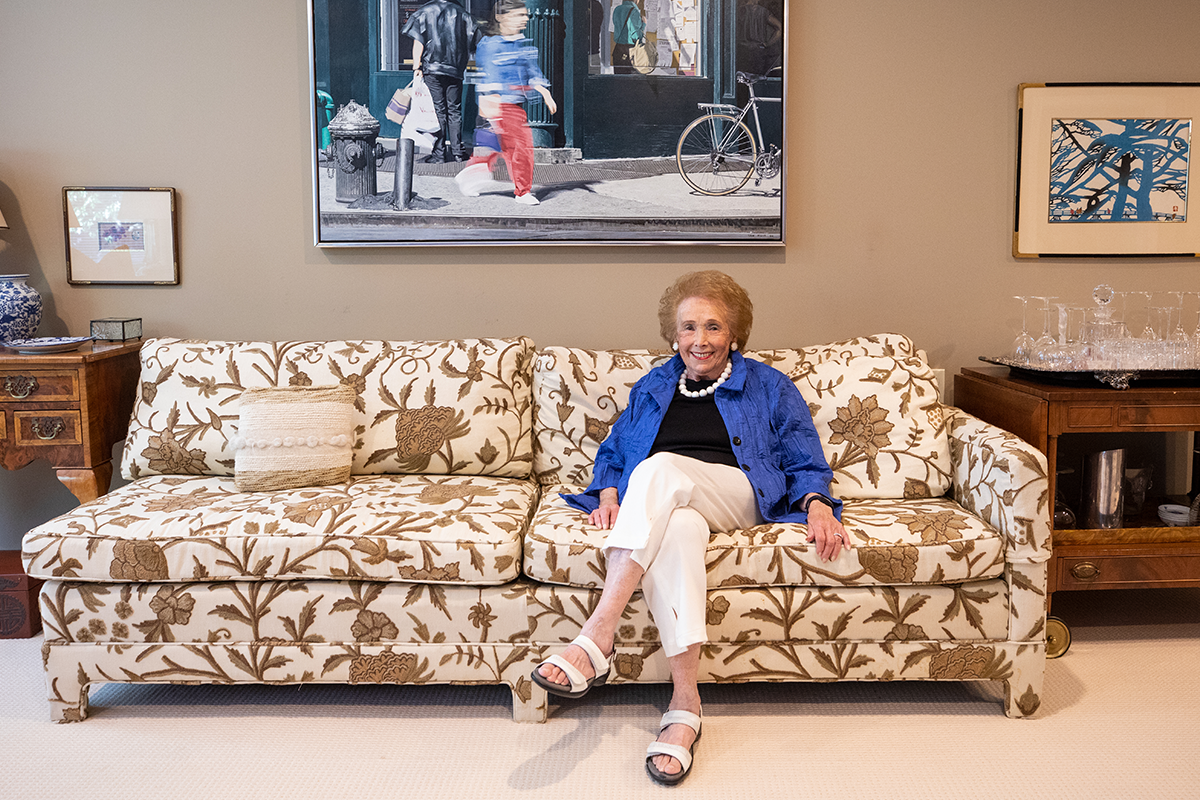 A Lifetime of Giving
Through decades of volunteering and a new bequest, Gloria Winston deepens the RISD Museum's connection to the community.
You never know what can happen until you ask. You might start out at a dentist's office and end up meeting Frank Lloyd Wright. During the Second World War, a then-single Gloria Winston was visiting her brother-in-law, a dentist who treated soldiers stationed in Madison, Wisconsin, when he asked a soldier to take her out on a date. That soldier turned out to be the famous architect's apprentice, and he took Winston to Taliesen, Wright's home, studio and school (and now a UNESCO World Heritage site), where Wright showed Winston his drawing book containing his designs for the Guggenheim Museum.
Winston laughs recalling this turn of events, saying, "Well, I have had a long life, and I'm curious about anything and everything."

Winston's life is and has been characterized by asking—asking herself and others to give their time and resources to support their community, build institutions and create opportunities. "I was brought up this way," Winston said of her commitment to volunteering, which her mother instilled in her and her sisters. "Volunteerism was always a way of life."

Winston's volunteerism has had a striking impact at RISD and the RISD Museum. With her late husband, James, who was a RISD Trustee from 1982 to 1996, she helped establish the Winston Clock Tower in Homer Hall. A Providence native, she has been a RISD Museum member since childhood and a longtime volunteer with the Museum Associates, who host museum events and support its annual fund, as well as a member of the Radeke Circle, a group of the museum's most loyal members and supporters who strengthen the museum's core curatorial, educational and community activities. In the 1970s, she reached out to people all over the state to support the first capital fund drive for the museum.

"The thing is, it may be the Rhode Island School of Design Museum, but it really is the museum of the state," Winston said, "so the whole community should support this museum." Winston has also worked to ensure that the museum serves the community through public programming. With her husband, she established the James W. and Gloria M. Winston Scholarship at the RISD Museum, which for 30 years has supported art education programs at the museum for local K-12 students. Those programs include RISD Art Circle (RAC), which enables a group of young artists and art enthusiasts to explore the collection, activate the museum galleries through events, interpretative projects and community collaborations, as well as summer programs, family programs and artist studio show-and-tell events.

"Any outreach program specifically for children gives them an opportunity to experience something they never would've had the opportunity for otherwise," Winston said. "These programs are sometimes the only option they have to see and touch real art."
"Any outreach program specifically for children gives them an opportunity to experience something they never would've had the opportunity for otherwise."
Winston values the museum collection for the way it allows visitors to engage with global culture. As a child, she loved the Buddha Mahavairocana, a twelfth-century wooden sculpture at the museum, and when asked about the collections, that piece leapt to her mind first. Visiting the Buddha has also been her way of introducing her children, grandchildren and great-grandchildren to the museum. Having traveled widely, Winston learned about the places she visited through museums, galleries and cathedrals. "That's how you see what the world looks like," she said.

Through her scholarship fund, young people can both learn about art on a global scale and, particularly through the RAC, partner with the museum to diversify the collection and incorporate community voices into its acquisition and curatorial practices.

Recently, Winston decided to join the Jesse + Helen Rowe Metcalf Society by including RISD as a beneficiary in her will and adding significantly to the James W. and Gloria M. Winston Scholarship at the RISD Museum. Winston has given her time and resources to many community and cultural institutions, including Providence's Miriam Hospital, Butler Hospital, Trinity Repertory Company, Rhode Island's Camp JORI and others, and she says building her commitment over time has been important.

"You may start with something, just a little at first," she said, "but it grows through the years and becomes something big. It's been exciting for me to see how our RISD Museum has grown to be world-renowned."