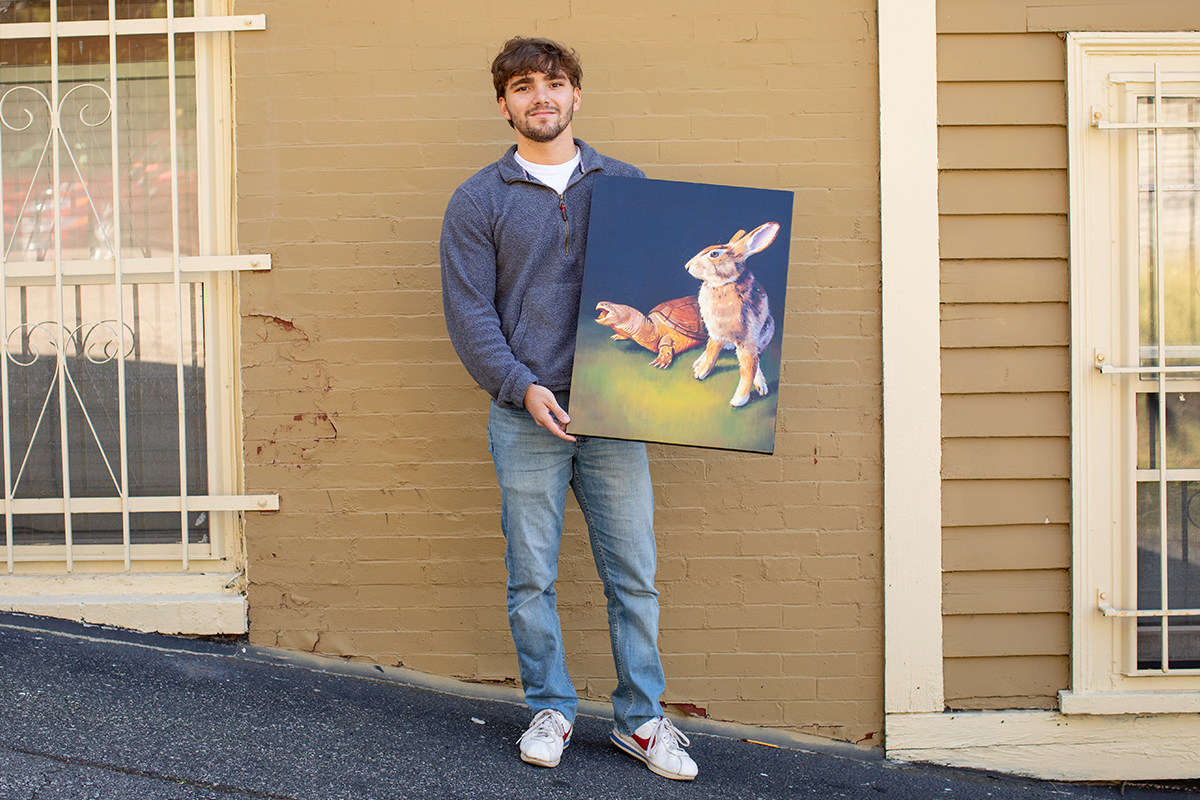 Finding His Place
Matthew Fabrizio 23 IL cannot remember a time in his life when he did not want to be an artist. With the help of two scholarships, he has found a community and new avenues for his art at RISD.
"Even when I was little, my only thought as to what I wanted to do in the future was to be an artist," he said. "So, when it came time to apply to colleges, the only ones I applied to were art and design schools."

Well before he graduated from high school in Mendham, New Jersey, Fabrizio was familiar with RISD, both by reputation and because he had visited several times while an older cousin was enrolled. He said it was a "no-brainer" to choose RISD after he was accepted, especially with the help of two scholarships, the Grand Long Holdings Ltd. Scholarship and the Susan W. Dryfoos and the JRS Dryfoos Charitable Lead Trust Scholarship.

"The scholarships allow me to be in this environment and pursue my dream of attending this school," Fabrizio said. Initially interested in graphic design, Fabrizio chose to major in illustration after touring the Illustration Studies Building.

"I thought it looked like a great place to create art," Fabrizio said. "The studios, the senior cubicles, the painting studios and workshops, it just looked like a place where you could do almost anything."

At RISD, Fabrizio has experimented with digital tools and explored new styles, building on a fine arts background that, prior to college, helped him make artwork he describes as traditional. Currently, he is experimenting with a version of background art—the background against which the action of animated characters takes place—that is inspired by a midcentury cartoon vibe, like Warner Brothers Cartoons' Looney Tunes. But rather than just support a foreground narrative, Fabrizio's works are designed to stand alone. The format allows him to dispense with "fine arts worries," he says.

"Perspective is just out the window, lighting making sense is out the window, things being parallel is all out the window too. It's really just about having fun and making mistakes that turn into a very interesting element in a finished piece," Fabrizio said.

Fabrizio's work has also been influenced by his summer 2022 internship at Hasbro, where he was a graphic design intern in the publishing department. "It was a wonderful experience," Fabrizio said. " I learned so much about working in a corporate environment. Lending the things I learned at RISD to that setting was just really fun, and it inspired me to do a lot more with my own personal work. I loved that position a lot, and I'm kind of upset that it ended," he said.

Fabrizio said his internship, the "giant selection" of classes and great professors have helped him find his path at RISD, but "talking to friends, talking to artists and collaborating with them is the number one thing that will help you figure out what you want to do."

"Even if a rambling conversation doesn't have to do with art, it often inspires some sort of art," Fabrizio said. "It just feels like a magical moment where you wake up the next day, and you think, wow, that meaningless conversation is going to help me in this next drawing."

Fabrizio's comfort at RISD is something that developed over time. Having grown up in a small, close-knit community surrounded by his large family—Fabrizio is a triplet, with siblings at the University of Rhode Island and the University of South Carolina—adjusting to life at an urban art college took some doing.
"The senior cubicles, the painting studios and workshops. . . [RISD] just looked like a place where you could do almost anything."
"RISD is a generous community. It's a beautiful art community and, at the same time, it's a very wacky, crazy place," he said. Fabrizio said he does not think of himself as wacky, but as "an average guy that is talented at art," and that is all he needed to thrive at RISD—that, the community he built here, and the scholarships that brought him here. "I wouldn't have met the friends that have helped me so much without this generosity," he said. "That's been a huge factor."