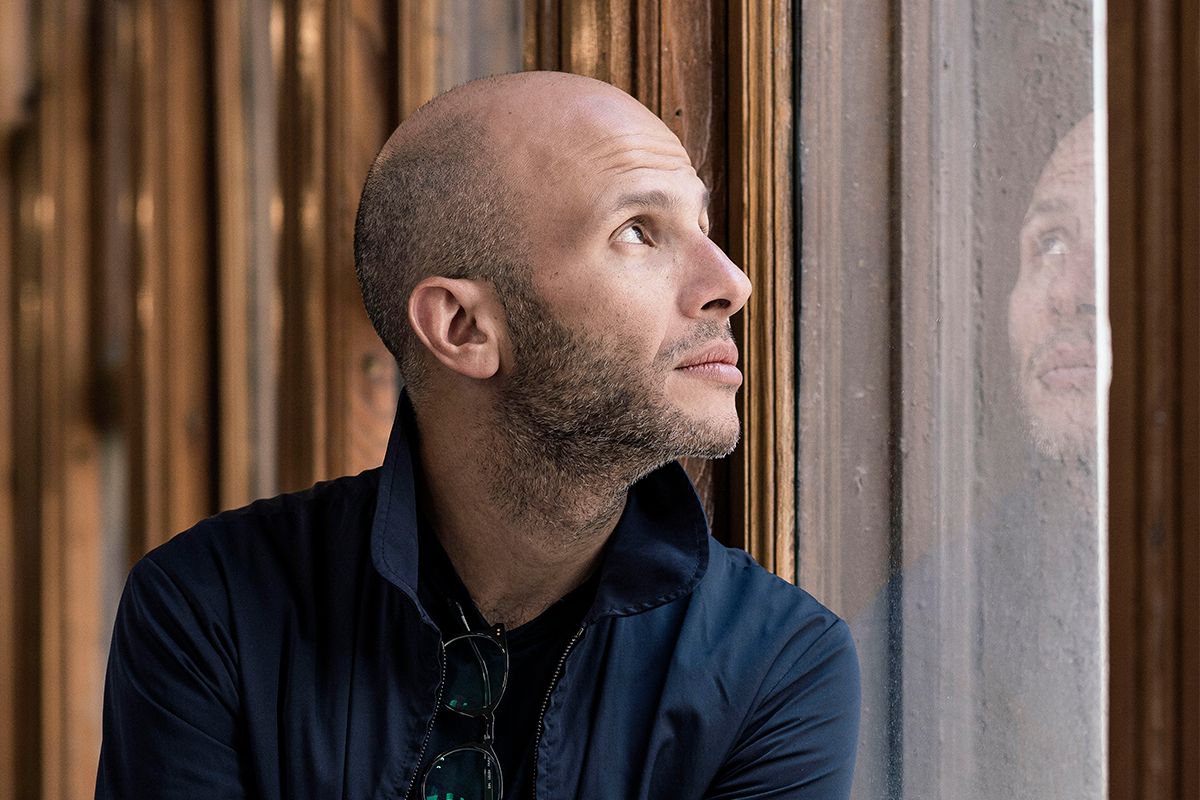 A Scholarship for the Moment
Rafael de Cárdenas 96 AP likes design that speaks to the contemporary moment, and created a scholarship to support students as they pursue their own visions.
Buildings stand for years, decades, centuries. Some may seem to stand out of time, but others announce their era with a Beaux-Arts flourish or Brutalist restraint.

It's these spaces, the ones that communicate something about their time and place, that most interest Rafael de Cárdenas 96 AP, founder of Rafael de Cárdenas Ltd., a 15-person firm focused on residential and commercial interiors, architecture and furniture design. "I like fashion, music and art that move quickly through culture," says de Cárdenas. "That's why I studied apparel. Architecture isn't like that—often, it's about ideas of timelessness."

De Cárdenas pursued a career in fashion and spent five years designing for Calvin Klein before pursuing architecture and earning a master's in the field from UCLA. But his approach to apparel remains. He explains, "I'd rather focus on something contemporary and possibly be out of fashion a few years later. I like to fingerprint culture."

Seeing other people's visions excites de Cárdenas, whether it's brainstorming sessions with his team or visiting places that inspire him, like Los Angeles' Bradbury Building, a 19th century commercial space he appreciates for its atmospheric, moody interior.

He created the Rafael de Cárdenas (96 AP) Scholarship for RISD students studying apparel or architecture and exploring what their designs can say to and about the world. The new fund fits in with his support for organizations that address hunger, education and LGBTQ rights, all of which, de Cárdenas says, are ultimately about access and equity.

"Access to education is like food security. It's a necessity. As much as there is to be learned from the 'school of life,' connecting with peers and educators can be so nourishing and perspective-expanding. Through these relationships, in particular, anyone stands to discover the world anew, endlessly—and that's invaluable," he explains.

There is a lot out there for students to explore, if they have the chance, and this new scholarship fund intends to provide students with just that opportunity. De Cárdenas is gratified by architecture's increasing diversity and embrace of multi-disciplinarity, both of which he says make the field infinitely richer and more interesting.
"As much as there is to be learned from the 'school of life,' connecting with peers and educators can be so nourishing and perspective-expanding."
"How many different kinds of music are there? How many different kinds of cuisine?" he asks. "And then, how many different kinds of buildings? Embracing cultural differences brings about a more dynamic architectural language."

As for multidisciplinarity, it has deep roots—he points out that da Vinci and Michelangelo were architects, among their many vocations—that haven't always been embraced. But RISD graduates are multidisciplinary by nature and students are increasingly seeing that reflected in the curriculum.

"When I think of all the people that I know from RISD, I see them doing different things, related but not directly tied to their major. Opening departments up to a more multidisciplinary way of thinking is the future. It's really a pleasure to see how RISD has begun to contextualize those disciplines and break down boundaries," he says.

Out of all the things he appreciated about his time at RISD— the city of Providence, or a slice from Fellini's, say—the best part was the people. He says, "My favorite thing about RISD was the community. The different kinds of people and the different worlds that they were from. I've always been drawn to people with backgrounds different from my own." The Rafael de Cárdenas Scholarship will allow more students to find their communities, and ultimately, the confidence and skill to create art and design that says something about who they are.