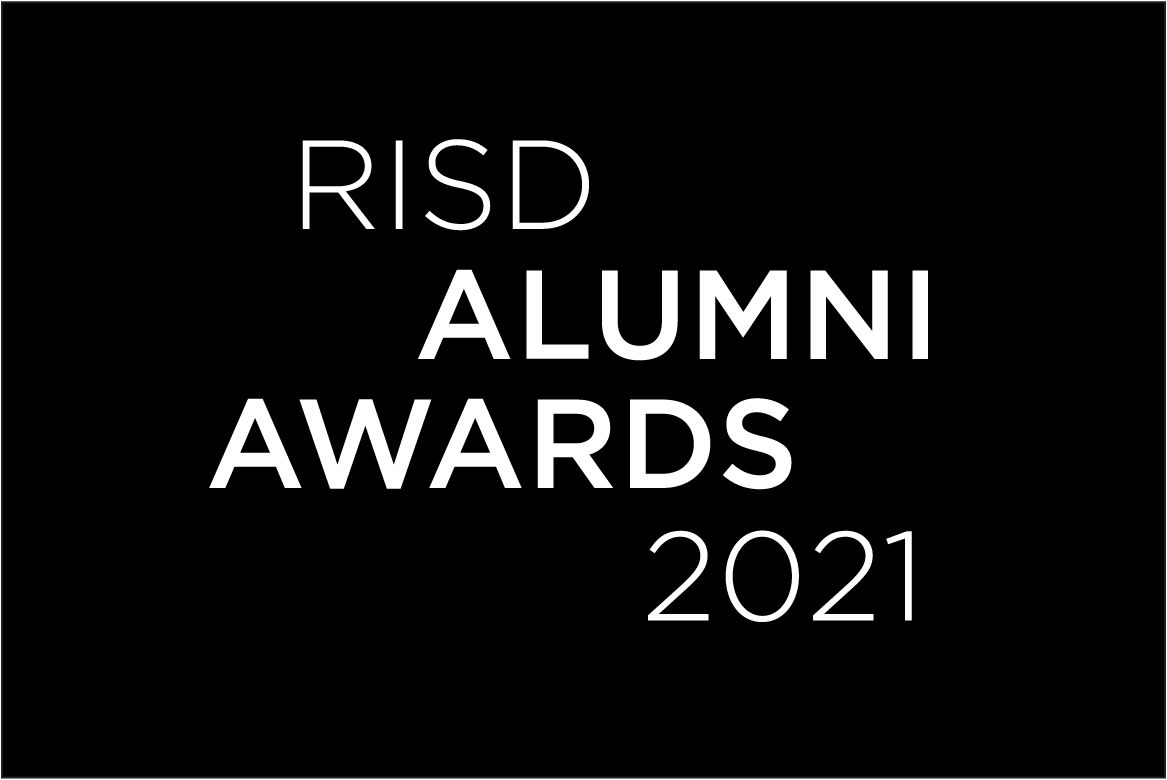 Alumni Association Awards
The RISD Alumni Association will honor the 2021 + 2022 Alumni Award recipients at Commencement + Reunion Weekend 2022 (June 3–5, 2022).
About the Awards
The RISD Alumni Association honors alumni who, through their work, exemplify RISD's core values and positively impact their communities. The Alumni Association Awards Committee issues an annual call for nominations to the RISD community and decides who will receive the awards each year. 
Nominations for the 2022 Alumni Awards are now open! You can submit your nominations through January 15, 2022. Recipients of the awards will be announced later this spring.
The Helen Adelia Rowe Metcalf Visionary Award
The Helena Adelia Rowe Metcalf Visionary Award. This award is the highest award by the RISD Alumni Association and honors Helen Metcalf, the founder of RISD, her visionary spirit, and civic generosity. The award recognizes alumni who have achieved outstanding distinction in their life's work in a professional field, or in community, public or humanitarian service. 
---
The Emerging Leader Award
The Emerging Leader Award recognizes alumni who graduated within the past 10 years, who have made significant achievements and contributions to their profession and/or community, think boldly, mindfully and creatively, and have helped to create new fields of study or contributed to fundamental change in their area of practice.
---
The Art and Design Educator Award
The RISD Art + Design Educator Award recognizes alumni who demonstrate exceptional skills as an educator or a clear commitment to the field of art education, and are recognized by their peers and students as having shown those qualities that most encourage students to learn and thrive creatively.
---
The RISD Serves Award recognizes alumni who have achieved distinction through significant contributions and voluntary service to improving the lives of others over a sustained period of time. The award recognizes the values of service and civic responsibility that reflect RISD's core values.
---
Awards Committee
The Awards Committee solicits nominations and nominates alumni for outstanding leadership and service in a variety of categories. The committee also oversees the administration of the awards program and honors awardees in an annual recognition event. Recognizing alumni achievements is intended to promote and celebrate the meaningful work of alumni, inspire the community, and foster a culture of engagement with and philanthropy towards RISD.
President, Alumni Association
Rex Wong BArch 03
Award Committee Members
Aimee Dixon Anthony 90 AP
Georgie Stout 89 GD
2021 Alumni Award Recipients
Renata Fenton 06 ID and Enrique Lomnitz 06 ID
RISD Serves

Fenton is co-founder, design-engineer and design director and Lomnitz is co-founder, industrial designer and general director for Isla Urbana, an organization that harvests rainwater for water supply in Mexico. They identify ways to design socially and environmentally responsible decentralized systems, alternative water technologies and capacity development for low-income communities. Their work brings clean water to schools, households and health clinics. These sustainable efforts aim to serve approximately 12 million people who do not currently have access to clean water. They have installed more than 21,000 rainwater harvesting systems serving approximately 200,000 people throughout Mexico. The systems reduce the energy consumption of delivering water to communities by truck, and create sustainability and resilience in water access in the most difficult contexts.
Yelitsa Jean-Charles 16 IL
Emerging Leader Award

Jean-Charles is the CEO and founder of Healthy Roots Dolls, a multicultural children's toy company celebrating the beauty of our diversity. Healthy Roots Dolls first line of products empower young girls to love their natural hair through hairplay. Jean-Charles has won the Startup Stampede, New Voices Fund Pitch competition, participated in the Backstage Capital Accelerator program and was awarded the first Main Street Ventures Wendy S. Lea Female Founders Grant. In 2019, Healthy Roots Dolls took First Place and People's Choice at the Quicken Loans Detroit Demo Day. Jean-Charles is a 2021 Forbes 30 under 30 Honoree. Her mission is to make sure everyone loves their healthy roots.
Brian Selznick 88 IL
Helena Adelia Rowe Metcalf Visionary Award

Selznick is a world-renowned author and illustrator. He created the book The Invention of Hugo, which won the Caldecott Medal and was the basis for the Oscar-winning movie Hugo. He has also written and illustrated Wonderstruck, which was made into a movie for which he authored the screenplay. Other illustrated books include The Marvels, The Doll People, The Dinosaurs of Waterhouse Hawkins and Amelia and Eleanor Go For a Ride. Selznick wrote a new version of the Nutcracker for Christopher Wheeldon at the Joffrey Ballet, created new cover art for the Harry Potter series for its 20th anniversary and is collaborating with Wheeldon and Ryan Scott Oliver to adapt The Invention of Hugo into a musical. Selznick's most recent illustrated book Live Oak, With Moss, offers a visual narrative of Walt Whitman's poems exploring same-sex love.  
Stephanie Silverman 04 FD
RISD Art + Design Educator Award

Silverman chairs the Fine Art Department at Archmere Academy and has served on the boards of the Delaware Art Education Association and the Delaware Foundation for the Visual Arts. Silverman's students have won over 1,000 awards in the national Scholastic Art Awards program and over $2 million in scholarships. She earned National Board Certification in Early Adolescence-Young Adulthood Art Education (K-12) and holds three instructional licenses. Her awards include the NAEA National Eastern Region Secondary Art Educator of the Year, Delaware's Secondary Art Educator of the Year, the Diane Taylor Foxman Award for Excellence in Art Education and RISD's Tage Frid Award for Excellence in Teaching. 
Past Alumni Association Award Recipients
2020
2019
2018
David Hanson 96 FAV Professional Achievement Award
2017
Roz Chast 77 PT Professional Achievement Award
2016
Bunny Harvey 67 PT/ MFA 72 Professional Achievement Award
2015
Miriam Beerman 45 PT Professional Achievement Award
2014
Hildegard Vasquez BArch 94 Professional Achievement Award
2013
Tamara Kaplan MAT 00 Art and Education Award
2012
Nicholas Felton 99 GD Business of Design Award
2011
Katie Salen MFA 92 GD Art and Education Award
2010
Deidre Scherer 67 AE Artistic Achievement Award
2009
Liz Collins 91 TX/MFA 99 Art and Education Award
2008
Walter Lorraine 52 AD Professional Achievement Award
2007
Nat Hesse 76 SC Service and Leadership Award
2006
Jeffrey Yan BArch 01 Art and Education Award
Julie Mehretu MFA 97 PT/PR Artistic Achievement Award
DEZCO Entrepreneurial Award
Barbara O'Brien MFA 90 PH Professional Achievement Award
Philip Trammell Siebert, Jr. (deceased) 67 IA Service and Leadership Award
2005
Laura Owens 92 PT Artistic Achievement Award
James C. Childress BArch 78 Professional Achievement Award
Franz Werner Art of Education Award
Jarrett J. Krosoczka 99 IL Service and Leadership Award
2004 
Christopher Bing 83 IL Artistic Achievement Award
Oren Sherman 78 IL Professional Achievement Award
risd/works Business of Design Award
Henry Horenstein 71 PH/ MFA 73 Art of Education Award
Anthony Belluschi BArch 66 Service and Leadership Award
2003
Janine Antoni MFA 89 SC Artistic Achievement Award
Steven Kellogg 63 IL Professional Achievement Award
Charles Stone III 88 IL Business of Design Award
David Paolino 74 IL/MAE 75 Art of Education Award
C. Dave Thomas MFA 74 PR Service and Leadership Award
2002
Ed Neubauer BArch 92 Service and Leadership Award
Tyler Smith 66 GD Business of Design Award
Stephen Saunders MAE 84 Art of Education Award
Tim Hunter 98 ID Fine Arts Achievement Award
2001
Mark Goodkin 87 PT Alumni Volunteer Award
Margot Livingston 95 IL Service and Leadership Award
Colgate Searle 71 LA Art of Education Award
2000
Nancy Davis 79 PH Alumni Volunteer Award
David Jaacks BArch 93 Business of Design Award
Susan Barbieri Montgomery 71 AE/MAE 78 Service and Leadership Award
1999
Sylvia Arnold BArch 80 Alumni Volunteer Award
Peter Niemitz BArch 76 Business of Design Award
Judy Sue Goodwin Sturges 66 IL Art of Education Award
Giancario Ronci Service and Leadership Award
1995
Lorraine Howes Honorary Alumnus/na Award
Steven Whitten Honorary Alumnus/na Award
Bud Greenwald (deceased) Distinguished Citizen Award
Jackie Rice Faculty Member of the Year Award
Jocelyn Hobbie 91 PT Young Alumnus/na Achievement Award
1994
Michael Fink Honorary Alumnus/na Award
Carolina Calderin (deceased) Alumni Service Award
Maria Tulokas MAE 74/ MFA 76 PR Faculty Member of the Year Award
Joshua Yeldham 92 FAV Young Alumnus/na Achievement Award
1993
Anita Teto Honorary Alumnus/na Award
Paul Timmons Honorary Alumnus/na Award
C. George Taylor (deceased) Distinguished Citizen Award
Dana Newbrook BArch 63 Alumni Service Award
Jim Barnes BArch 69 Faculty Member of the Year Award
1992
Nancy Hastings Honorary Alumnus/na Award
Philip Briggs BArch 64 (deceased) Alumni Service Award
Jack Massey Faculty Member of the Year Award
Zachary Stratis 87 FAV Young Alumnus/na Achievement Award
1991
Murray S. Danforth Honorary Alumnus/na Award
Ann Finkbeiner & James Carlin Walker Distinguished Citizen Award
Luigi Bianco 69 TX (deceased) Alumni Service Award
Ken Hunnibell 69 ID/ MAE 72 (deceased) Faculty Member of the Year Award
1990
Adelaide Hawkins Honorary Alumnus/na Award
Marjorie and Robert Catanzaro Distinguished Citizen Award
W. Bruce Tillinghast 68 GD Alumni Service Award
John Udvardy Faculty Member of the Year Award
Emily Lisker 86 PT Young Alumnus/na Achievement Award
1989
J. Malcolm Grear Honorary Alumnus/na Award
Honorable Claiborne Pell Distinguished Citizen Award
John McCrillis 39 GD Alumni Service Award
Gregor Goethals Faculty Member of the Year Award
Allison Druin 85 GD Young Alumnus/na Achievement Award
1988
Joanne Lynch Honorary Alumnus/na Award
IBM Distinguished Citizen Award
John Davison Allen BArch 68 (deceased) Alumni Service Award
C. Warren Luther BArch 49 (deceased) Faculty Member of the Year Award
Michael Leva 83 AD Young Alumnus/na Achievement Award
1987
Charles Moccio Honorary Alumnus/na Award
Barnet and Jean Fain Distinguished Citizen Award
Linda Joy Goldner 73 GD Alumni Service Award
Hardu Keck MFA 64 PT Faculty Member of the Year Award
Geoffrey Adams 83 FAV Young Alumnus/na Achievement Award
Erminio Pinque 83 IL Young Alumnus/na Achievement Award
1986
Franklin W. Robinson Honorary Alumnus/na Award
Daphne Farago Distinguished Citizen Award
Dick Jones 51 GD (deceased) Alumni Service Award
Yvonne Anderson MAE 92 Faculty Member of the Year Award
Christopher Osgood MFA 85 SC Young Alumnus/na Achievement Award
1985
Bayard Ewing Honorary Alumnus/na Award
The Louis A Fazzano Family Distinguished Citizen Award
Steven Branfman MAE 75 Alumni Service Award
Michael Fink Faculty Member of the Year Award
Donald Friedlich 82 JM Young Alumnus/na Achievement Award
1984
Tyler Smith 66 GD Alumnus of the Year
Al Falk Honorary Alumnus/na Award
The Providence Journal Company Distinguished Citizen Award
Erma Leavitt 44 PT Alumni Service Award
Lorraine Howes Faculty Member of the Year Award
Steven Umbach 80 ID Young Alumnus/na Achievement Award
1983
Carolyn Hawes Honorary Alumnus/na Award
Corning Glass Works Distinguished Citizen Award
Peter Meserol 66 ID (deceased) Alumni Service Award
Ron Chatalbash 81 IL Young Alumnus/na Achievement Award
1982
Gordon Allen (deceased) Honorary Alumnus/na Award
Virginia Lynch (deceased) Distinguished Citizen Award
Reno Shope, Wharton Assoc. Young Alumnus/na Achievement Award
Robert Reno BArch 78
Bernard Mapes Wharton BArch 78
Allan Palmer Shope BArch 78