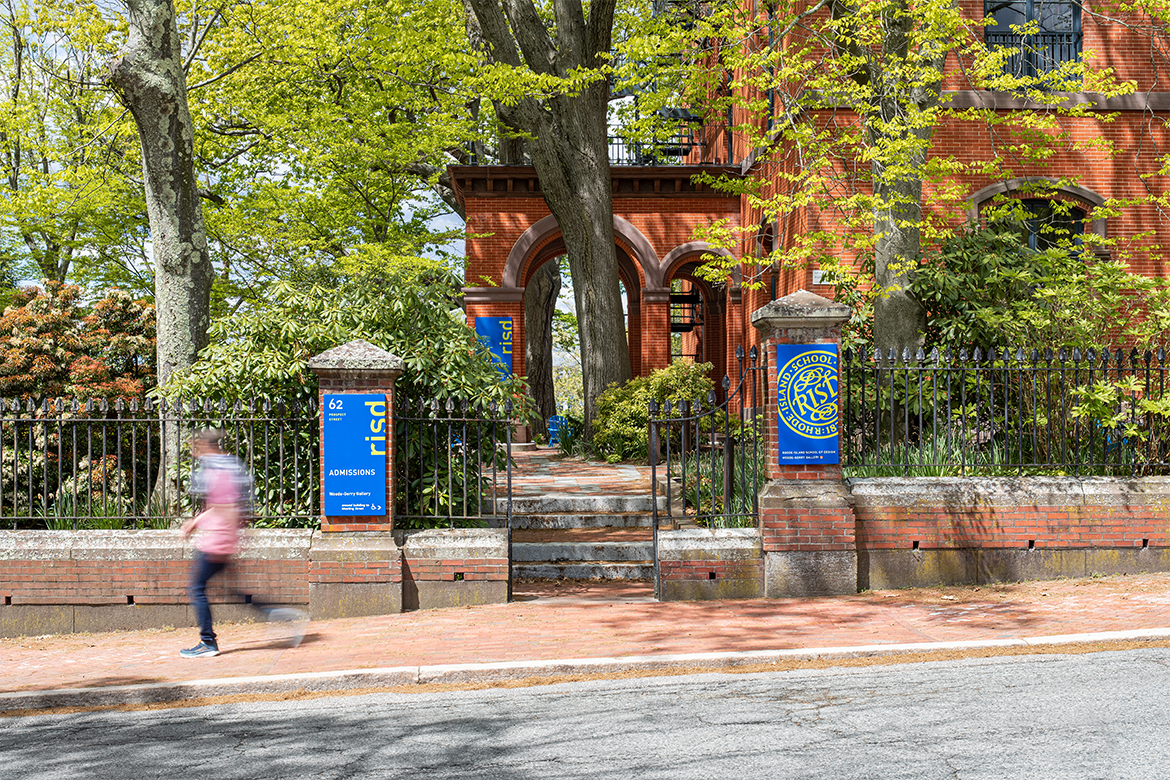 Celebrating Milestones and Memories
Commencement + Reunion Weekend brings together the graduating Class of 2022 and reunion alumni in a campus-wide community celebration from June 2–5, 2022.
RISD is planning several campus-wide activities to deepen the connections between the Class of 2022 and alumni in a relaxing and celebratory atmosphere.
New traditions such as the Friday night Lantern Lighting followed by the All Campus Dance: The Artists' Party bring the community together for a fun evening of laughter, live music, dancing, food and drink under the tent by the Van Leesten Memorial Bridge. RISD Latin+ (más), RISD Queer Alumni, RISD Black Alumni and RISD Asian Diaspora will also host receptions for graduates and alumni to discuss their shared experiences and how graduates can stay connected with the alumni community.
The 2022 Commencement takes place on Saturday, June 4, at 9 am at the Dunkin' Donuts Center. As part of the expanded commencement festivities, this year's ceremony will include an Alumni Processional leading the graduates onto the floor. After two years of disruption and delay, this year's Commencement + Reunion Weekend also provides the opportunity to invite the Class of 2020 back to campus for a long-awaited Commencement
The four-day weekend includes a wide range of reunion activities for alumni. Alumni are invited to attend their class dinners, spend an afternoon sketching in the RISD Museum and catch up with members of their departments over breakfast. There will be opportunities to honor retiring faculty and staff, tour campus and visit the Design Diploma Exhibit at the Fleet Library. Alumni are encouraged to attend events that can only happen at RISD, such as Building with Bread, presented by Ciril Hitz 91 ID.
Commencement + Reunion Weekend is designed to be family-friendly, with events planned to engage all ages. Families of our alumni are invited to attend many activities, including a Chalk Walk art-making event around campus, Paint by Numbers with Peter Tigler 75 PT, Boats and Floats on RISD Beach with Ricky Katowicz 05 AP and a beach day at Tillinghast Farm.
The weekend also includes events open to the entire RISD community, including Turning Pages: A Talk with Writer and Illustrator Brian Selznick 88 IL, co-presented by the Fleet Library and the Alumni Association on Thursday, June 2. Events on Saturday, June 4 include RISD Craft from 10 am–4 pm, as well as a community celebration of the graduates in Market Square at 1 pm and a special WaterFire along the Providence River that evening.
Questions? Please contact alumni@risd.edu.
Photo credit: George Gray