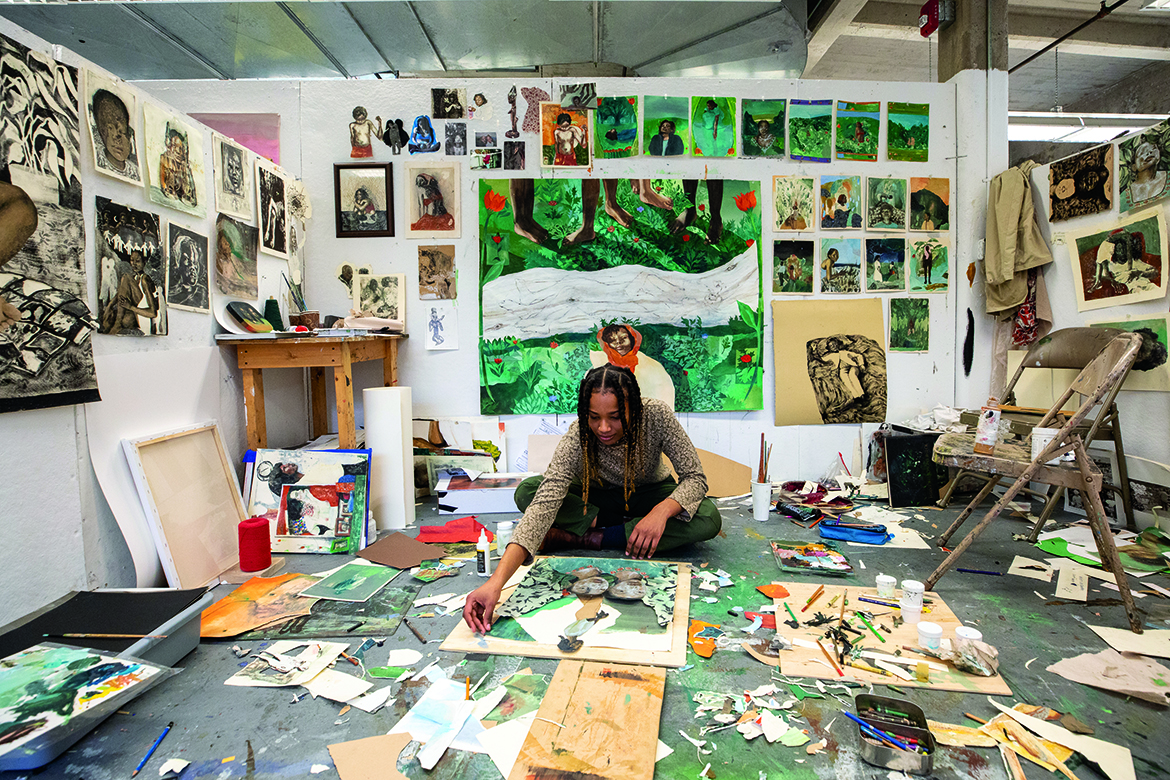 Breaking Down Barriers
RISD donors offer Sophia-Yemisi Adeyemo-Ross the opportunity to pursue a career in the arts.
"My mother taught art to elementary-age children and would paint beautiful portraits when she had time. I desperately wanted to paint like her, but I also worried as I watched her struggle financially. As she picked up more jobs to support us, she had less time to paint. I wondered if life as an artist was sustainable," says Sophia-Yemisi Adeyemo-Ross 21 PT.

Despite her concerns, Adeyemo-Ross chased her dream. "I was attracted by RISD's reputation but worried I would feel isolated due to class, race, differences in upbringing and other things," she recalls. "While I have found that to be somewhat true, I also have been surprised. The Painting department regularly discusses the politics of making, and I'm surrounded by thinkers. We constantly examine the past and dig for answers to resolve deeply rooted problems that persist today." Her time at RISD has been buoyed by the Ken Dresser 61 Scholarship.
"This support has been everything—I wouldn't be here without it," she reflects. "It allows me to access all the school offers and to work toward deep artistic and intellectual growth."
Adeyemo-Ross has found meaningful work as a teaching assistant. "I take part in artistic dialogue with students, and I love seeing them light up when they see work that resonates," she says. "Their reactions show the powerful effect that art can have upon creative thinkers."

With additional support from a Parents' Council Internship Award, she accepted an unpaid internship at the Museum of the African Diaspora in San Francisco this summer. "It gave me the tools to pursue a career in museum education," she says.

"Many individuals from similar backgrounds can't afford to do this and lose out on gaining professional experience and contributing their talents—and art institutions don't benefit from their perspectives. Empowering students with these opportunities makes  institutional change happen. I envision myself continuing this legacy of giving with the intention of breaking down historical barriers.

My experiences as a woman of color have led me to believe that connection, sensitivity and actualization become tangible at the intersection of art and community," she says. "My ultimate goal as a painter and a future professor or teacher of the arts is to pose questions that facilitate healing, mend trauma and change institutions for the better."