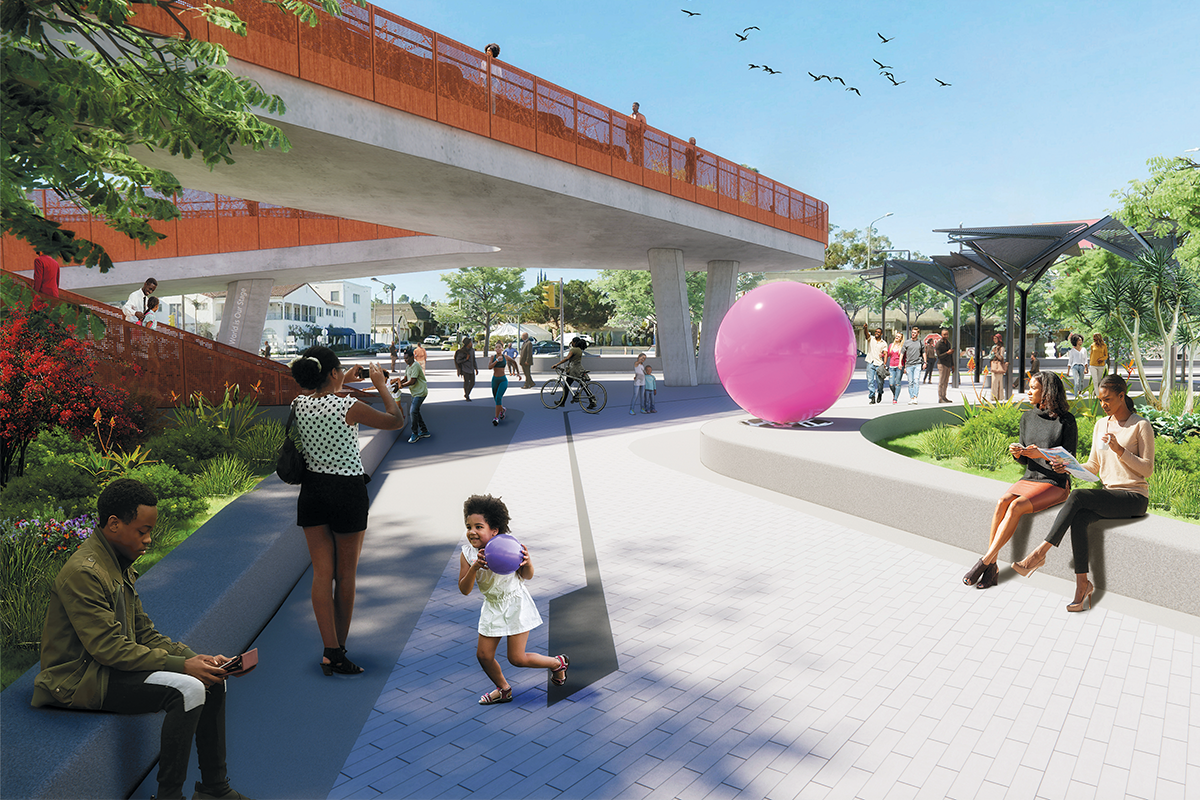 Gabrielle Bullock is creating an open-air museum along Crenshaw Boulevard in Los Angeles, the largest Black public art project in the US.
THE HISTORICALLY RICH Crenshaw Boulevard weaves 23 miles through a variety of ethnically distinct neighborhoods in South Los Angeles, a thoroughfare that serves as a powerful symbol of cultural diversity. The most famous stretch, known as the Crenshaw District, the largest Black community west of the Mississippi River, is a vibrant epicenter of art, culture and commerce.
The Crenshaw District has been called the spine of LA's Black community.
When the city approved a light-rail line that would cut directly through the Crenshaw District at street level, a disruption to the neighborhood's center of commerce, frustrated community members responded by proposing a revitalization initiative of their own, known as Destination Crenshaw—a 1.3-mile-long outdoor cultural and arts experience that celebrates the proud history of the district and Black artists. Enter Gabrielle Bullock BArch 84, principal and director of global diversity, Los Angeles, at the prestigious architecture firm Perkins and Will, one of four architects hand-selected to lead what will be a "thriving commercial corridor linked by architecturally stunning community spaces and pocket parks, hundreds of newly planted trees and over 50 commissioned works of art."
"The community decided that they wanted to create a destination experience that sends a clear message: 'We are here, we are staying here, this is our culture, so come visit and learn about it,'" Bullock says.
Unlike the light-rail infrastructure project, Destination Crenshaw, currently underway, is unique because "from the start, we've been working in lockstep with the community instead of just telling them what we plan to do, which challenges the status quo of what architects typically do," Bullock says. Sankofa Park, the first major component of this $100 million public-private initiative, will open with a public celebration in fall 2023.
"The [Crenshaw] community's creative input," she explains, "has been a central guide" of the project, which will be a catalyst for economic development, job creation and environmental healing, all while elevating Black art and culture.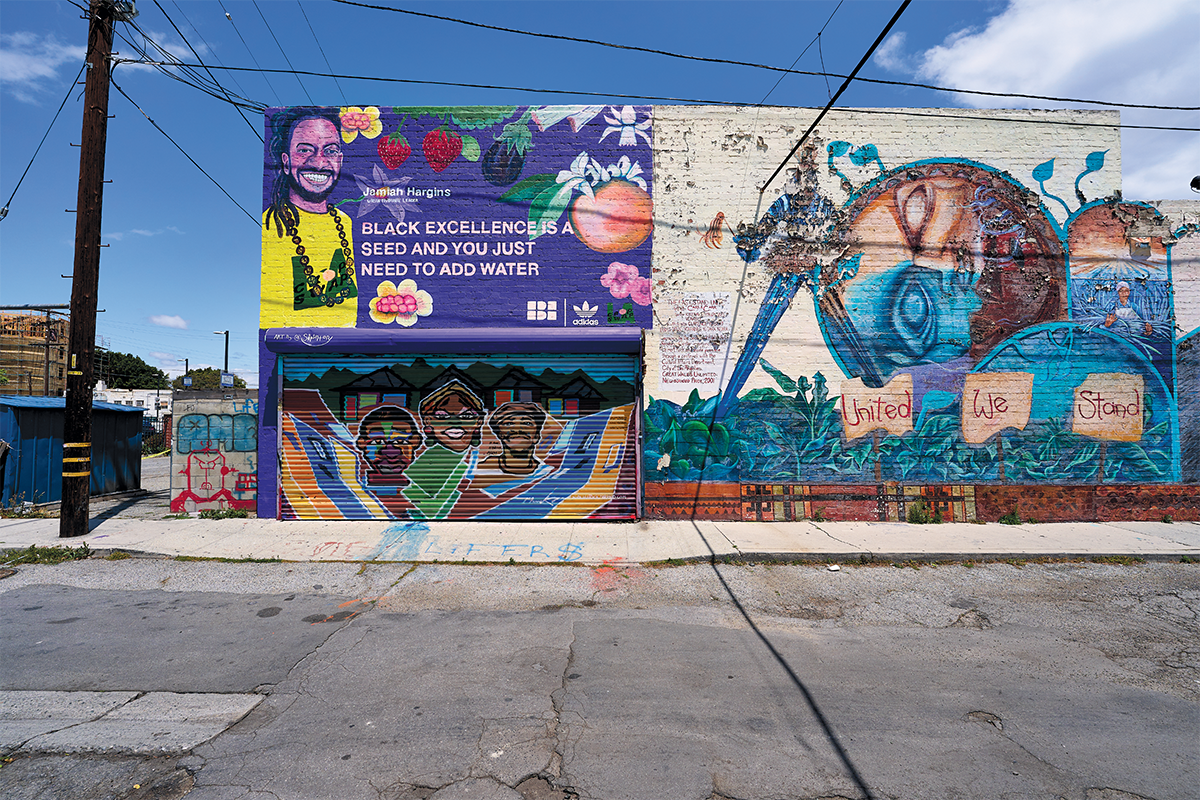 For more than three decades, Bullock has devoted her work to addressing social inequity and cultural awareness in architecture. She's been instrumental in the design and management of an incredibly diverse portfolio, ranging from health-care industries to educational institutions and museums, including the Ronald Reagan UCLA Medical Center.
Only the second Black woman to graduate from RISD with a degree in architecture, Bullock was appointed director of global diversity at Perkins and Will in 2013, becoming the first Black woman to hold such a position. Over the past decade, the firm has significantly improved its diversity and inclusion efforts through new initiatives and by conducting training and workshops on topics like cultural competency and inclusive design.
Bullock's role in promoting more inclusivity in architecture is a key component to modernizing an industry that has traditionally been dominated by white men. In fact, Black women currently make up a mere 0.2 percent of licensed architects in America—fewer than 600 total. Bullock wants to improve statistics like this so that communities are represented in the design teams and architects who are creating the buildings and spaces with which communities engage.
BORN IN HARLEM, Bullock moved with her family to the Bronx in the late 1960s—the first Black family to move into the majority white Riverdale neighborhood. As a young girl, she and her sister would ride the subway throughout the city to visit relatives and friends, and that early exploration of New York exposed her to the gaping chasm between living standards in various areas of the city.
"When I was young, I had a visceral reaction to the public housing developments I saw," Bullock recalls. "They were very inhumane. Tiny windows, cinder block walls, no landscaping, no trees—they looked like prisons. At age 12, I decided I wanted to be an architect to change the way people lived."
Bullock said she never had a plan B. Becoming an architect was her sole career focus. She's quick to offer praise and credit to the strong women in her family who ensured she could pursue whatever she wanted to do as long as she worked for it. Her talent and that encouragement helped carry her through RISD, making her the first person in her family to graduate from college.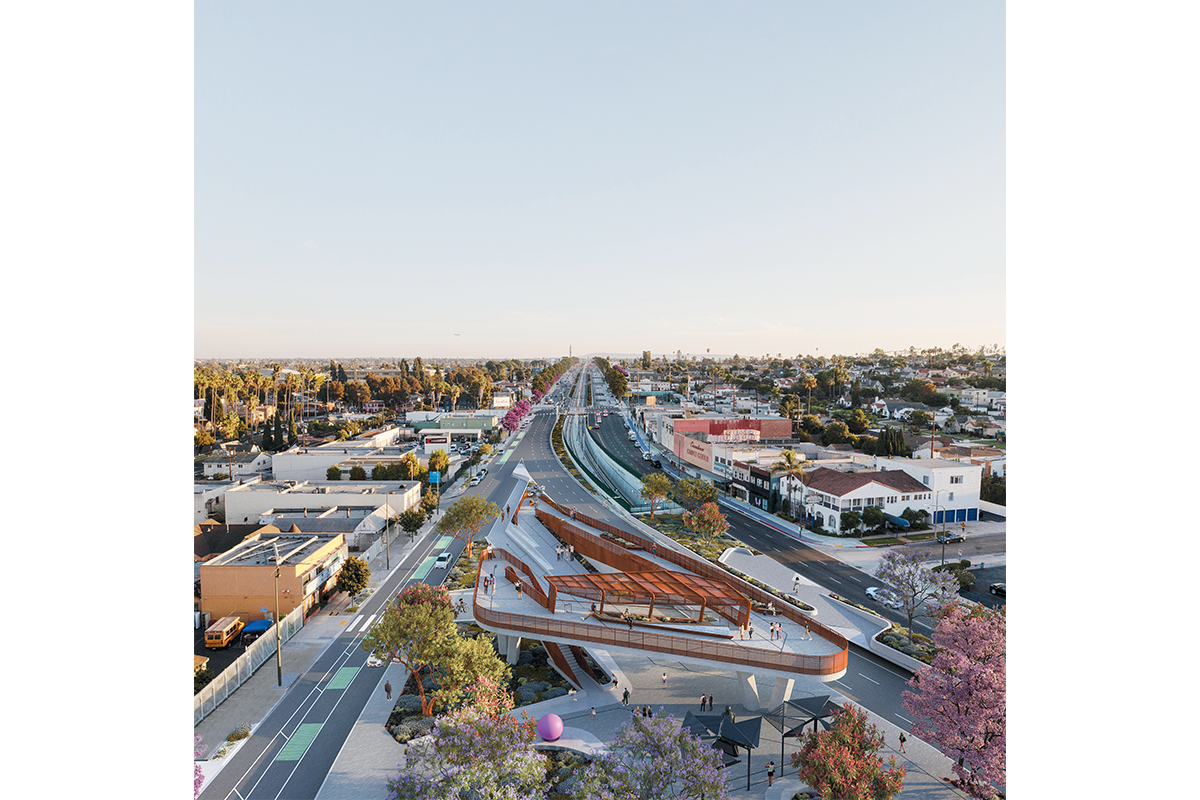 "The Crenshaw community's creative input has been a central guide."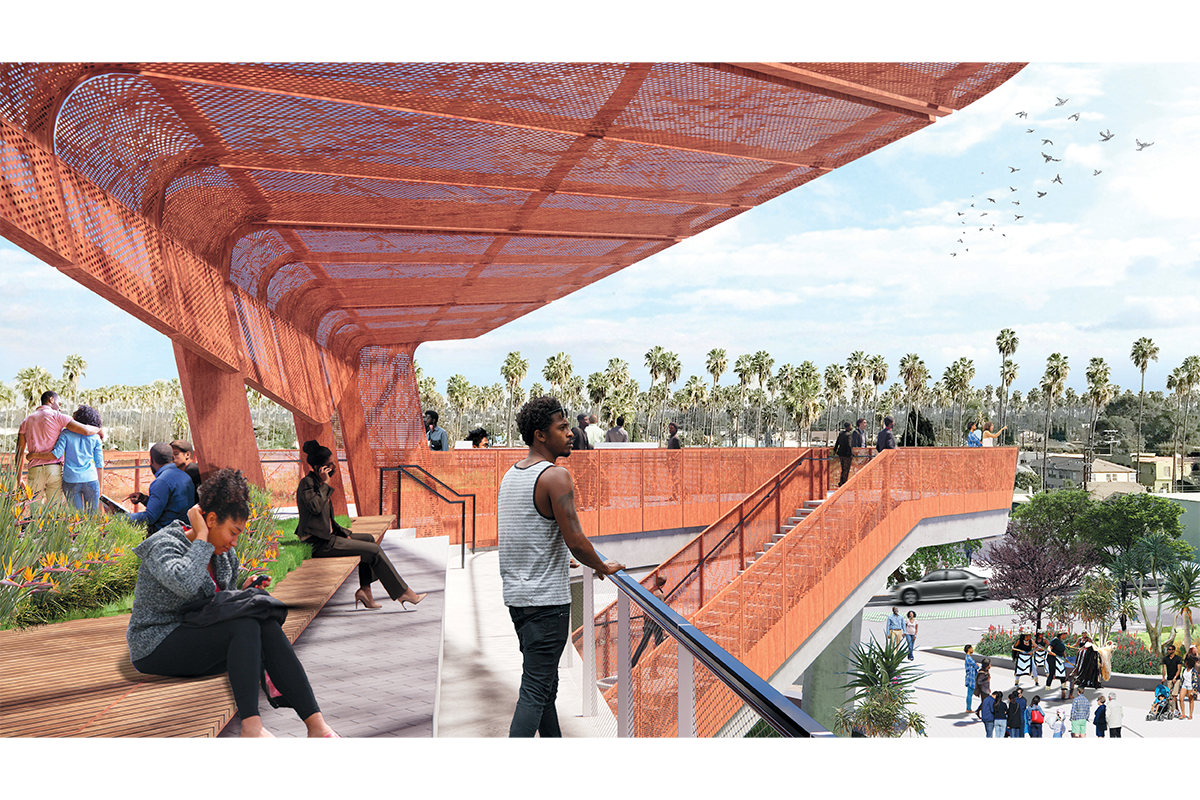 "My values, combined with my experience at RISD, have influenced where I have worked throughout my career, what kind of projects I choose to work on, and the types of firms I work for," she says.
After leaving RISD, Bullock returned to New York in the mid-1980s to fulfill her childhood vow of changing how people in her city live. She worked at several firms that specialized in low-income housing, but as recession gripped the country, three firms she worked for succumbed to economic pressures and folded. Frustrated but undeterred, she found her way to Perkins and Will, which has a reputation for innovation and for focusing on sustainability. Though she was no longer working on public housing, she felt good about her projects at Perkins and Will.
"I had no interest in the shiny object buildings," Bullock explains, referencing the architectural trend in the 1980s and 1990s in large cities. "I didn't want to do skyscrapers; I wanted to do some good, and working on medical facilities with Perkins, for example, was part of that."
FOR DESTINATION CRENSHAW, Bullock noted that incorporating community priorities was essential because the project was not to design a building but to create a civic space.
"We understand that we aren't designing a building. We're designing an experience," Bullock says. "We're designing parks, outdoor exhibition space, and walking paths, and we wanted every aspect to reflect what we heard from the community, which was a theme of resilience."
Even the grass selected to fill the open spaces sends a message of resilience and recognizes Black American history. The underlying design theme was derived from the giant star grass and its rhizome root structure, known as Bermuda grass in the US. It was used as slave ship bedding and became synonymous with this community's migration from Africa and points east and south.
"That grass became our design theme for the entire corridor. The paving mimics the root system, and the shade structures mimic the grass. And this will all be the backdrop for the Black artists and cultural figures we're displaying and paying tribute to. "The goal is to avoid a cultural erasure," Bullock says.
To this point, Bullock believes this project will have true staying power, evolving along with the area as it undergoes the inevitable ethnic, cultural and economic shifts that most neighborhoods naturally experience over time. It is designed to serve as a catalyst for economic development. With an unprecedented commitment to local hiring and robust small-business support, the project will build a pipeline of Black talent in the construction trades, support entrepreneurship and promote creative talent through programming for years to come. As a result, the community will directly benefit from the improvements it makes together.
"There can sometimes be an architects-as-saviors dimension to community projects, where a firm will come in and exert too much control based on their specific vision," Bullock says.
"The purpose of Destination Crenshaw isn't to reimagine or re-create an already thriving community— the idea is to celebrate and enhance it."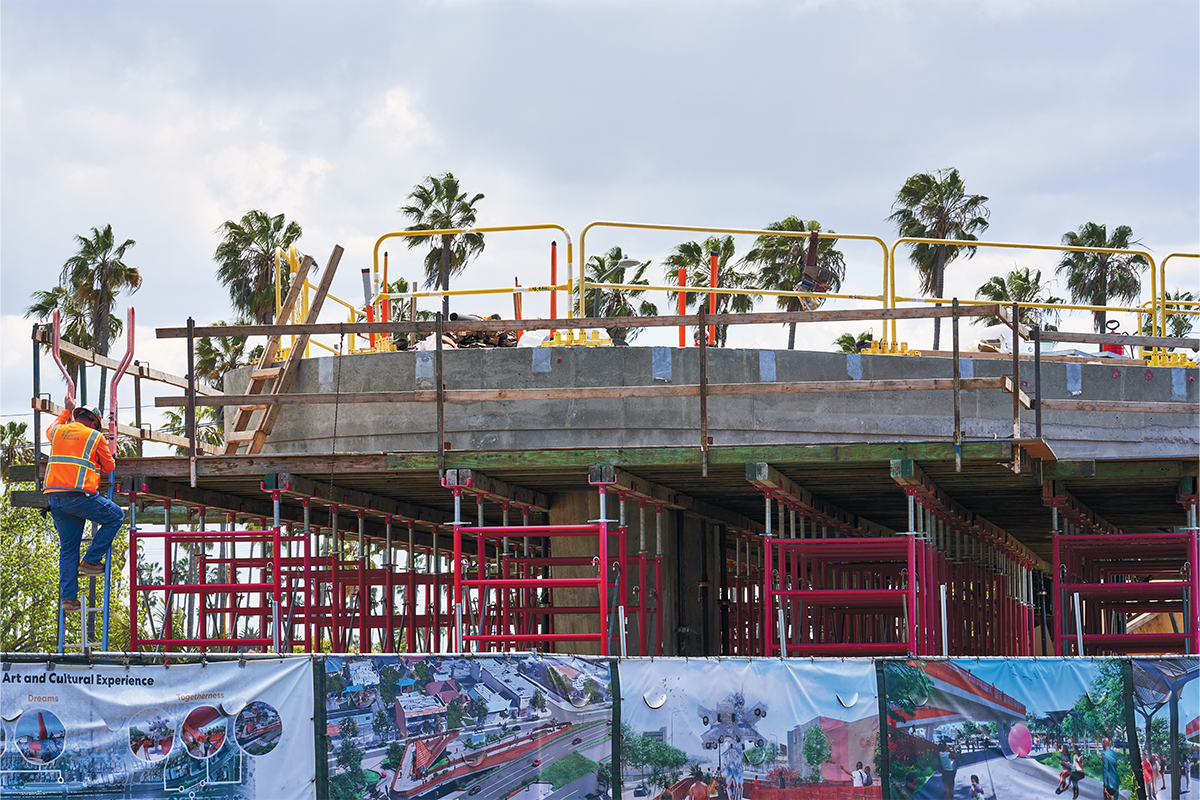 ---
Photos by Páll Stefánsson.
Renderings courtesy of Gabrielle Bullock destinationcrenshaw.la.
Words by Doug Daniels.