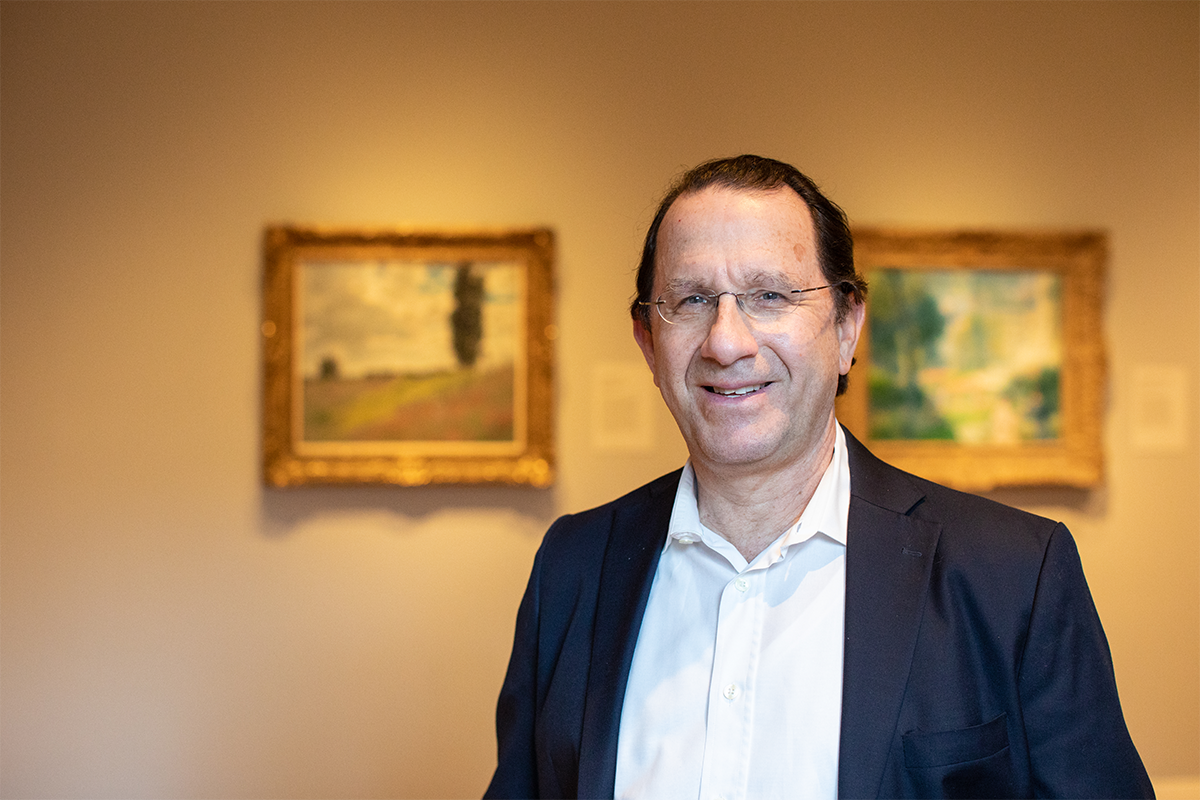 Making Time for What Matters
For Dr. Andrew Green, serving on the RISD Museum's Fine Arts Committee is a labor of love.
When Andrew (Andy) Green was an undergraduate at Princeton University studying biology, he needed to satisfy a history course requirement, so he enrolled in a course in Italian Renaissance painting and sculpture. Then he took another art history course, and another, eventually taking the equivalent of a full year's coursework in art history as he completed his bachelor of science.
"It clicked," Green says. "The idea of how art reflects current society, how people create things based upon what they're experiencing—that had never clicked for me until I took those courses."
Now, Green is an internationally recognized orthopedic shoulder and elbow surgeon who helped develop shoulder replacement implants, a professor of orthopedic surgery and chief of the Division of Shoulder and Elbow Surgery at Brown University's Warren Alpert Medical School. Busy as he is, he makes time to serve as vice chair of the RISD Museum Board of Governors and chair of its Fine Arts Committee, the advisory body that oversees the growth and evolution of the museum's collection.
Asked how he finds time to convene the committee meetings and work with museum leadership and staff, he says, "I just do. For a meeting, I may have to close my office early on occasion, but I enjoy it so much."
That service helps the museum thrive, says Sarah Ganz Blythe P 22, interim director of the RISD Museum. "Andy and his fellow committee members provide essential support to the museum, overseeing the development and stewardship of the collection. The RISD Museum is devoted to engaging deeply with art, artists and the public, and the insights and advice provided by Andy and the committee deepen our responsiveness as an institution."
Green admires how RISD Museum curators. . . aim to help students think about their own hands-on work in the studio.
Visiting museums with his family as a young child in Queens, New York spurred Green's early love of art. Later, living in Great Neck, Long Island, he took classes in sculpture and ceramics. He says that the hands-on use of materials in those classes contributed to the skillset he uses now in his orthopedic practice, manipulating and shaping objects in surgery.
Green admires how RISD Museum curators, in choosing items for exhibitions, aim to help students think about their own hands-on work in the studio. "RISD is very much about making, so the curators will consider how a piece like a textile, ceramic or other object was produced and constructed," Green says.
For Green, who visits museums when he travels, the RISD Museum stands apart for the thoughtfulness of its exhibitions and the way they are curated with storytelling in mind. Among his favorite RISD Museum exhibitions is 2009's "The Brilliant Line: Following the Early Modern Engraver 1480-1650." Unlike some exhibitions he has seen elsewhere that amount to simply an accumulation of works by one artist, or by artists with similar backgrounds, "The Brilliant Line" highlighted defining moments in the history of engraving, clarifying how and why engraving evolved, and why that matters to viewers.
In addition to learning from curators, Green says, a great pleasure of serving on the Fine Arts Committee is helping the museum fulfill its mission. That is something he does not only with his time, but through more than two decades of philanthropic support for the museum's annual fund, acquisitions, capital projects and other priorities.
In recent years, Green says, there has been an increased focus on building collections with an emphasis on diversity, equity and inclusion, on establishing goals for the Asian art collection and on continuing to boost the museum educators' ability to engage with local schools and the broader community.
And just as Ganz Blythe and former Museum Director John Smith have enabled curators to do thoughtful, forward-thinking collection development, Green says, his role is to learn, enjoy and support the museum and "simply continue the good work."