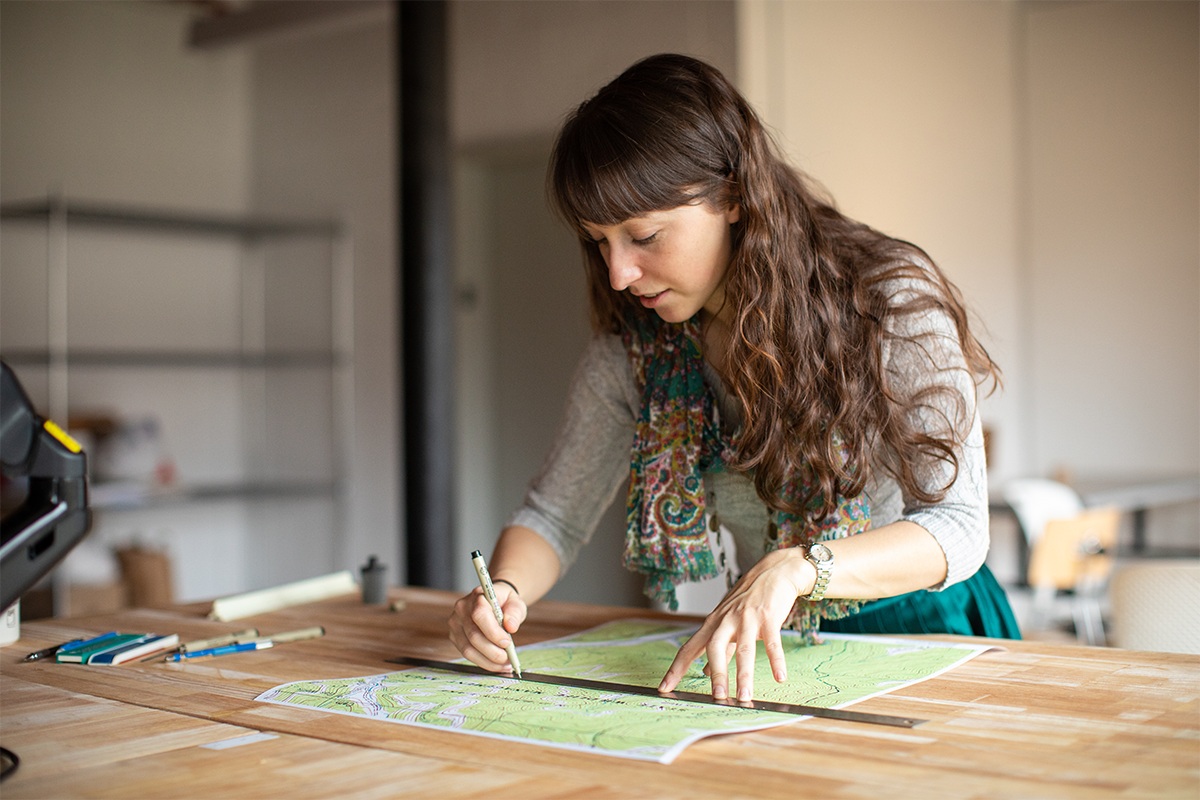 From the Ground Up
Aleece Mount MLA 23 reimagines the relationship between people and places.
How do communities become reliant upon practices that undermine their own viability? Can a declining rural region remake itself from the soil up? These are some of the big questions Aleece Mount MLA 23 asks in the thesis project that will cap off her three year Master of Landscape Architecture program at RISD.
Mount is investigating whether community members in a rural area of West Virginia can regenerate miningpolluted soil and revitalize the local economy by shifting their interaction with—and expectations for—the land. This requires her to look closely at the cultural practices that drive land management, and to assess the chemical and biological composition of the soil itself.
The latter is not a challenge for Mount, a native of southern New Hampshire who came to RISD with a bachelor's degree in public health, a concentration in environmental and occupational health and a deep background in the life sciences and physical sciences.
"Surprisingly, organic chemistry has helped me in many, many ways in landscape architecture," Mount says. "Some of that comes from understanding soil chemistry, microbiology, soil biology and how all the material that you work with actually functions."
"If you have an intimate knowledge of the land and how it works, then you can learn to live on it sustainably."
She chose the program after researching a long list of landscape architecture programs, because RISD offered both a theoretical foundation in design and an emphasis on physical making.
"RISD very quickly rose to the top," Mount says, "and the financial aid that I was able to get—the Joe Gebbia (05) Fellowship—made grad school possible. It made a huge difference. The ability to focus on my studies and not have to work a ton of outside jobs made it much more doable."
"Even having a few hours a week when you're not in class or working, to let ideas come to the surface is huge," Mount says.
At RISD, Mount has found pathways for exploring the intersection of art, science and conservation, including a graduate assistantship through the RISD x Hyundai Research Collaborative. In that role, she worked with a high-speed camera to capture insect movement in the Hyundai Studio at the Edna W. Lawrence Nature Lab and assisted with a summer 2022 biomimicry workshop alongside Hyundai Motor Group designers and engineers working on the next generation of transportation, among many other projects.
In "Art & Science of Conservation," a Wintersession global studies course on the island of Hawaii, Mount learned about indigenous philosophies of land management that can inform sustainable design practices. The Hawaiian word 'āina generally refers to land and has several definitions, but the course's native Hawaiian teachers defined it as "all that cares for you and all that you care for."
The reciprocal philosophy focuses on actively tending the land for human, animal and plant purposes, and aligns with Mount's readings on the practices of present-day Native American tribal nations of Central California. It is a departure from the approach that says the only way to increase biodiversity or preserve land is to leave it untouched. Mount finds this idea compelling, and hopes to focus her post-graduate work on facilitating a sustainable relationship between people and the land, preferably in rural communities.
"If you have an intimate knowledge of the land and how it works," Mount says, "then you can learn to live on it sustainably."
Preparing to finish her degree in May, Mount says, "I feel like I'm ready to bring the conceptual into the here and now, assess how these things actually manifest and work on how to solve these problems in a real-world setting."