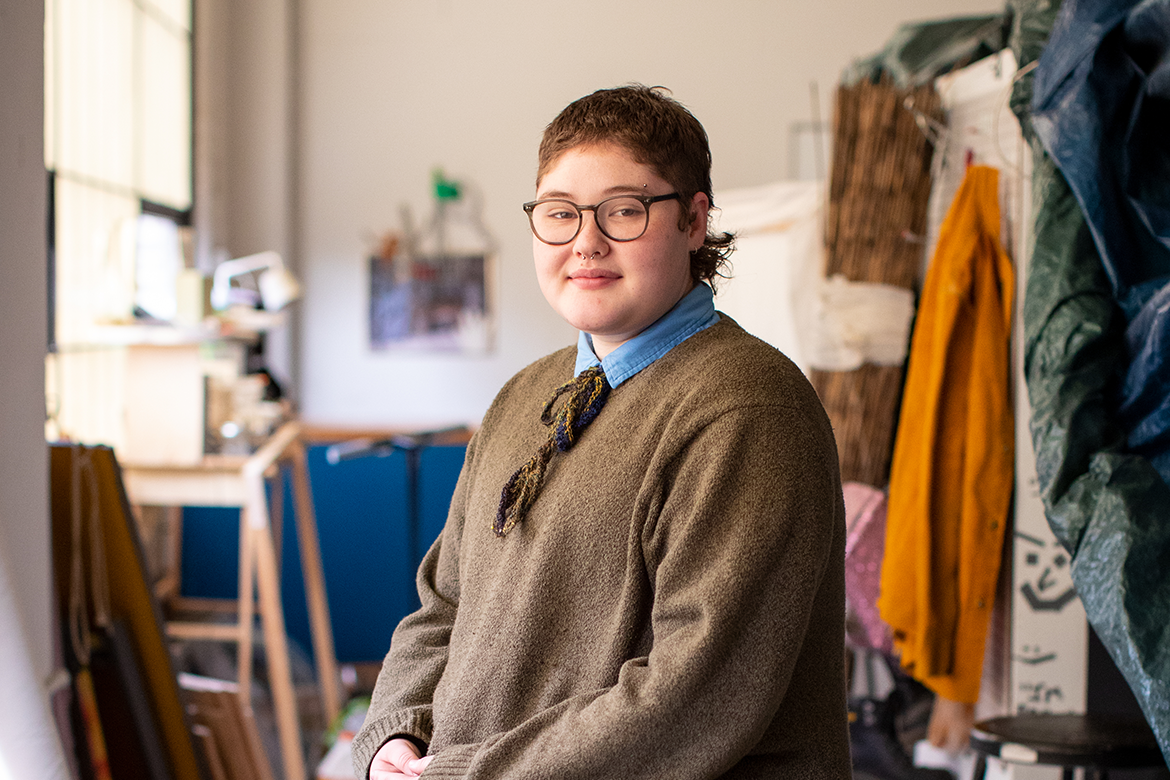 Taking Up Space
Sculptor and writer Brady Mathisen 23 SC sees artmaking at RISD as a constant and rewarding balance.
Among the photos and prints hanging on Brady Mathisen's dorm room wall is one unusual decoration: a raccoon pelt, head and all. "It's ethically sourced!" Mathisen says—from a second-hand store. Mathisen is a nature-lover, no matter what the form, and finds artistic inspiration in the balance between life and death, between the natural world and the human-built world.
As a trans person who uses they/them pronouns, Mathisen thinks a great deal about in-between spaces in general. "A lot of my sculpture work is about nature, but it also relates to my personal experience with gender, as somebody who grew up gendered as a girl but had a strong desire to be masculine." One sculpture Mathisen made last fall highlights that dual creative approach. After encountering a pair of fishermen during a hike in a park, they created two hand-sewn fish tied together with blue ribbon and impaled on long metal hooks, facing each other, as if in conversation.
Over time, Mathisen has come to rely on creative writing—mostly poetry—as much as welding and other skills they've learned in the Sculpture department. "A lot of my work right now is based on the bodily experience of walking around and seeing things and stopping right there to write about them," they say. "It helps me figure out what I'm thinking, and then I make an object. But there are also times when I make an object and then realize something new about it and then write something."
Mathisen always imagined a creative future when they were growing up in Sacramento, California. "At first, I really wanted to be a fashion designer, because my mom and I watched Project Runway every week." Then it was architecture that fascinated Mathisen, then graphic design. While working as a studio assistant for a high school art teacher, they were introduced to sculpture and installation work, and when they took a spatial dynamics class their first semester at RISD, "that was it," Mathisen says. "I got really excited."
"Having people who were my peers, but who also had some authority and could walk me through things really helped me feel comfortable. I like being able to do that for other people."
Financial aid from the Florence Hewitt Memorial Scholarship, the Emily R. Spaulding Scholarship and the Jeanne Stahl-Webber Sculpture Fund covers part of Mathisen's tuition, and the Materials Fund helps them pay for artmaking supplies. "Financial aid has been a really big deal, because RISD was a dream-school opportunity for me," Mathisen says. "I wouldn't be able to be here without this support."
Mathisen is equally grateful for the people and community at RISD. "I wasn't out as trans before being here, so being part of a community that helped me work through a lot of things has been so rewarding," they say. Mathisen reciprocates by helping develop programs for RISD's Intercultural Student Engagement office and working as an orientation leader for new students. They will serve as one of two directors of orientation next year. "When I came in, having people who were my peers, but who also had some authority and could walk me through things really helped me feel comfortable. I like being able to do that for other people."
Being part of a community is like artmaking, Mathisen says; it all comes back to the idea of physical space, whether a person is creating a sculpture to fill it or considering how sexual orientation, race and gender affect the way they move through it. For Mathisen, there are less weighty factors, too—like what the landscape feels like as they walk around every day. "I want to be in a place where I can pick random things up off the ground," they say. "In Providence, I can walk around and pick up, say, a pine cone, and I'll probably be fine. In places like New York, I'm not so sure."