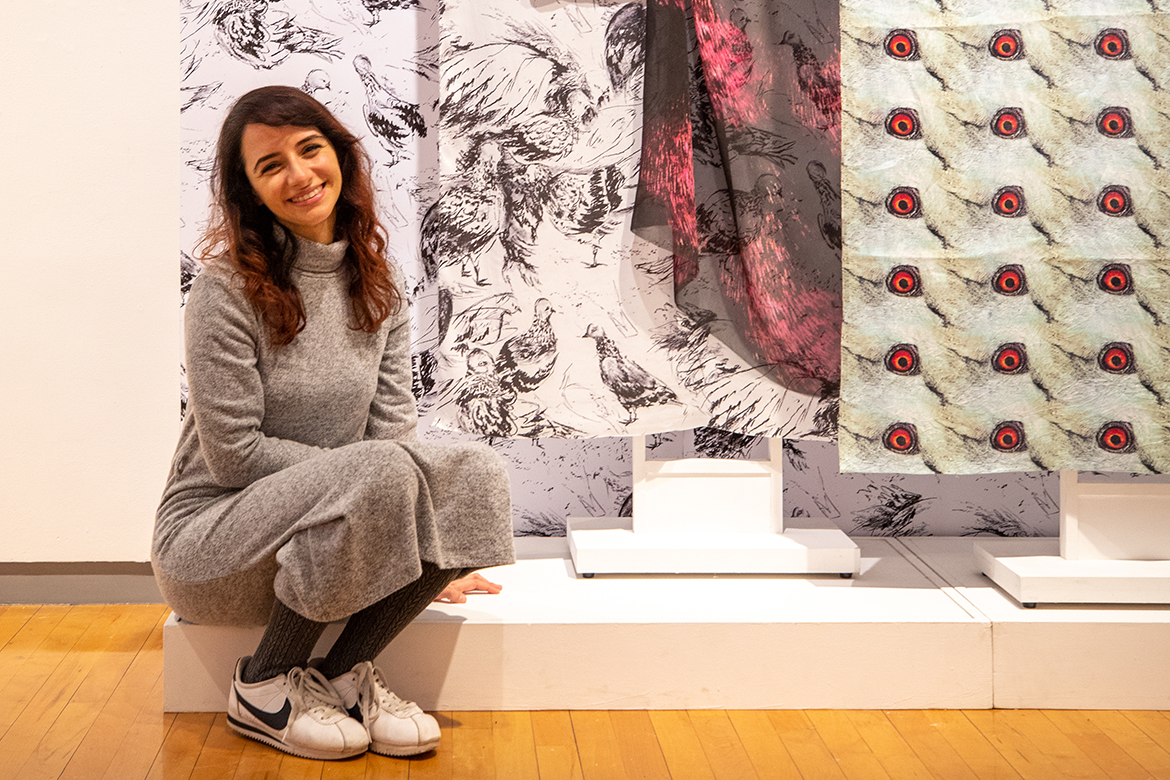 Taking Flight
A Presidential Fellowship enables Dina Khorchid to explore, experiment and process years of trauma and loss.
Dina Khorchid MFA 23 TX was a quiet child who liked to draw and paint, the youngest of four siblings in a Palestinian family living in Kuwait City. In 1990, when she was 3, her father wrote a letter to a relative, saying, "Dina is growing up every day. Yesterday she made a picture of a pigeon."
Today, that letter is a cornerstone of Khorchid's practice as an artist. Shortly after writing it, her father, a doctor who ran a medical clinic, was abducted—this was during the Gulf War—and was never seen or heard from again. "We still don't know the exact story of what happened, or why," Khorchid says. She and her mother and siblings left Kuwait to live near family in Lebanon, then in the United Arab Emirates. The relative who received that long-ago letter returned it to the family, and Khorchid discovered it when she was in high school. Ever since, she says, "I feel like I've used art as a way to connect back to my father, and to deal with loss and memory, trauma, the chaos of not having answers. I think it comes naturally to want to make art, something tangible—to talk through visuals."
Images of the letter have appeared in Khorchid's work on paper and fabric, layered with linocut prints, stitching and pastel strokes. The pigeon she drew as a small child resurfaced, too. "Pigeons are known to be excellent messengers—to me, that means sending messages between past realities and present narratives of the mind. And rather than migrate, pigeons inhabit a safe location and identify it as home. I love that, because I'm always searching for what is home."
Khorchid's search brought her to RISD last fall, supported by a Presidential Fellowship that covers all the costs of her two-year master's program. The Society of Presidential Fellows is RISD's most prestigious graduate student financial aid program, with candidates nominated by faculty and approved by the deans, provost and the president. "It provides mentorship and great opportunities, which I find really amazing," Khorchid says.
Khorchid graduated more than a decade ago from the American University of Sharjah with a Bachelor of Arts in visual communication, and worked as a graphic designer for a magazine, a design studio and an arts and culture organization. Meanwhile, she established her own practice in printmaking and textiles through a Salama bint Hamdan Emerging Artists Fellowship (SEAF) in Abu Dhabi—which included a two-week visit to RISD—and another fellowship with the Ashkal Alwan Home Workspace Program in Beirut, Lebanon.
It was in Beirut, in the summer of 2020, that Khorchid's childhood experience with trauma and loss suddenly deepened. Thousands of tons of ammonium nitrate exploded at the city's port, and the impact of the blast destroyed homes miles away. One of the walls of Khorchid's apartment building shattered all over her bed just minutes after she had gotten up. Unhurt, she stumbled out of the building, where "it felt like a scene from a movie," she says. "There was dust everywhere, people bleeding, running, broken glass on the streets."
Nearly two years later, Khorchid's heart remains in Lebanon. She is "processing things from a distance" at RISD as she immerses herself in new textile-making techniques with her professors, has conversations with mentor Denise Maroney MFA 15 TX and expands her art practice while also staying true to themes of loss, memory, healing and home. "Perhaps because of my Palestinian background, knowing I cannot access my homeland, it brings up a feeling of being an outsider," Khorchid says. "But we, as humans, are always in search of a place of comfort and connection."