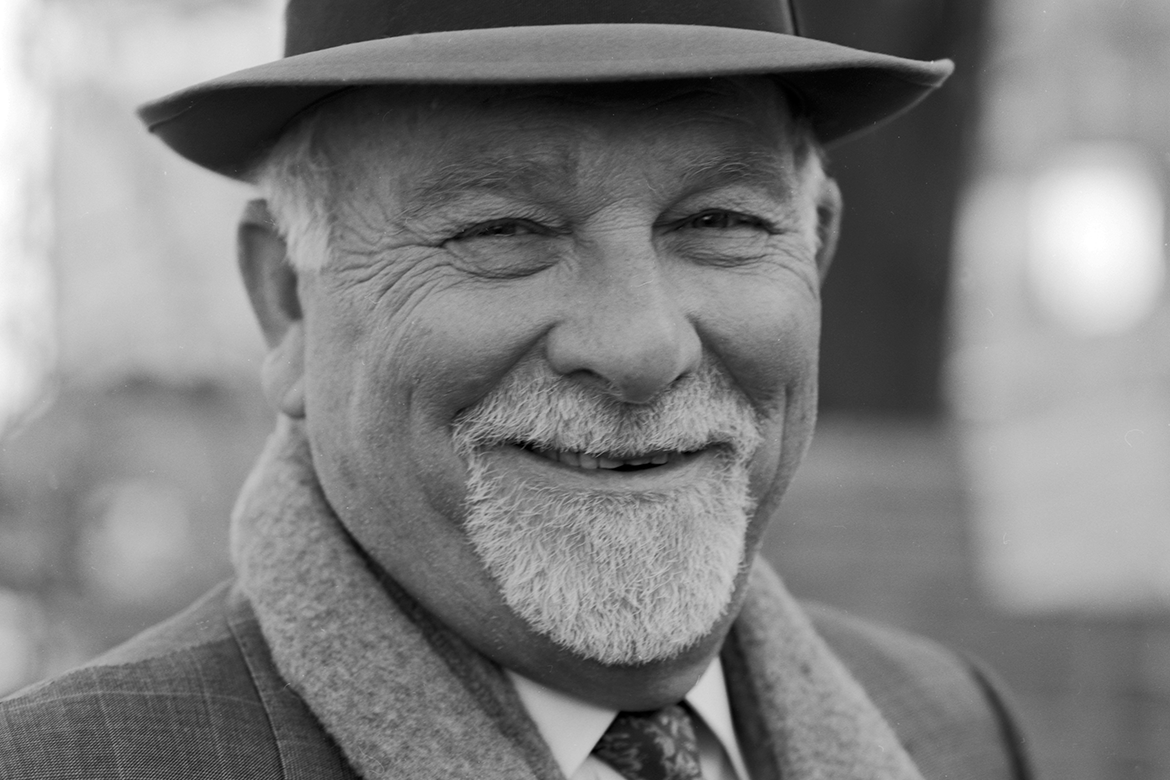 Seeing Courage in Creativity
Since he bought his first piece of art nearly 40 years ago, Dr. Joseph Chazan has championed the RISD Museum and hundreds of RISD artists.
When Joe Chazan was growing up in Buffalo, New York, he never stepped foot inside a museum. His parents were immigrants from Eastern Europe who went to work instead of high school; they were "too poor to be discriminated against," Chazan says. But their son made it to pharmacy school, then medical school, and eventually became a nephrologist and entrepreneur with a network of dialysis clinics throughout Rhode Island.
Along the way, after settling in Providence, Chazan happened to meet Frank Robinson, director of the RISD Museum, who started introducing him to artists. Chazan claims to possess no art skills—"I have hands of stone," he says—yet he felt a kinship with these new acquaintances. "They were swimming upstream," he says, just as he had done when he was trying to set up his first dialysis clinic, which was the first of its kind in the state. He says, "These artists were working alone in their studios, putting themselves out there, never knowing what the critics were going to say. They were uncompromising, and they were trying to do things that maybe had never been done before." Impressed, Chazan started buying their work.
Nearly four decades later, he has become one of the RISD Museum's most loyal benefactors. As he and his late wife, Helene, purchased art to display in their home and then in Chazan's dialysis clinics, they also helped the museum acquire more than 650 works, many by RISD alumni and faculty. Those artists range from well-known glass artists Dale Chihuly MFA 68 CR HD 86 and Howard Ben Tré MFA 80 SC to longtime Rhode Island painter Bob Dilworth 73 PT to, more recently, younger artists like jewelry-maker and metalsmith Luci Jockel MFA 16 JM and painter and community organizer Jordan Seaberry 14 PT. Today, Chazan continues to serve on the RISD Museum's Board of Governors and Fine Arts Committee and supports the Chazan Acquisitions Fund, the Museum Annual Fund and special building projects at the museum. In 2019, President Emerita Rosanne Somerson 76 awarded him the RISD President's Medal of Honor for his generosity and support of local artists.
"He practices true philanthropy, supporting people so they can be creative in the world," says Sarah Ganz Blythe P 22, interim director of the RISD Museum. In recent years, Chazan and the museum's curators have focused on buying artwork by young and emerging artists. Ganz Blythe says, "It's often the first time their work is acquired by a museum, and that is a crucial step in an artist's career, both financially and in terms of expanding the audience for their work." For Chazan, the art is almost secondary. When he started out as a collector, buying art his friends had made, he says that "people would ask me, 'Do you like the artwork?' I'd say, 'It doesn't matter. I like them. And if I can help them succeed, that's good.'"
Chazan's own art collection amounts to approximately 1,000 pieces, most of which are by Rhode Island artists. His philanthropy extends beyond RISD to museums, nonprofits and colleges and universities around the country. With great amusement, he played a purple-suited superhero in Chazan! Unfiltered, a graphic novel about his life that was published in 2020, and a more serious book, published by the RISD Museum in 2016, celebrated his four decades of gifts to the museum's collections. Yet he still describes himself as "a country doc from Buffalo," and views a discussion of why he committed so deeply to supporting artists as "almost absurd." He says, "There was no grand plan. I did what I did because I wanted to do it. That's how I approach everything. I find people I can trust, and who are creative and interested in education, and who are ready to go from A to B to C to D. 'No' is not on the list. I am only interested in 'Yes.'"
Photo credit: Salvatore Mancini