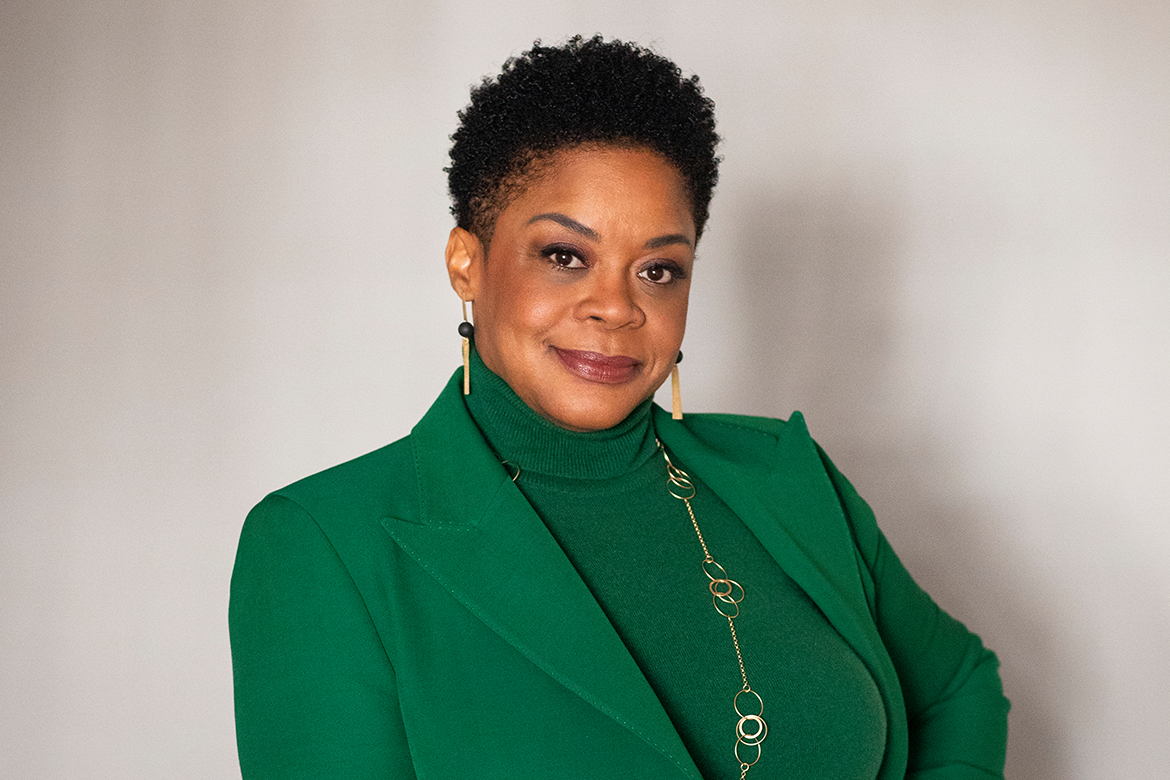 Meet Crystal Williams
As you read this note, I will have been RISD's 18th president for a little over a month. To date, my conversations with students, faculty, staff and members of the broader Providence and art and design communities have buoyed my excitement for this great institution. People have been so warm and welcoming. What a joy!

I look forward to meeting many of you as I begin to travel on behalf of RISD in the coming months, and perhaps sooner if you visit campus for Commencement + Reunion Weekend in June (please do!). I've quickly learned that your pride in this institution and your engagement, volunteerism, advocacy and philanthropic support are crucial to ensuring RISD's vibrancy. Thank you for all of it—for everything you do on behalf of RISD.

My goals for RISD are still taking shape. Yet in my imagination, I picture the endeavor before us as a figure with feet spread wide, with one arm holding the past, honoring the institution's history and decades of outstanding, ground-breaking work, and the other stretching and reaching for transformation. RISD has always been a place of exploration for artists and designers who emerge as leaders, innovators and change-makers. That will never change. We will continue to push beyond our constraints and energize one another in the process.

That said, I do have some immediate priorities. They are to:
1. Support RISD students, faculty, staff, parents, museum patrons, and you our alumni and friends.
2. Strengthen our community through intellectual, social, creative and professional experiences.
3. Galvanize our imaginations to develop new strategic priorities and innovative programs and deepen existing ones, all in service of advancing RISD's excellence.
4. Ensure that our world's most promising creatives can find a home at RISD.

Add to that list an orientation to help make RISD a place where all community members can thrive. I believe that our plurality as makers, thinkers and human beings is a source of our institutional strength.
"My goals for RISD are still taking shape. Yet in my imagination, I picture the endeavor before us as a figure with feet spread wide, with one arm holding the past, honoring the institution's history and decades of outstanding, ground-breaking work, and the other stretching and reaching for transformation."
That strength also comes from you. I appreciate your commitment to RISD. Your financial support enables our students, faculty and staff to bring their ideas into the world in exciting ways, and your generosity enables us to open up much-needed opportunities for students from around the world. Your time and energy, too, on behalf of the Alumni Association and Families Association, strengthens our potent RISD network worldwide. We could not do any of this essential work without your contributions.

And you—why do you love RISD? I have already heard so many wonderful stories: from a sitting US senator, from a multi-generation RISD family, from colleagues whose parents are RISD alumni or whose children aspire to join our community. So many endearing stories about transformation, dreams, lives defined in some part by this extraordinary place. I am eager to hear your memories as well. Your words and experiences will help inform our future and how we, the global RISD community, move forward. With great appreciation and anticipation,

CRYSTAL WILLIAMS
PRESIDENT, RHODE ISLAND SCHOOL OF DESIGN