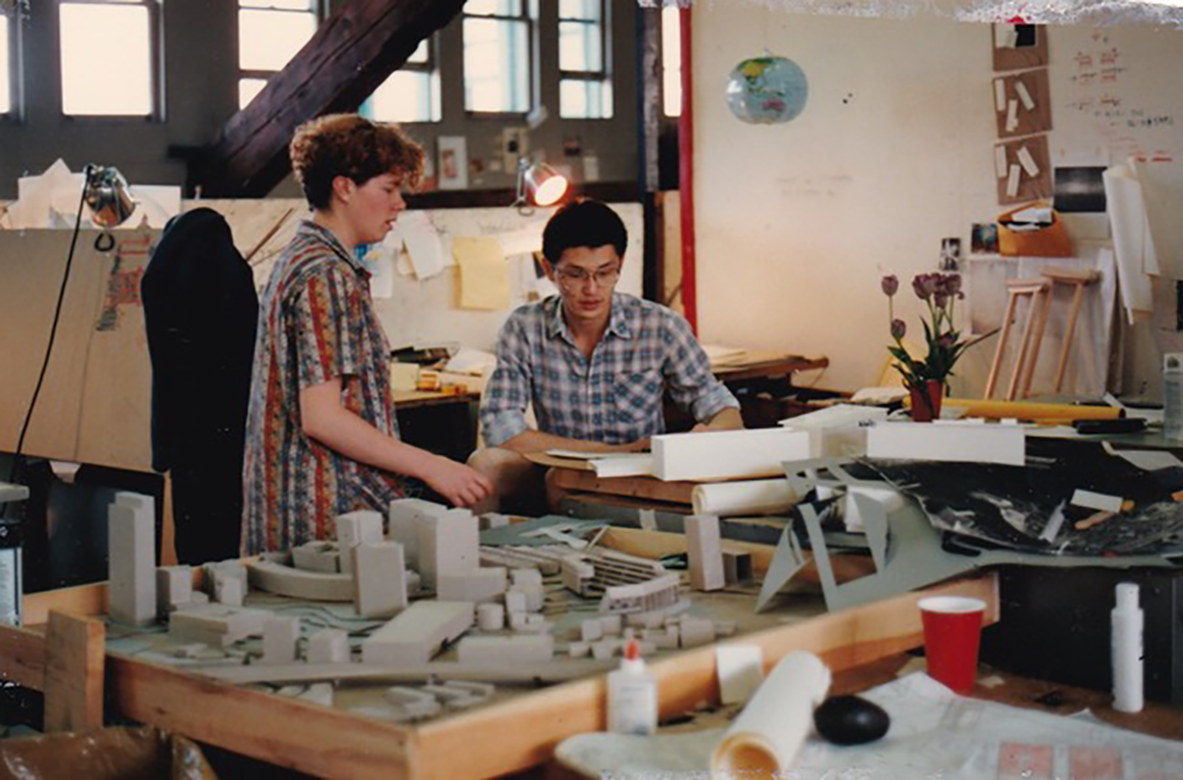 The Explorer
Hao Hoang pursued one creative idea after another without hesitation. His legacy will enable future students to do the same.
Late one night in April 1979, 13-year-old Hao Hoang BArch 88 and his family snuck out of their home in Ho Chi Minh City, Vietnam, and escaped the country with nothing but the clothes they were wearing. Hoang's father had been placed under house arrest—like many Vietnamese citizens of Chinese ancestry who owned land or worked in international business, he was viewed with suspicion by the new Communist government. He saw a bleak future ahead for his family. So they fled.
Five years later, Hao was, incredibly, enrolling at RISD, supported by a substantial scholarship. He served as an undergraduate teaching assistant in the Department of Architecture and was known for his meticulous designs, unparalleled work ethic, voracious creative appetite and generous mentorship of younger students. Hao died of cancer in 2018 at the age of 53, and gave much of his estate to RISD to establish the endowed Hao Hoang BArch 88 Scholarship. "Hao got an opportunity to start his career" at RISD, says his sister Linh. "He always thought a lot about what he could do for other people, and he wanted to help students learn and explore the way he did in his day."
Hao's road from Vietnam to RISD included a perilous 21-day boat ride to Hong Kong with hundreds of other passengers, a stay in a refugee camp, and then a new life on Cape Cod in Massachusetts, where the family settled in the fall of 1979. As he and his three siblings learned English, studied and tried to assimilate into the culture of the United States, Hao excelled. He competed on the school's track and field team and was always drawing and sketching, says Linh. "He was into different aspects of art—painting, photography, filmmaking, furniture design. For him, it was about being creative, always thinking outside the box."
At RISD, Hao shared an apartment with Johnny Li BArch 89, who describes his former roommate as soft-spoken and caring. "Because of his role as a teaching assistant, he tried to inspire people, pushing them without forcing his opinion on them," Li says. Hao guided students beyond RISD, too. He worked in Spain and Vienna after graduation, and urged Li to do the same, sending him detailed maps and notes about where to travel and even helping him get a job at an architecture firm in Vienna.
Deborah Torres BArch 89 was another classmate whom Hao advised to work internationally after RISD. "Hao was always willing to share what he knew," she says. Their connection continued in Los Angeles, where they each began to build careers as architects. When the 6.7-magnitude Northridge earthquake rocked greater Los Angeles in 1994, Hao and Torres drove all over the city and photographed collapsed overpasses and freeways and buildings, then sent the photos to their structures professor at RISD, to show to students and use in class discussions.
Even as Hao worked for decades as an architect on a range of residential and commercial projects, he took time to coach Los Angeles-area high school students who were applying to RISD, volunteer with the Sierra Club and continue experimenting with other media, just as he'd done as a student. He wrote a screenplay that won a grant from the Los Angeles Department of Cultural Affairs and was a semi-finalist candidate for the Sundance Institute's Screenwriters Lab. He developed software and mobile apps, and was "very much an idea-generation person," says his brother Keith.
And a risk-taker, Linh adds. When Hao was in high school, he didn't know how to swim, yet when he faced a required swim test in gym class, "he just jumped into the pool," Linh says. "The teacher had to dive in and save him. But after that, swimming became one of his favorite hobbies."
That pool jump is akin to what Hao might say to RISD students today. "Go out and explore the world, be adventurous, and have a blast doing it," says Linh. "And work hard," adds Keith. "Hao came here with almost nothing and became someone who—anything he wanted to do, he could do. He put his mind to it all."