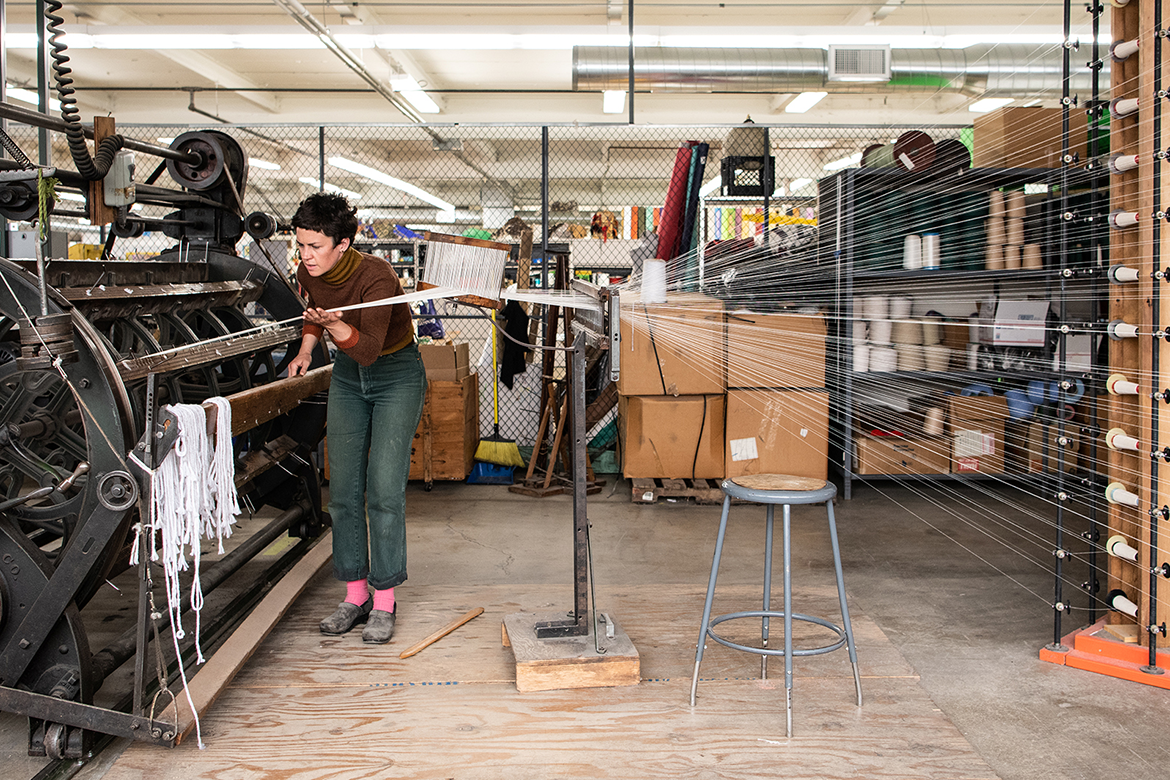 A Decade of Impact
RISD celebrates 10 years of the Maharam STEAM Fellowship.
When RISD launched a partnership with the textile company Maharam to integrate art and design into a broad range of professional fields—including the STEM fields of science, technology, engineering and math—the goal was to help students use their creative skills outside of traditional art-world ventures.
Today, after a decade of the Maharam STEAM Fellowship in Applied Art and Design, RISD students are bringing their training as visual and innovative thinkers to dozens of government agencies, medical and scientific research institutions and nonprofit advocacy groups, among other organizations.
"Maharam is proud to support RISD students—the next generation of creative leaders. As artists and designers, they can affect real social and environmental change in culture, policy and practice," says Maharam Senior Vice President and Director of Design Mary Murphy MAE 86. "We have been particularly inspired by the Fellows' recent focus on social justice and sustainability, and we look forward to following the work and impact of the Maharam STEAM Fellows in the years to come."
The fellowship supports up to 10 RISD students every summer with a $5,000 stipend, which allows them to pursue internships that they design themselves, in partnership with companies and organizations they choose. Past fellowship recipients have interned with organizations as large as the Mayo Clinic and the World Economic Forum and as regionally focused as the Wasatch Community Garden in Salt Lake City, Utah and the St. John's Vocational Training Centre in Batticaloa, Sri Lanka. Student work has focused on prisoners' rights, immigrant and refugee services and children's mental health treatments, among dozens of other issues. As of this summer, the Maharam Fellowship will have supported just over 100 RISD students working across the US and in 23 countries.
Samantha Dempsey 13 IL is now the lead experience designer at Zwift, a fitness training app, but a decade ago, she was among the first cohort of Maharam Fellows. She interned at the Mayo Clinic Center for Innovation, conducting research with patients and clinicians, designing a toolkit for collecting visual stories from patients and mapping clinical conversations and creating a series of comics and animations to share critical information with both patients and staff. She says the fellowship "opened her eyes" and showed her a potential she didn't know existed. "I hadn't realized that I had the kind of skills that were needed in a complex system like healthcare," she says. "The fellowship shaped the designer I am today and gave me the confidence to speak up in rooms where no one expected to hear my voice."
Adam Chuong MID 19 interned with Direct Action for Rights and Equality (DARE), a Providence housing advocacy organization that organizes low-income families living in communities of color. Driven partly by the understanding that RISD is a contributing factor in Providence's affordable-housing crisis, Chuong designed questionnaires and promotional materials, built props for street theater protests, ran workshops to engage tenants all over the city, and secured a city grant for DARE to host a documentary-film screening and panel discussion with Fred Hampton Jr., leader of the Black Panther Party Cubs. Chuong says, "The Maharam Fellowship expands the perceptions of art and design not only for recipients, but also for the host organizations. Fellows learn to apply their skills and creative thinking into new contexts, while the host organizations learn how art and design can change the way they approach problems." Chuong now works as education manager at The Steel Yard, a nonprofit industrial art center and studio in Providence.
"In many professions, people can get very focused on the tasks at hand and miss valuable tangents and intersections," says Kevin Jankowski 88 IL, director of RISD's Career Center and an advisor to Maharam Fellows. "That's what these RISD students can do; they can see a bigger picture and propose ideas that hadn't been considered before." And the fellowship is an empowering experience for students even before their actual internships begin, Jankowski adds. "When they receive funding from Maharam, they see their ideas being valued. That gives them the confidence to go out and create impact—to be changemakers in a community."
The fellowship shaped the designer I am today and gave me the confidence to speak up in rooms where no one expected to hear my voice.