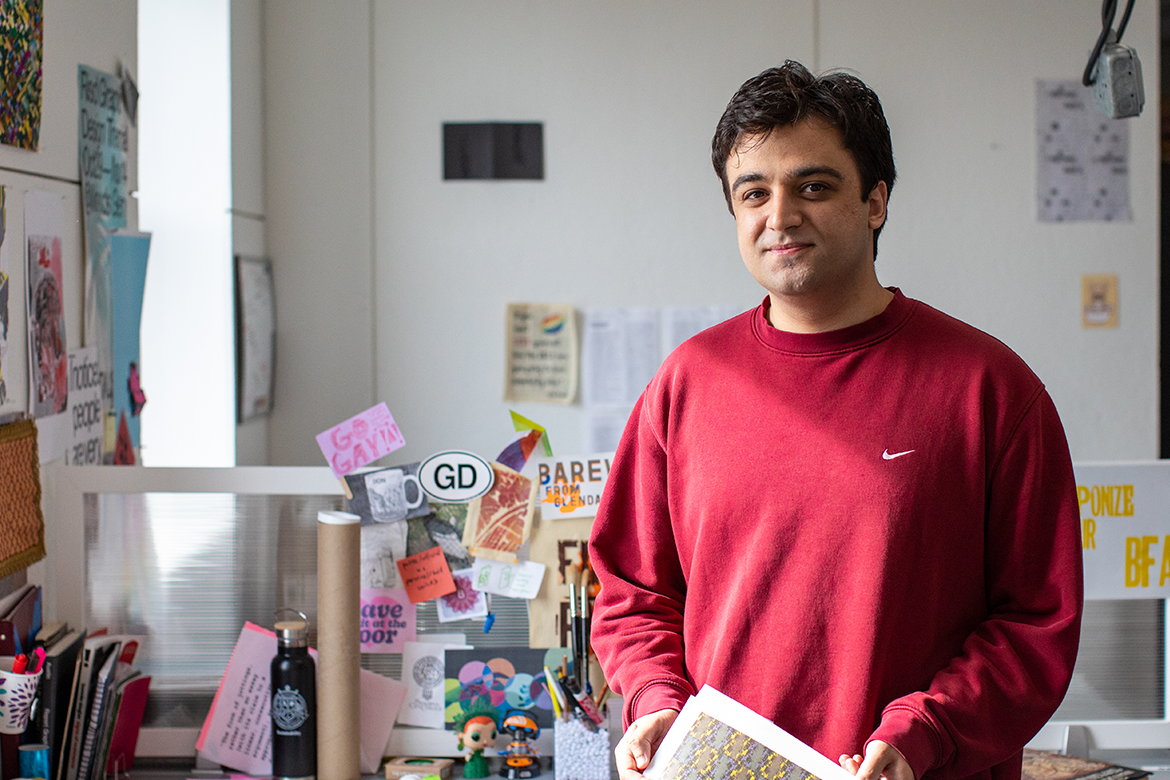 The Creative Pursuit of Advocacy and Accountability
Alex Sarkissian wants to design with an audience rather than for an audience.
Serving as a student orientation leader in the fall is not unusual for someone beginning their final year at RISD, but Alex Sarkissian 22 GD may have been the only one who'd never set foot on campus before. What he lacked in familiarity he made up for with enthusiasm. "I wanted to hit the ground running and get involved right away," he says. "When you can find community at school, it's a game changer."
Sarkissian knew this because he already had three years of college under his belt. He transferred to RISD in 2020 from Pasadena City College, where he had earned associate's degrees in Communication Studies, Social and Behavioral Science, and Sociology, as well as a certificate in Graphic Design. The pandemic forced his first year at RISD to be completely remote, but when he arrived on campus in 2021, his orientation duties got him up to speed quickly. "All the people I met, giving tours even though it felt like I didn't know what I was doing—it made the whole transition better and calmer."
At RISD, Sarkissian has received scholarship funding for summer coursework and an internship stipend, and one of his assignments last fall was awarded the Tomás Gonda Prize, which recognizes work by graphic design students that focuses on solutions to social justice problems. Prizewinners receive funding to print and produce their project. Sarkissian's image, titled "Half the Story," highlights Critical Race Theory*; it's a stark, type-based illustration that suggests that when students learn about slavery in US history but not about the systemic racism that has endured, they are not getting complete information. "To me, it's about accountability," Sarkissian says. "I'm Armenian, and part of Armenia's history is the genocide"—mass killings of Armenians in the late 1800s and early 1900s at the hands oft he Turkish Ottoman Empire, which Turkey, today, refuses to acknowledge. Sarkissian says that the principles of CRT "feel personal to me, even though my family is not from the US."
"When you can find community at school, it's a game changer."
Sarkissian discovered design when he was in middle school, doing layouts and photography for the student newspaper and yearbook. He kept at it through high school and community college. Stuck at home for his first year at RISD, with classes online, he went through a bout of imposter syndrome—"everyone else was so good!" he says. But things clicked partway through a design studio class during a project that highlighted typography, and his teacher advised him that he had an eye for composition. "That was probably my most validating moment of the whole semester," Sarkissian says.
Another favorite project was an abstract digital color study he created this year. It started with a childhood photo taken during a long car ride from Seattle, where Sarkissian was born, to LA, where he grew up. He used JavaScript to develop code that he left running for most of a day, then printed the resulting material and played with it in Photoshop. The image that evolved was something completely new and unexpected, resembling both an intricate weaving and an old-school video game: a blending of muted grays and greens that seemed to represent Seattle, and brighter, more contrasting colors that Sarkissian associates with Southern California.
Despite the complexity of that project, Sarkissian considers simplicity and clarity his main traits as a designer. He often thinks of old friends back in California when he's embarking on a project—one of them is in med school, another is doing a PhD in biochemistry. "They're not in my world," Sarkissian says. "I design around that idea—how can I work with an audience that isn't from my background to help them understand what I'm doing? I welcome ideas from people who aren't on the same page as me. It helps me not design in a box."
* The American Bar Association defines Critical Race Theory, or CRT, as the academic and legal practice of critiquing "how the social construction of race and institutionalized racism perpetuate a racial caste system that relegates people of color to the bottom tiers."