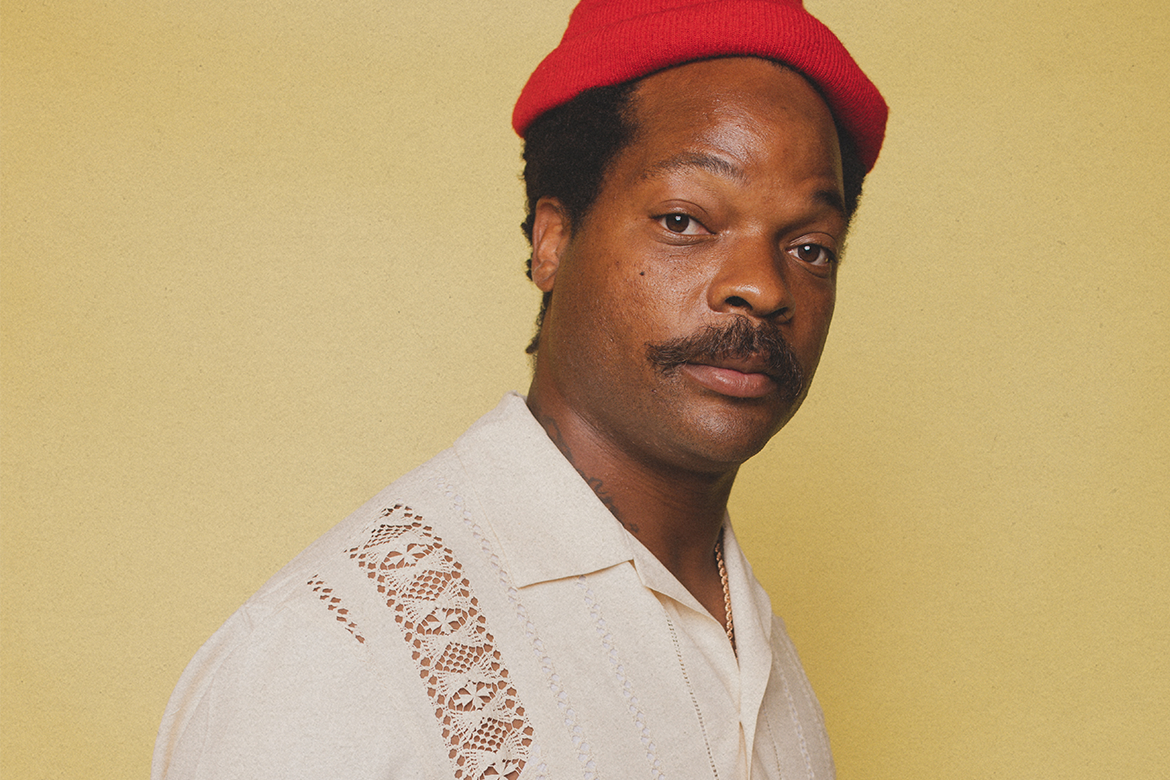 A Champion for Change
Designer and retired NFL player Michael Bennett wants more opportunities for students of color to shape their communities.
Famous football players may not be the first people who come to mind as likely supporters of art and design education. But Michael Bennett, who played in the NFL for 11 years, appeared in three Pro Bowls and won a Super Bowl Championship with the Seattle Seahawks, is now partnering with RISD to help diversify its student body.
In 2021, Bennett and his wife, Pele, established the Michael and Pele Bennett Scholarship, a $250,000 endowed fund aimed at enabling "more people of color to be in the best place for hands-on learning and creating," he says. Helping RISD attract and support students from communities that have been historically underrepresented in art and design industries means giving them, Bennett says, "an opportunity to become a part of a culture of thinking and building, and to begin changing the world they see around them."
Bennett was inspired to reach out to RISD at the height of the pandemic, after leaving the NFL to spend more time with his family and to return to college at the University of Hawaii. As a high school and college football player in Texas in the early and mid-2000's, he'd always been familiar with the inequities that exist in education. But at the University of Hawaii, immersed in studying architecture and design, he gained a deeper understanding of the oppression that is built into our environments—seeing how neighborhoods, buildings and society are intertwined in negative and long-lasting ways. "There are so many places that don't have the infrastructure they need to exist, places that have been totally rejected," Bennett says. "The people who live in a neighborhood should have the opportunity to make the changes needed in that neighborhood. Why can't they be equipped to design the buildings and the landscape?"
With a RISD education, they can be, Bennett says. And he's not just interested in supporting architecture students. "Multimedia, industrial design, fashion, it doesn't matter—it's about students of color getting the chance to be creative and grow," he says. Bennett hopes to eventually welcome RISD students as interns at his design studio, which is based in New York and Hawaii and creates furniture, art installations and other work rooted in "the beauty and function of the African diaspora," he says. "We look at materials and craft and tradition, and think about how those things contribute to different moments in history and society."
O'Neil Outar, vice president of Institutional Advancement, sees Bennett as an exciting partner for RISD. "We hold matching values around art and design and issues related to diversity, equity and inclusion," Outar says. "Michael is very much a systems thinker, and he understands the necessity of building the academic pipeline and training the next generation of industry leaders."
Fighting for equity and opportunity has long been part of Bennett's agenda, even when he was immersed in the grind of pro football. For several years as a player, he sat or stayed in the locker room when the national anthem was sung at NFL games as a protest against racial injustice. The philanthropic foundation he started with his wife has helped launch a school for girls in Senegal focused on math, science and technology; a gardening program at Seattle's King County Juvenile Detention Center; and sports and nutrition programs for kids living on a Sioux reservation in South Dakota. He's written a book about his activism titled Things That Make White People Uncomfortable, and he was an early member of Athletes for Impact, an organization of sports leaders that advocates for a range of social justice issues.
"Michael is very much a systems thinker, and he understands the necessity of building the academic pipeline and training the next generation of industry leaders."
"Football allowed me to do a lot of great things," he acknowledges. But his athleticism was, and is, he says, "a talent and a skill, not a purpose." In his book, he writes, "Whether I die tomorrow or in 60 years, if the only things about me that people talk about are the Pro Bowls and the Super Bowl appearances, I will have failed." His purpose— "having more people get the opportunity to grow and give back to each other"—now includes helping to bring greater equity into the RISD student body. He says, "The only expectation I have is that more people get the chance to be a part of the system and learn, because knowledge is everything."