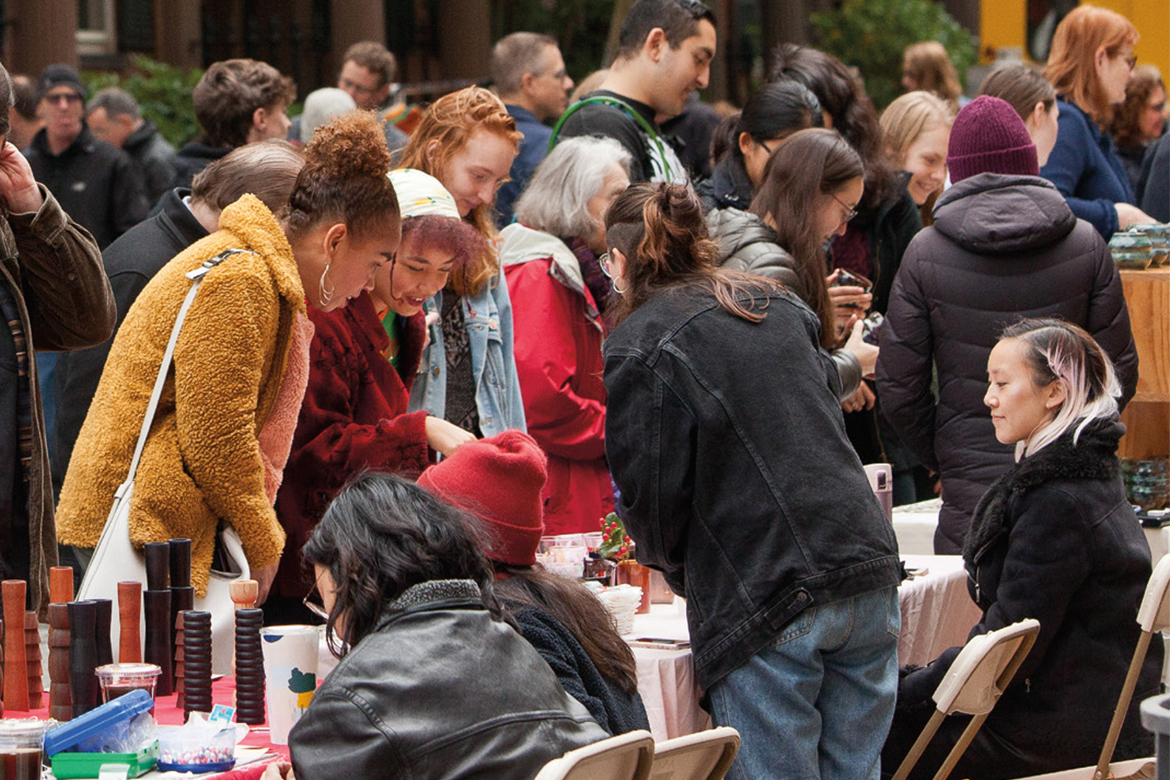 RISD Weekend Goes Hybrid
A new model, better able to accommodate families and alumni unable to travel to campus, brought the community together to celebrate this fall.
With the COVID-19 pandemic continuing to impact travel and large indoor gatherings, the RISD Alumni Association offered virtual events for alumni and families around the world to participate in throughout the month of October and held campus programs outdoors on October 9, 2021.

Alumni in the food industry, Ciril Hitz 91 ID, Monica Martinez MFA 09 SC, Arley Marks 10 SC and Al Read 91 ID, led an online discussion about the impact of the pandemic on restaurants, bars, caterers and food producers, as well as the many ways small businesses adapted to survive. Families of RISD students were especially interested to learn from faculty about critique sessions, where students are guided to look at and reflect on each other's work. Online participants also heard from Career Center Director Kevin Jankowski 88 IL about the range of opportunities in creative job markets and the career development resources RISD provides to students.

The RISD Queer Alumni affinity group hosted and gave a welcome for a virtual exhibition overview of Any distance between us, on view at the RISD Museum. Artist-writer Stephen Truax 07 PT curated the exhibition in collaboration with the museum's Richard Brown Baker Curator of Contemporary Art, Dominic Molon. They discussed how the exhibit explores the power and significance of intimate relationships in works of contemporary art, particularly those made by artists who identify as Queer and artists of color.

The exhibit comprises more than 30 works, including works by alumni artists Nicole Eisenman 87 PT, Aaron Gilbert 05 PT and Deana Lawson MFA 04 PT. In the coming months, the RISD Queer Alumni affinity group plans to host a related program online with Truax and Molon to explore the works and themes of the exhibition.

Families of students and RISD alumni able to be on campus for the festivities enjoyed opportunities to browse a book sale hosted by the Fleet Library at RISD and take a figure-drawing class. RISD Weekend featured walking tours, including one of historic sites on campus with RISD Archivist Andy Martinez.

RISD alumni also led programs during the weekend. To share experiences and build inclusive connections across generations, RISD Black Alumni, RISD Hispanic + Latinx Alumni and RISD Queer Alumni held receptions for families, students and alumni. Affinity groups such as RISD Art + Design Educators offered networking events around shared career interests to members of the community.

RISD Craft, a favorite tradition of the RISD and local communities, drew art enthusiasts to Benefit Street for a juried sale of alumni and student work. If you missed the sale, visit risdcraft.com to learn more about the talented makers.