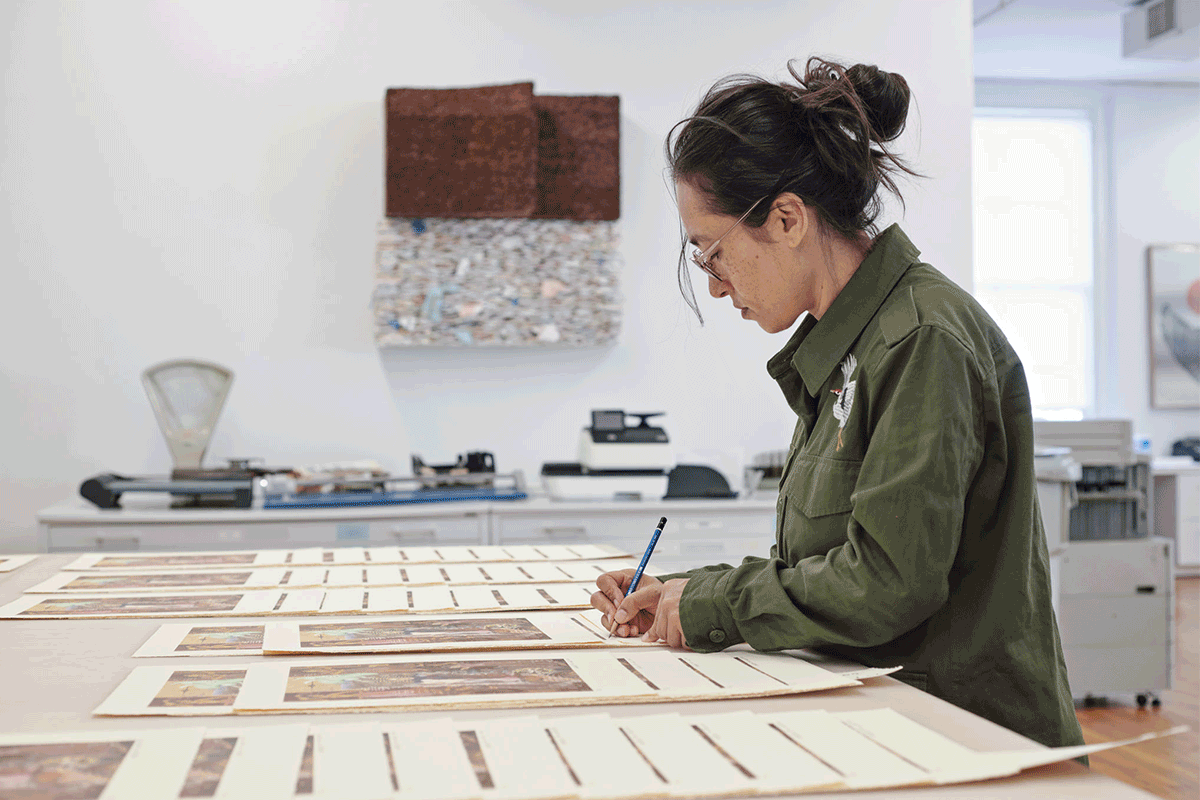 In celebration of Shahzia Sikander (MFA 95 Painting/Printmaking) recent ground-breaking installations in New York City, RISD Limited Editions held aside a limited number of our 2022 Editions of works by Sikander and Huma Bhabha (85 Printmaking)
Initially released in November 2022, a limited quantity of prints were held aside to celebrate Shahzia Sikander's recent installations in Madison Square. Her first major outdoor work, Sikander's allegorical "NOW" (2023) and "Witness" (2023), are part of a multimedia exhibition entitled Havah…to breathe, air, life, co-commissioned by Madison Square Park Conservancy and Public Art of the University of Houston System (Public Art UHS).
Hailed as "luminous," the powerful female figures depicted in these monumental works connect to the central figure represented in Sikander's original watercolor on tea-stained wasli paper Pleasure Pillars, 2001, which was reproduced for RISD Limited Editions in a limited-run five color offset lithograph titled, Pleasure Pillars (2022).
Part of "an urgent and necessary cultural reckoning underway as New York, along with cities across the world, reconsiders traditional representations of power in public spaces," (New York Times), "NOW" and "Witness" will be on view through June 4, 2023 when the works will travel to Houston, Texas.
Proceeds from the sale of RISD Limited Editions go directly to supporting RISD students through the Student Opportunity Fund. Your purchase of these prints ensures that the full RISD experience is available to every student, regardless of income level.
The Prints
Huma Bhabha and Shahzia Sikander collaborated with Pace Prints to translate their hand-painted images into offset lithographs.

To showcase the exquisite details and colors of these works, the lithographic plates were made by exposing each color using stochastic screening. This technique, also known as staccato or F.M. (Frequency Modulation) screening, renders the image in extremely fine grains of less than 1/10,000th of an inch and faithfully preserves the artists' mark-making in the translation to the plates. Stochastic plates can also be combined beyond the typical four-color process, bringing the full breadth of values in the prints to life.

Both prints were printed in soy-based ink on 100% cotton paper. Produced using by-products of the garment industry, cotton papers derive from a sustainable source and reduce waste.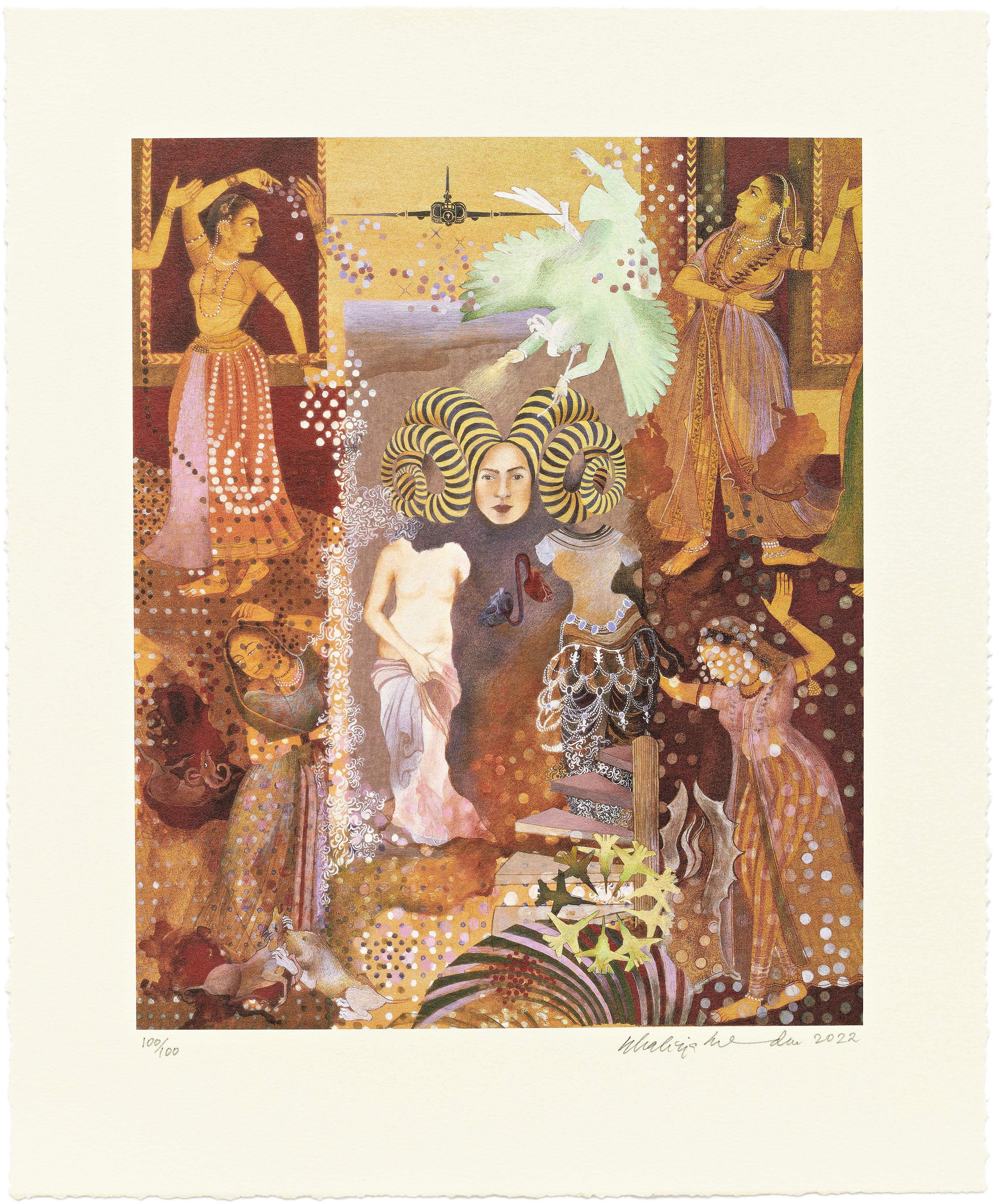 Pleasure Pillars (2022)
Five color offset lithograph
14 1/2 x 12 1/8 inches
Signed and numbered edition of 100

The complex narrative of Pleasure Pillars (2022) crosses cultures and temporal dimensions as it mediates the space between two distinct artistic processes, one rooted in a deeply traditional practice and the other spontaneously of the moment.

This work showcases Shahzia Sikander's exploration of recurring themes, including feminism, female sensuality and eroticism. Pleasure Pillars highlights Sikander's mastery of the inherent dichotomy in her work as she celebrates these themes while deftly critiquing and resisting their fetishization.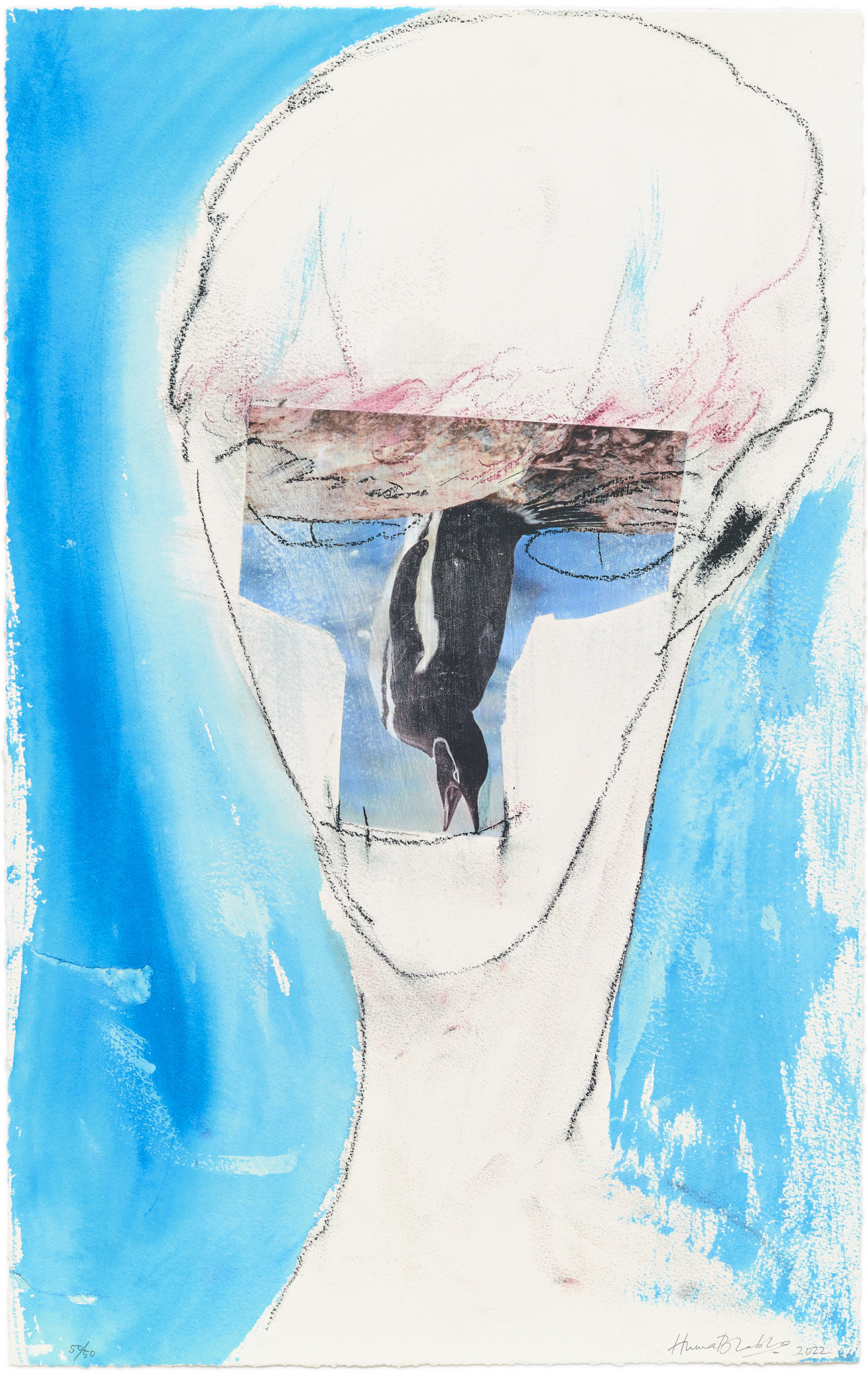 Penguin (2022)
Four color offset lithograph
25 3/4 x 16 1/4 inches
Signed and numbered edition of 50

Originating from a drawing, Penguin is a complex piece that draws from Huma Bhabha's interest in portraiture, collage, mark-making and other layering processes to tell stories of psychological and visual complexity.

Bhabha frequently uses images of animals and wildlife as agents of sacred power. Penguin continues her profound interest in creating works representing reciprocity between humans and the natural world that symbolically heal environmental trauma as it is already too late.
Frequently Asked Questions
What is the Student Opportunity Fund?
The Student Opportunity Fund provides financial assistance to students for educational expenses not funded through traditional financial aid. Examples include course and making materials, internships, global travel courses and research opportunities. These funds help make the full RISD experience accessible and equitable to students from all income levels.

When is the next RISD Limited Editions sale?
The next sale starts on November 28, 2022

Who is Pace Prints?
New York master printmakers, Pace Prints was founded in 1968 to provide leading contemporary artists with resources and facilities to create and exhibit fine art limited edition prints and multiples.

Spanning five decades, Pace Prints has been and continues to be an incubator for creativity. John Chamberlain, Francesco Clemente, Chuck Close, George Condo, Jean Dubuffet, Helen Frankenthaler, Robert Mangold, Louise Nevelson, Kenneth Noland, Robert Ryman and Pat Steir are among the many artists who have been collaborative innovators. Their creative legacy now extends to a new generation of artists.

Pace Prints exhibition spaces and production facilities continue to offer broad opportunities for collaboration in continually expanding printing techniques. Among the artists who have most recently been utilizing the wide variety of available printmaking techniques are Nina Chanel Abney, Nigel Cooke, Tara Donovan, Leonardo Drew, Tomoo Gokita, Loie Hollowell, Shara Hughes, Li Songsong, Wangechi Mutu, Yoshitomo Nara, Adam Pendleton, Robin F. Williams, and Jonas Wood.

Who can purchase these prints?
The public sale is open to anyone and we encourage everyone in the RISD Community to take part. However, these prints are limited editions so we expect they will only be available for a short time!