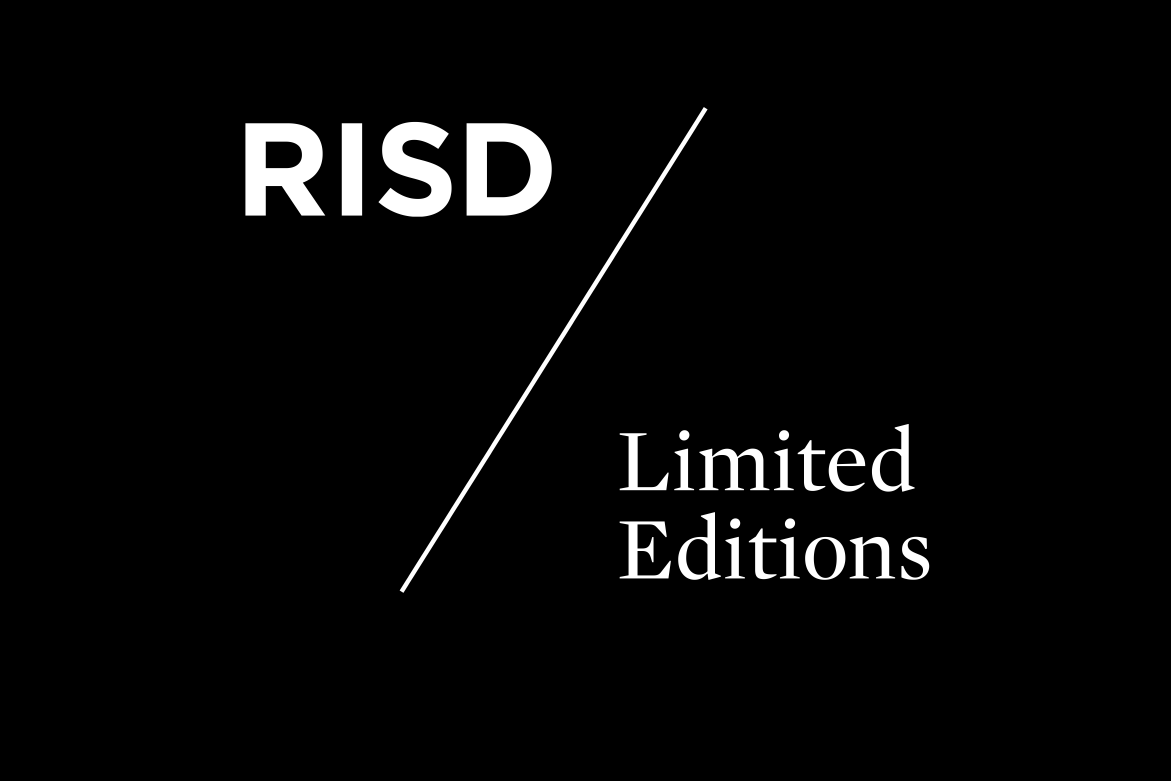 Starts: Fri, October 08, 2021
Ends: Tue, November 30, 2021
---
An Alumni Print Sale Benefitting the Student Opportunity Fund
The Prints
For October's inaugural sale each artist has contributed 300 signed and numbered limited-edition prints.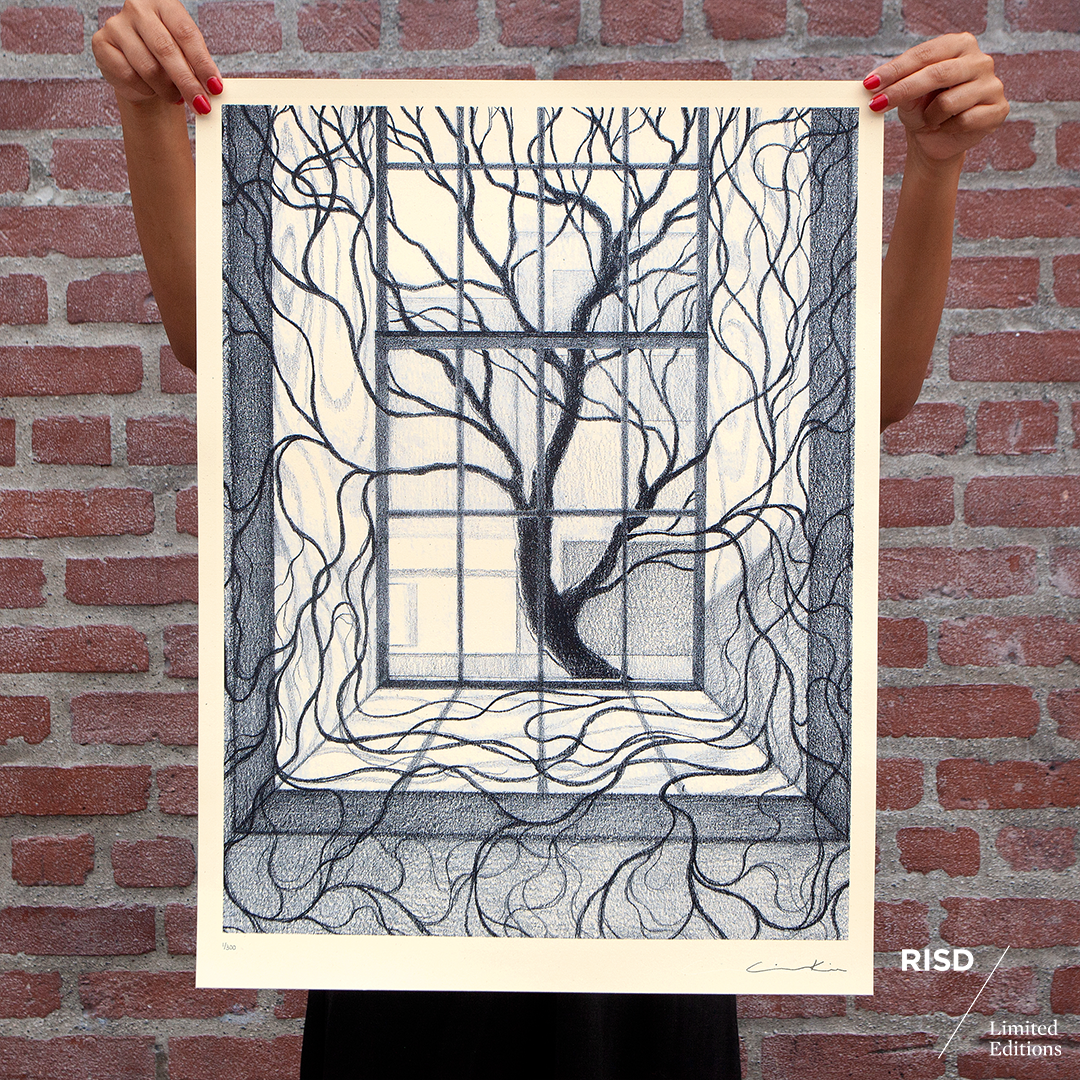 Mott Haven, March 2020, 2021; screen print on 80 LB cream French Speckletone paper; 18 x 24 inches. Signed and numbered limited edition of 300.

Based on an original drawing created as part of a New York Times project featuring 17 artists sharing how it felt to be in New York at the height of the pandemic, Mott Haven, March 2020, captures the anxiety the artist felt at the time, the terrifying economic aspects of the pandemic and the feeling that the world was "becoming alien and foreign overnight."

The work, in tones of grey and silver, is haunting—even threatening—where the bare branches of a tree expressed with an almost tentacle-like quality creep in through the window as shadows which overwhelm the interior space. The curved, twisting branches and shadows stand in stark contrast to the linear treatment of the window and the city buildings beyond. It is a powerful image evoking feelings of uncertainty and solitude.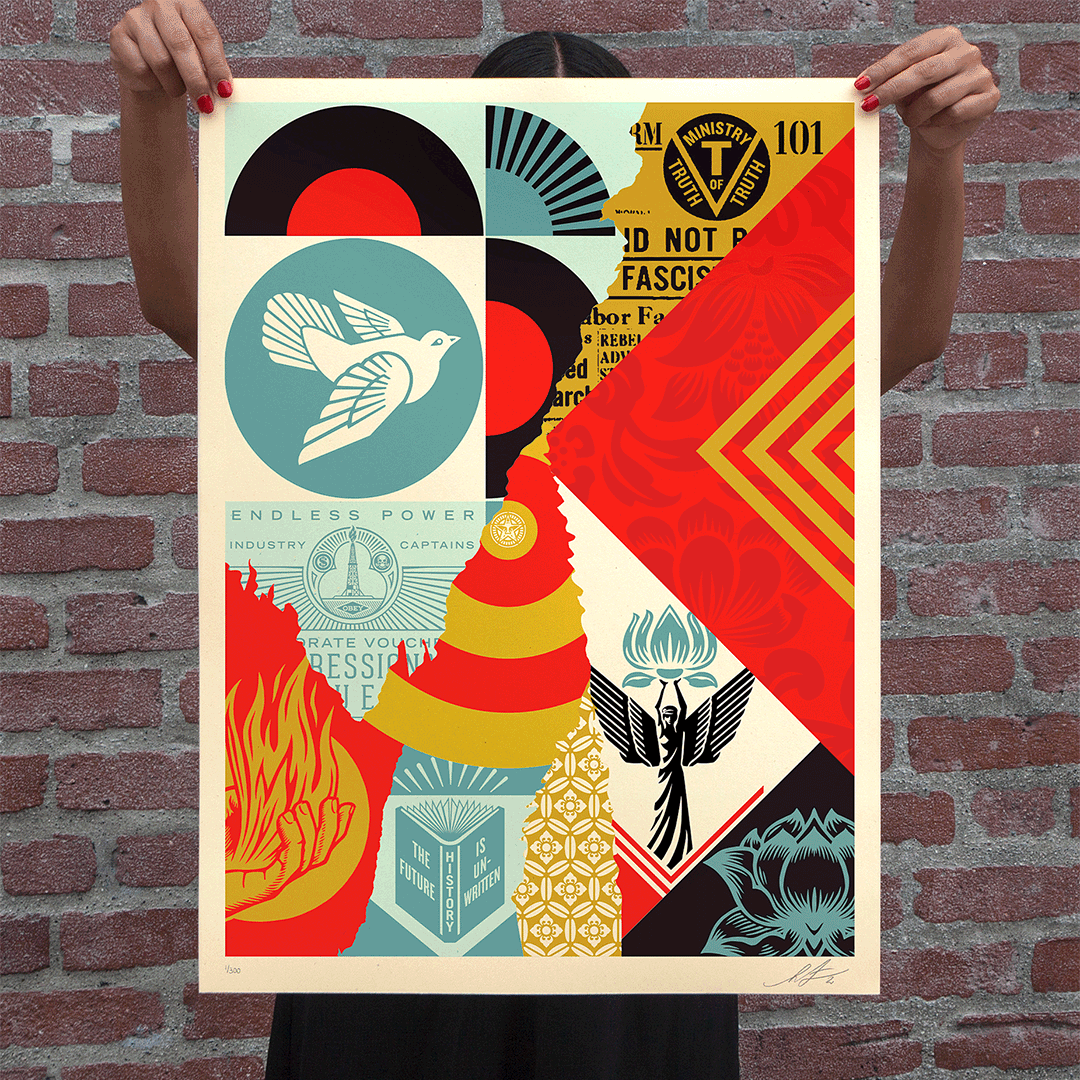 The Future is Unwritten Collage, 2021; screen print on 80 LB cream French Speckletone paper; 18 x 24 inches. Signed and numbered limited edition of 300.

The Future is Unwritten Collage uses the aesthetics of a wall of ripped posters to symbolize the complex collisions and layers of ideologies that will shape the world's future. Climate change, corporate power over politics and the erosion of democracy versus environmental responsibility and the cultivation of peace, harmony and equality—we have important choices to make about what we value and what we want our world to be like.
This item is sold out.
RISD/Limited Editions launched on October 8, 2021 with a limited series of exclusive signed and numbered prints by RISD Trustee Shepard Fairey 92 IL and Cindy Ji Hye Kim 13 IL.
Frequently Asked Questions
What is the Student Opportunity Fund?
The Student Opportunity Fund provides financial assistance to students for educational expenses not funded through traditional financial aid. Examples include course and making materials, internships, global travel courses and research opportunities. These funds help make the full RISD experience accessible and equitable to students from all income levels.
Why are the prints on eBay?
The sale is in partnership with eBay for Charity and is managed and fulfilled by MatchFire, a cause-based charity auction and sales group.
Who is MatchFire?
Matchfire Auctions, a division of Matchfire, is the online charity auctions group working exclusively with eBay. Together they have raised over $80 million for non-profits.
When is the next RISD Limited Editions sale?
More information coming soon.
How were the artists selected?
Artists have been recommended by curators in the RISD Museum.
Who can purchase these prints?
The public sale is open to anyone and we encourage everyone in the RISD Community to take part. However, these prints are limited editions so we expect they will only be available for a short time!