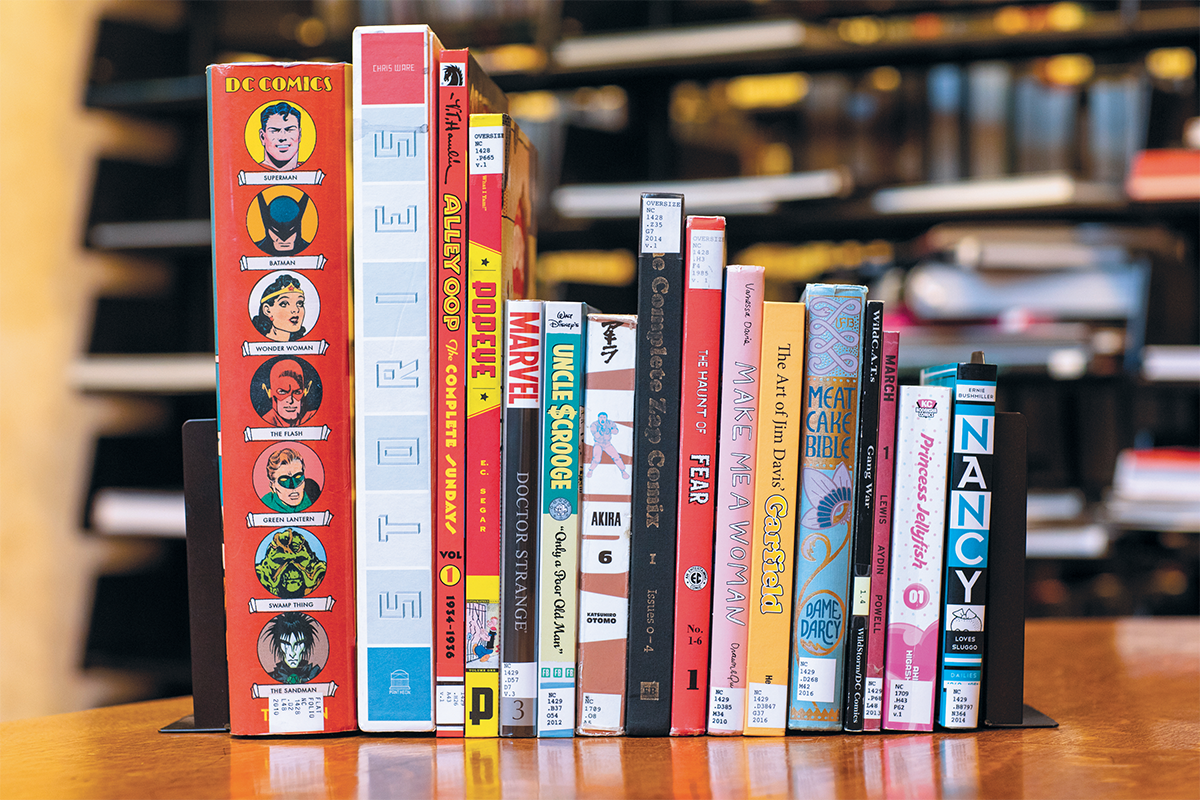 The mysterious pseudonym Rob Muhquay.
When Tim Finn 00 FAV entered RISD as a student, he was surprised to discover that the RISD Library (now the Fleet Library), in operation since 1878, didn't have many comics or graphic novels in its collections, which include more than 155,000 volumes and 320 periodical subscriptions (print) in the areas of architecture, art, design and photography.
This was an era, Finn notes, "when you'd go to a bookstore and there'd be Garfield collections and Maus in the humor section because bookstores didn't know what to do with graphic novels. Maybe Maus was in Judaica or Garfield would be in the kids' section.
"I don't think I realistically expected there to be a thousand graphic novels in the RISD library, but I was so dismayed that there were fifteen," he added. "RISD has an illustration department, and comics are this great American art form," he remembered thinking.
Finn dates his love of the genre to the childhood experience of watching all available G.I. Joe TV episodes and then discovering more stories available in comic form. He began drawing comics in the fifth grade, and has self-published his own, including recent works Jet Brick and the Half-Chaste Date and Gore Squares.
"Comics can be grand and mythic or simple and intensely personal, and hundreds of pages or less than one. They can have detailed and ornate artwork, or stick figures. You don't need a printing press, a camera, or a computer to make them, just scrap paper and a pencil or pen. I find that range and that accessibility to be wonderful," Finn said.
Finn decided that the library's dearth of comics was a situation he could remedy. He asked then library director Carol Terry if he could donate ten to twenty of the "most important graphic novels," he said. She agreed and he did, using the pseudonym Rob Muhquay to conceal his generosity from his classmates.
"After I donated those first ten or twenty, I thought I could very quickly double that list, because it's not really the twenty most important—it's the forty most important," he said. So beginning as an undergraduate student and continuing for years afterward, Finn, who has owned Hub Comics in Somerville, Massachusetts, since 2011, would ship a box to the library every few months, switching to his own name after he graduated. By the library's own count, he has sent 188 shipments to his alma mater.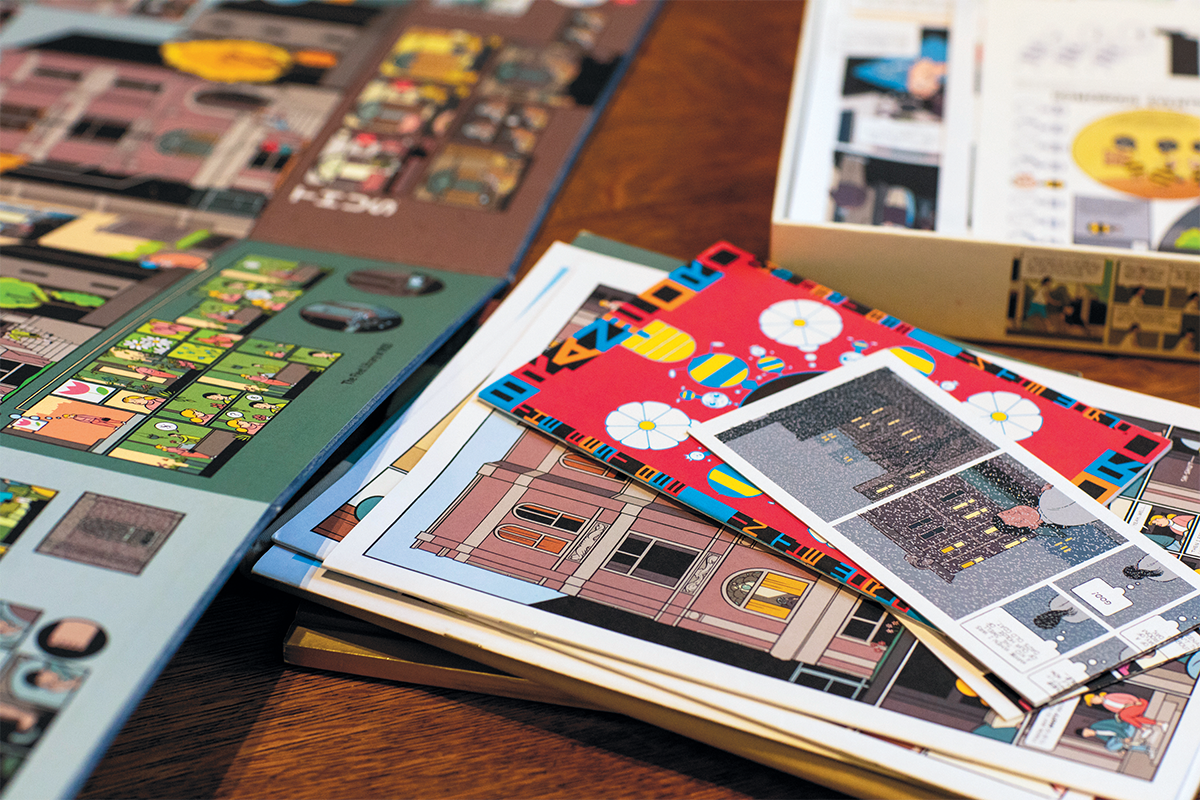 "It was nice knowing that they weren't going to get immediately put in storage or sold at a fundraiser; these really were to build up the collection," Finn said. Indeed, Finn's years of generosity have made comics "a collecting strength in our library," said Dean of Libraries Margot McIlwain Nishimura.
"We have 421 titles that were gifts of Rob Muhquay and 1,170 from Tim. Altogether, that's well over one percent of all the library's holdings," Nishimura said. (Because the original gifts were processed under the pseudonym, the donor names are still listed separately.) "In terms of the profound and prolific impact of a single donor, there's nothing else like it in our circulating collection."
A third of the fifty most-checked-out items in the collection are Tim Finn donations, Nishimura added. "That's a really clear illustration of the incredible impact," she said.
With a foundational comics, graphic novels and history of comics collection in place thanks to Finn, the library has been able to attract gifts from other donors. Architect Christopher Scholz P15, whose son attended RISD, recently donated a collection of French comics to Fleet Library. Journalist and hip-hop collector Bill Adler donated his extensive underground collection—an adults-only version of the genre—to the library in 2021 after receiving a drawing by a former staff member as a holiday gift from his daughter.
"The archive is so broad and it goes back so far," Adler said of the library's holdings as he made his own donation at the time. "I'm thrilled to make a contribution. The idea that folks I don't even know will find joy and use in it is cool as hell."
Finn's donations—which built the "archive" Adler mentioned—include hardcover volumes from the Franco-Belgian comics tradition, a decision he originally made because European comics are usually published in hardcover collections, which make them more durable for circulation. Comics printed in the United States as bound hardbacks started surfacing only in the late 1980s.
The European collection benefits RISD students, says history of illustration professor Jaleen Grove, because it gives them access to comics with a history and a publishing model different from the one most comics-loving Americans grew up binging.
The U.S. style of comics developed around an assembly line model, where large publishers divide up production jobs among many different artists and writers and then publish paperback single-issue tales. European comics tend to be published as entire books through a close collaboration between a stellar writer and a stellar artist, as a team, more like a graphic novel, Grove explained.
"Students get some examples of brilliant art and storytelling because the collection that was donated has some of the better-known artists in the canon of the Franco-Belgian tradition," Grove said. Some examples include Rocco Vargas, Blacksad, Asterix, and a three-book set on Tintin and the art of its creator, Hergé.
But Finn has also donated collections of serialized American comics, like the first decade of Amazing Spider-Man and a popular 1990s Batman miniseries in book form. While many students have read individual issues of these popular series, Finn made available the mainstream American works so that students can access dozens of books collecting stories of these superheroes across a half century or more. And as "alternative" and comics-as-literature graphic novels have proliferated, culturally topical and award-winning works like Chris Ware's Jimmy Corrigan and Alison Bechdel's Fun Home have joined the collection as well, plus there is a small but growing selection of manga.
"I want to thank Tim for putting his collection forward and knowing that teaching examples are really necessary for RISD and our students," Grove said, noting that the act of donating comics, from whatever tradition, is rare.
"There's not many people who are willing to part with their comics—ever. They're going to get buried with them.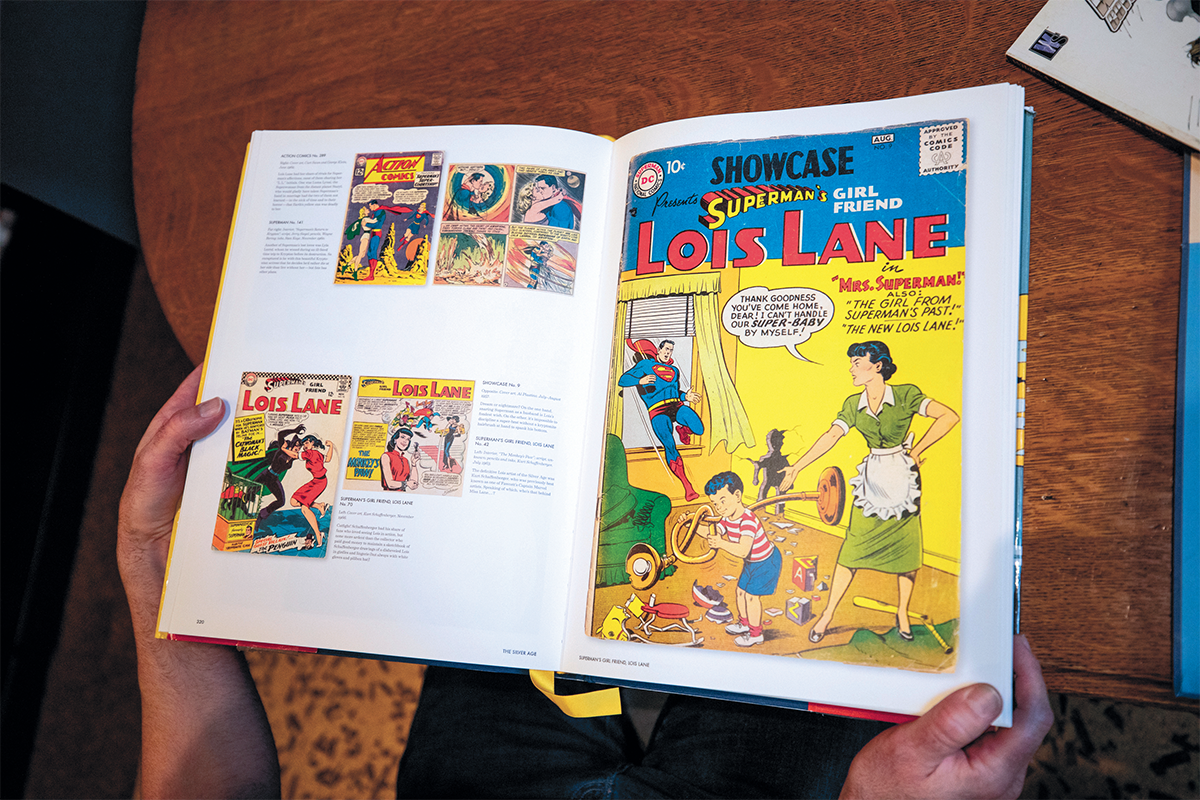 ---
Words by Kira Goldenberg
Photos by Jo Sittenfeld MFA PH 08