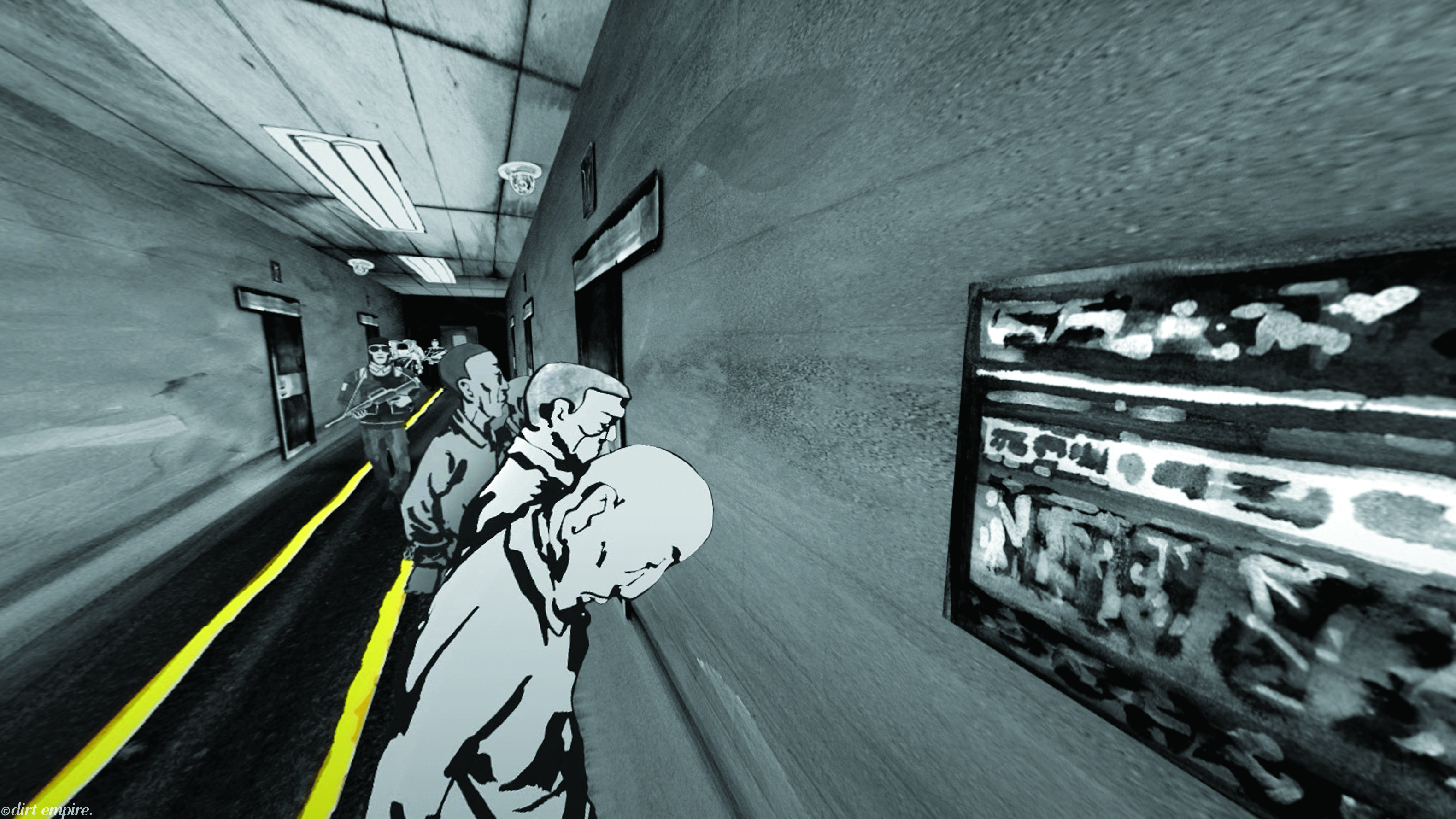 RISD alumni win for New Yorker VR documentary.
Among this year's Peabody Award honorees were Nicholas Rubin 01 FAV and Oliver Carr 20 FAV, who worked on the virtual reality documentary and interactive feature Reeducated for The New Yorker. Rubin was a producer, lead animator and technical supervisor for the documentary. Carr served as assistant animator for the interactive piece.
Reeducated uses first-person accounts, illustration, and traditional and digital animation to take viewers inside the secret world of one of the "reeducation" camps in Xinjiang, China, where Uyghurs and other minorities are being arbitrarily and brutally detained. 
Nicholas Rubin's company, Dirt Empire—whose previous work has included designing projection experiences for Beyoncé and the United Nations and other live events—collaborated with a team of visual effects artists to bring the project into stereoscopic virtual reality over the course of a year. The austere tone of the black-and-white film, which has the feel of a graphic novel, was set by Matt Huynh's hand-painted illustrations, which Rubin and his team turned into immersive virtual-reality panoramic environments. The process was painstaking. 
"It's one of the most difficult projects I've ever worked on," says Rubin, who wanted the film to look "as analog as humanly possible," despite the highly technical animation work involved. 
The project was also challenging, he says, "because we were communicating real, tragic things that are still happening to people and we wanted to do it respectfully, with accuracy."
Part of the team made an extra trip to Kazakhstan to share Huynh's drawings with the three former detainees featured in the film and to get more details—the exact placement of the bunks, the size of the classroom, what the window looked out on, who was in the room, what their meals consisted of.
Reeducated premiered at South by Southwest (SXSW), where it took home a special jury recognition prize for immersive journalism, and has since screened at the Venice Film Festival and dozens of other festivals around the world, as well as winning an Emmy Award in 2022. 
---
Image: Still from Reeducated. Photo courtesy of Nicholas Rubin