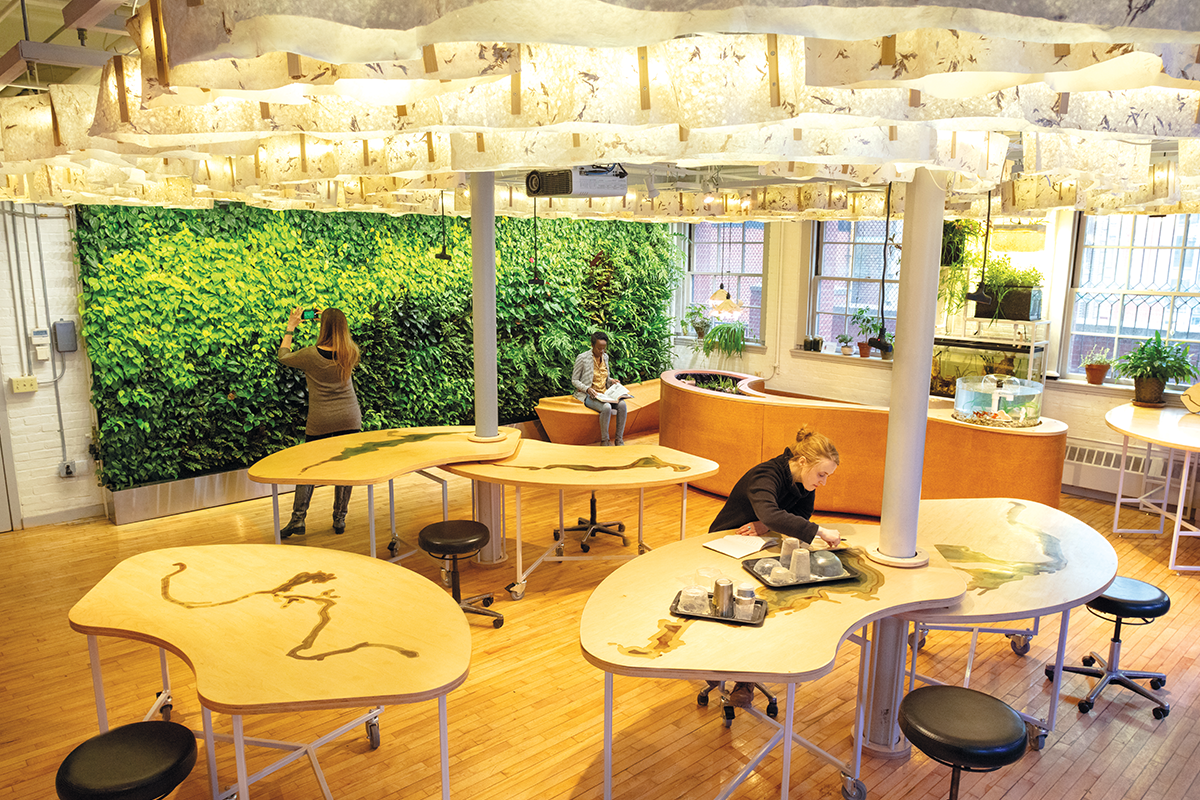 Students draw on nature to design a more sustainable world.
Jen Bissonnette likes to remind visitors to RISD's Edna W. Lawrence Nature Lab that biomimicry—taking cues from nature to improve product design—is nothing new. Pointing to a kingfisher perched in a cabinet high up one wall of the Waterman Street space, she notes how Japanese engineers redesigned the front end of the bullet train to mimic the shape of the bird's beak, making it more aerodynamic. 
Increasingly, issues around sustainability are driving the mission and work of the lab. Bissonnette, an ecologist and marine scientist who is the lab's interim director, wants RISD students to ponder what it means to "not just be inspired by nature but to understand how nature functions and make our work dovetail intentionally with that."
Everything about the design of the student-built Biodesign Makerspace—from the certified-wood benches to the handmade-paper light shades and living plant wall—is focused on sustainability. Table-top inlays depict the Narragansett Bay's waterways, while saltwater tanks house aquatic species found in local bays and canals. Two aquaponic systems grow lettuce to feed the Nature Lab's living creatures, including the turtle that lives upstairs.
As well as learning about biosystems such as aquaponics, students visit the lab to make biomaterials—kombucha leather or mushroom foam, for example—that are composed of natural substances and are biodegradable. 
Students taking part in the Hyundai partnership are looking at how scientifically informed design practices—from biomimicry and bioacoustics to innovative new ways of harnessing wind power—can enhance mobility technologically and ecologically. 
---
In 2023, the Metcalf family established the Houghton P. Metcalf, Jr. (HD 91) Director of the Edna W. Lawrence Nature Lab and the Houghton P. Metcalf, Jr. (HD 91) Innovation Fund. The search for the new director was launched in August. The Innovation Fund will support grants to faculty and students engaged in research using the Nature Lab, equipment for the lab, and for student experiences. The endowment will provide the lab the tools to create hands-on learning opportunities and experiences for students and faculty while ensuring the lab has a permanent source of dedicated funding.
Image: The Biodesign Makerspace at the Nature Lab. Photo courtesy of the Nature Lab