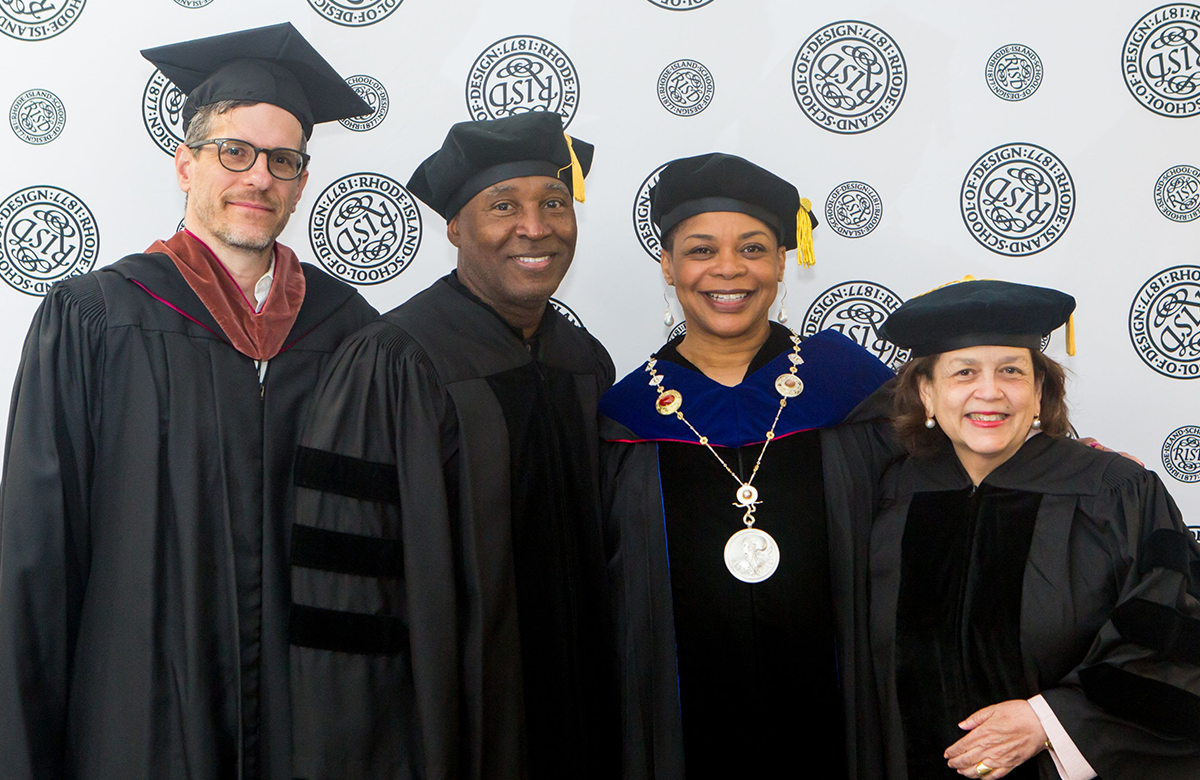 RISD Honorary Degree Recipients
The Honorary Doctorate of Fine Arts degree is the highest academic honor awarded by the Rhode Island School of Design. Recipients join a roster of extraordinary individuals who inspire and sustain our learning community and collectively represent RISD's leadership in the arts.
Criteria for nominees include outstanding contributions to and/or leadership in the fields of visual art and design; outstanding contributions in scholarly advancement in the fields of visual art and design; or other significant, meritorious achievements that reflect the core values and standards of the institution.
2022 RISD Honorary Degree Recipients
Cheryl D. Miller | honorary degree & Commencement speaker
Graphic designer, educator and author Cheryl D. Miller aims to end the marginalization of BIPOC designers through her civil rights activism, industry exposé trade writing, rigorous research and archival vision. A nationally recognized advocate for equity and inclusion in graphic design and founder of the NYC social impact design firm Cheryl D. Miller Design, Inc., she currently serves as distinguished senior lecturer in design at the University of Texas–Austin (where she was the 2021 E.W. Doty fellow) and adjunct professor at Howard University.
In 2021 Miller was an AIGA Medalist "Expanding Access," a Cooper Hewitt "Design Visionary" awardee and an Honorary IBM Design Scholar. She is a member of the Board of Trustees of Vermont College of Fine Arts and the President's Global Advisory Board of Maryland Institute College of Art.
Miller earned a BFA in Graphic Design from Maryland Institute College of Art, an MS in Communications Design from Pratt Institute, an MDiv from Union Theological Seminary and an honorary degree in Humane Letters from Vermont College of Fine Arts. Her essays appear in PRINT and Communication Arts, and her D&I-related professional research is archived in the Cheryl D. Miller Collection at Stanford University.
---
Nick Cave | honorary degree
Artist/educator Nick Cave works in a wide range of mediums, including sculpture, installation, video, sound and performance. His much-lauded Soundsuits, sculptural forms based on the scale of his body, were created in response to the police beating of Rodney King in 1991 and serve as a visual embodiment of both brutality and empowerment.
Throughout his practice, Cave has created spaces of memorial by combining found historical objects with contemporary dialogues on gun violence, death and catastrophic loss. His work reminds us that while there may be despair, there remains space for hope and renewal. From dismembered body parts stem delicate metal flowers, affirming the potential for new growth.
Cave encourages a profound and compassionate analysis of violence and its effects as the path towards an ultimate metamorphosis. His works ask how we may reposition ourselves to recognize societal issues such as global warming, racism and gun violence, come together on a global scale, instigate change and—ultimately—heal.
---
2021 RISD Honorary Degree Recipients
Past Honorary Degree Recipients
1976
Mrs. Murray S. Danforth, Rudolf Arnheim, Roman Vishniac

1977
Bill Blass, Lloyd Goodrich, Amory Houghton

1978
Richard Brown Baker, Joan Adams Mondale, Alfred C. Parker, Aileen Vanderbilt Webb

1979
Harry M. Callahan, James B. Houston, Selma S. Pilavin Robinson, Jack Tworkov

1980
Carolyn B. Haffenreffer 62 LA, Alexander Liberman, Robert Motherwell

1981
Gyorgy Kepes, Amy-Bess Miller, Aaron Siskind, Joshua C. Taylor

1982
Antoinette Downing, Jack Lenor Larsen, Perry T. Rathbone

1983
Beatrice Chace, Dorothy C. Miller, James J. Sweeney, Bradbury Thompson, Edward Larrabee Barnes

1984
J. Carter Brown, Murrary S. Danforth, Jr., Jim Dine, Tage Frid, Sheila Hicks

1985
Robert Arneson, John Benson 61 SC, Roy DeCarava

1986
Dale Chihuly MFA 68 CR, Bayard Ewing, Marisol

1987
Gilbert A. Franklin 45 SC, Frank O. Gehry, Albert and David Maysles

1988
John Prip, Yvonne Rainer, Massimo Vignelli

1989
Lalo Schifrin, Cynthia Schira 56 TX, Michael P. Metcalf

1990
Anni Albers, Michael Graves 88 BArch, Louis Malle, Dorothy Hood 40 PT

1991
Liz Claiborne, Jim Henson, John Brinckerhoff, Claiborne Pell, George Morrison

1992
Magdalena Abakanowicz, Sam Maloof, Maurice Sendak, Geoffrey Beene

1993
Daphne and Peter Farago 52 TX, Elizabeth Murray 62 AP, Ettore Sottsass, William Jordy

1994
Faith Ringgold, Harvey Stein, June Wayne

1995
Paula Cooper, Carlos Gonzalez Lobo, John Kennedy Marshall, Charlotte Perriand, John Sculley BArch 61

1996
Helen Frankenthaler, Harvey K. Littleton, Houghton P. Metcalf, Jr.

1997
Chuck Close, Peter Geisser, Vartan Gregorian, Virginia Lynch, Antonio Ratti

1998
Malcolm Grear, Hugh Hardy, Se-ok Suh

1999
Rosalind E. Krauss, Eugene Lee 94 PT, Rachel Lambert Mellon, Marc Harrison

2000
Jaroslava Brychtova, Stanislav Libensky, Sidney F. Greenwald, Paula Rego

2001
Gae Aulenti, Louis A. Fazzano, David Hammons, Hermann Junger

2002
Szymon Bojko, Henry Louis Gates, Jr., Ann Hamilton, Pauline Trigere

2003
Mihaly Csikszentmihalyi, Dave Hickory, Jenny Holzer MFA 77 PT, Jens Risom

2004
Nathan Lyons, David Macaulay BArch 69, Esther Elise (Estise) Metcalf Mauran

2005
Kurt Anderson, Deborah Berke BArch 77, Zuzana Licko and Rudy VanderLans, Yuir Norstein, Eva Zeisel

2006
Jane Chace Carroll, Mel Chin, John O. C. McCrillis 39 GD, Lari Pittman, Kara Walker MFA 94 PT/PR

2007
Richard Leacock, Seth MacFarlane 95 FAV, Gore Vidal

2008
Laurie Anderson, Yo-Yo Ma, Edward Ruscha, Roberta Smith 71 GD

2009
Caterina Fake, Jonathan Ive, Roger Mandle, Betty Woodman, Sir Ken Robinson

2010
Seymour Chwast, Paula Granoff, Art Spiegelman, Ruth J. Simmons

2011
Arnold Berleant, Bill Moggridge, Mierle Laderman Ukeles

2012
Studio Ghibli, Wang Shu, Rebecca Solnit

2013
Karl Gerstner, Maira Kalman, Bill McKibben

2014
Bruce Mau, Todd Oldham, Jean Kennedy Smith 54 TX

2015
John Waters, Adam Gopnik, Jeremiah Harrison, Christopher Frantz 74 PT, Martina Weymouth 74 PT

2016
Hilton Als, Martha Rosler, Esther Wojcicki

2017
Brian Chesky 04 ID, Joe Gebbia 05 GD/ID, Christina Kim, Kehinde Wiley

2018
Cai Guo-Qiang, Annie Leibovitz
2019
Chimamanda Ngozi Adichie, Theaster Gates, Bryan Stevenson, Nadya Tolokonnikova
---
Header image: From left to right: Brian Selznick 88 IL, Nick Cave 22 HD, President Crystal Williams, Cheryl Miller 22 HD Photo credit: Matthew Watson