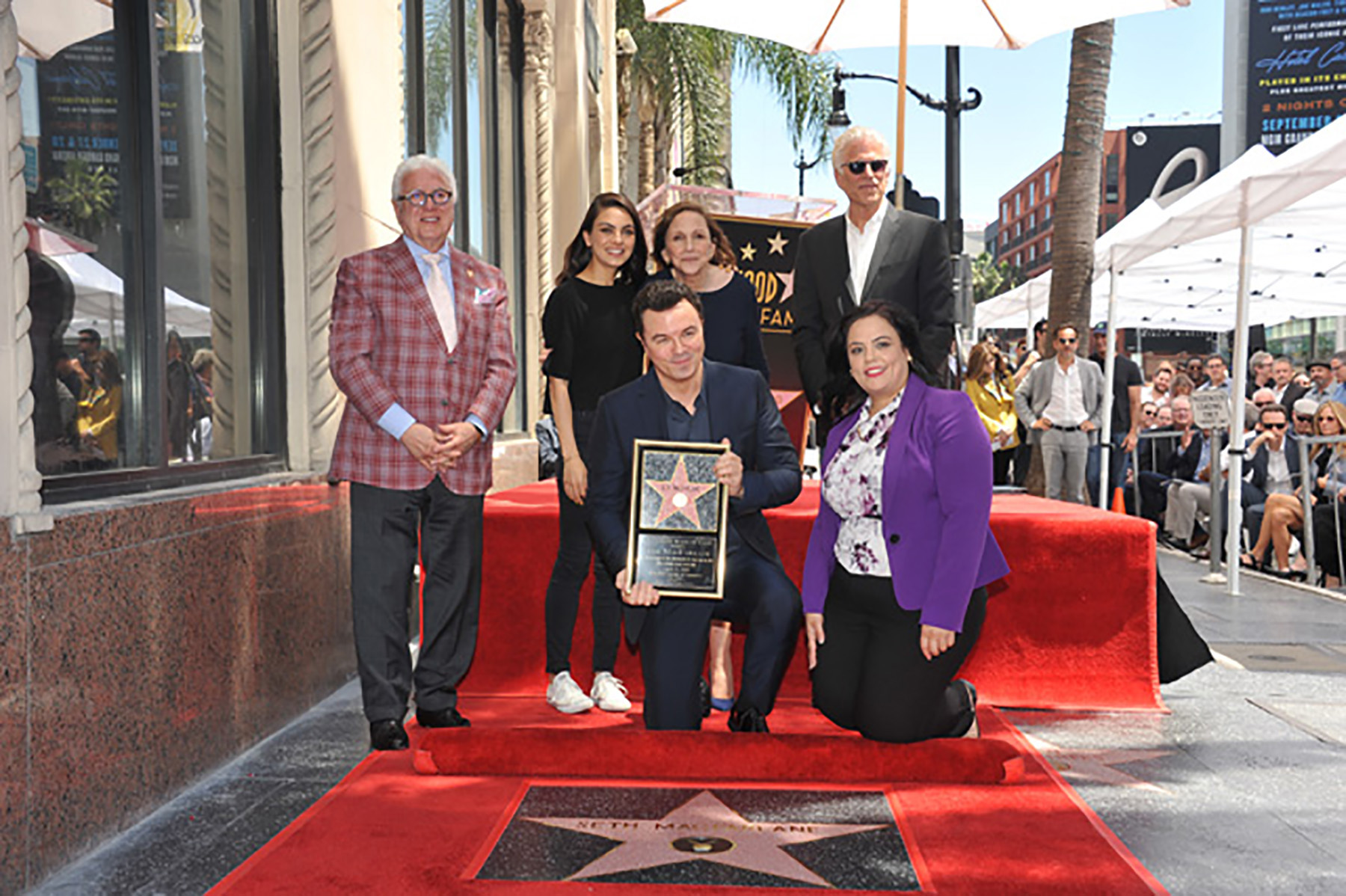 Prestigious National and International Awards
RISD Alumni are being recognized with honors and awards across the globe.
Alumni have been winners of MacArthur "Genius" Awards, Caldecott Medals, Emmys and Oscars, National Design Awards and more.
Selected awards and recipients
Academy of Motion Picture Arts and Sciences
1991, 2004, 2011 Robert B. Richardson 79 FAV, Academy Award in Cinematography
American Academy of Arts and Letters
2002 Nader Tehrani BArch 86, Arts and Letters Awards
2020 Nader Tehrani BArch 86, Arnold W. Brunner Memorial Prize
Caldecott Honor Award
2001 Christopher H. Bing 83 IL
1998, 2000, 2014 David R. Wiesner 78 IL P 15
1968 Edward R. Emberley EFS 60*
2019 Grace P. Lin 96 IL
1996, 2006 Marjorie A. Priceman 81 IL
2019 Ogechukwu I. Mora 16 IL
Caldecott Medal
2008 Brian P. Selznick 88 IL
1982, 1986 Chris Van Allsburg MFA 75 SC
1991 David A. Macaulay BArch 69 HD 04
1992, 2002, 2007 David R. Wiesner 78 IL P 15
1967 Edward R. Emberley EFS 60*
Cannes Film Festival
2003 Gus G. Van Sant 75 FAV, Best Director and Palme D'Or
Creative Capital Award
2020 Jarrett C. Mellenbruch 93 PT
2005 Patrick H. Mahaffy 96 FAV
Fulbright Study / Research Grants
RISD is one of the highest-ranking producers of Fulbright Fellows in the Specialized Institution Category. A full list of RISD Fulbright recipients is available through the RISD Career Center.
Guggenheim Fellowship
2004 Arlene J. Shechet MFA 78 CR
2005 Bruce Chao 73 SC/MFA 75 GL
2011 Janine M. Antoni MFA 89 SC
2011 John M. Willis MFA 86 PH
2006 Patrick H. Mahaffy 96 FAV
Guggenheim Museum's First Annual Art Award
2009 Ryan B. Trecartin 04 FAV
Harvard Radcliffe Institute Fellowship
2016-2017 Aisha K. Burnes 98 GD, David and Robert Logie Fellow
2006-2007 Anna Haber 98 PT, David and Roberta Logie Fellowship
2000-2001 Colleen M. Kiely 84 PT, Bunting Program
2016-2017 Lamia Joreige 95 PT, Rita E. Hauser Fellow
2013-2014 Tammy M. Dudman 96 FAV, Radcliffe-Harvard Film Study Center
Heinz Award
2021 Tanya Aguiniga MFA 05 FD
Hollywood Walk of Fame
2019 Seth W. MacFarlane 95 FAV HD 07
MacArthur "Genius" Awards
2006 Anna Haber 98 PT
2006 David A. Macaulay BArch 69 HD 04
2004 James F. Carpenter 72 IL
1998 Janine M. Antoni MFA 89 SC
2006 Josiah G. McElheny 89 GL
2005 Julie Mehretu MFA 97 PT/PR
1997 Kara E. Walker MFA 94 PT/PR HD 06
2012 Natalia Almada MFA 01 PH
2015 Nicole S. Eisenman 87 PT
2006 Shahzia Sikander MFA 95 PT/PR
2022 Tavares Strachan 03 GL
National Academy of Design
2022 Laurie Anderson HD 08; Deborah Berke BArch 77 HD 05; Huma Bhabha 85 PR; Nicole Eisenman 87 PT
National Academy of Television Arts & Sciences
2005, 2007 Geoffrey C. Adams 83 FAV, Daytime Emmy
2010 Charles A. Ragins 91 IL, Primetime Emmy
2004, 2005, 2011 Scott J. Vanzo 91 AR, Primetime Emmy
2000, 2002 Seth W. MacFarlane 95 FAV HD 07, Primetime Emmy
2022  Nicholas Rubin 01 FAV and Oliver Carr 20 FAV as part of the team of "Reeducated" for The New Yorker, Outstanding Interactive Media, Annual News and Documentary Emmy Awards
National Science Foundation (NSF) Grant
2020 Ama Ford D. Rogan 88 PT
Venice Architecture Biennale
2010 Do Ho Suh 94 PT
2010 Eulho Suh BArch 91
2010 Kyung En Kim MFA 97 SC
Venice Biennale
2003 Andrea M. Zittel MFA 90 SC
2009 Dale P. Chihuly MFA 68 CR HD 86
2001 Do Ho Suh 94 PT
2012 Elizabeth B. Deschenes 88 PH
2005, 2007 Jenny Holzer MFA 77 PT HD 03
2017 Jessi E. Reaves 10 PT
2017 Jordan M. Wolfson 03 SC
2019 Judith Unger Murphy 69 SC
2019 Julie Mehretu MFA 97 PT/PR
2007 Kara E. Walker MFA 94 PT/PR HD 06
2019 Korakrit Arunanondchai 09 PR
2014 Laura A. Owens 92 PT
2017 Leigh A. Ledare 06 PH
2019 Martine A. Gutierrez 12 PR
2019 Nicole S. Eisenman 87 PT
2003 Roni Horn 75 SC
2014 Sara G. Rafferty 00 PH
2005 Shahzia Sikander MFA 95 PT/PR
2013, 2019 Tavares H. Strachan 03 GL
Whitney Biennial
2004 Andrea M. Zittel MFA 90 SC
2002 Ara R. Peterson 97 FAV
2006 Daniel H. Colen 01 PT
2017 Deana M. Lawson MFA 04 PH
2010 Huma F. Bhabha 85 PR
2002 James M. Drain 98 SC
2006 Jordan M. Wolfson 03 SC
2004 Julie Mehretu MFA 97 PT/PR
2019 Korakrit Arunanondchai 09 PR
2004 Laura A. Owens 92 PT
2004 Lecia A. Dole-Recio 94 PT
2002 Leif A. Goldberg 97 FAV
2004 Liisa J. Roberts 90 SC
2006 Michael A. Snow MFA 89 PH
2008 Natalia Almada MFA 01 PH
2012, 2019 Nicole S. Eisenman 87 PT
2004 Roni Horn 75 SC
2006 Ryan B. Trecartin 04 FAV
1997 Shahzia Sikander MFA 95 PT/PR
2019 Shara L. Hughes 04 PT
2004 W. Spencer Finch MFA 89 SC