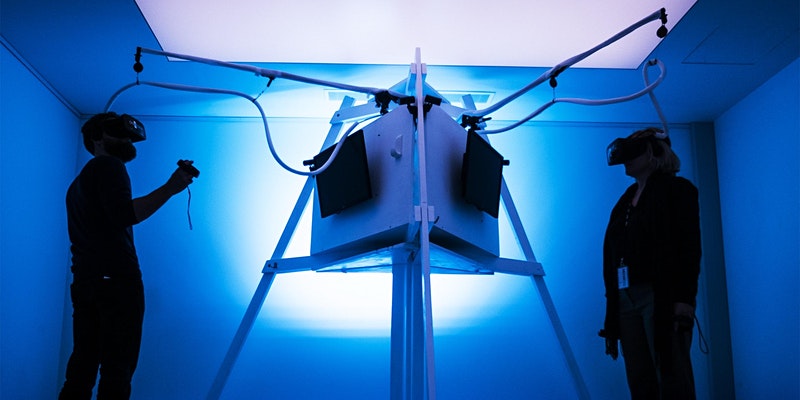 RISD Alumni in VR, AR and Immersive Worlds Industry Conversation
RISD Alumni in VR, AR, and Immersive Worlds Industry Conversation.
About this Event:
Hear how RISD alumni pursued their own career paths in different aspects of VR, AR and themed entertainment, what the industries are like now and considerations for establishing a career in the field.
Speakers include: Zach Deocadiz 17 GD, Josh Inch 16 GD, Jesse Lehrhoff 03 FAV, and Sara Thacher 04 GL.
Registrants will be emailed a Zoom link prior to the event.
Co-hosted by the RISD Alumni Club of Los Angeles. For more information, go to alumni.risd.edu.
About the Speakers:
Originally from Hong Kong and the Philippines, Zach Deocadiz currently lives in Los Angeles with his husband and 3 cats. He works as a full time designer at Within, creating AR and VR products such as Wonderscope, an AR storytelling app for kids, and Supernatural, a VR fitness app on the Oculus Quest. He previously contracted with Facebook/Oculus, working on Oculus Media Studio. He also worked on VR projects Lambchild Superstar, which premiered at Tribeca 2019, and designed the exhibition space at Sundance New Frontiers 2018 for Chorus. He graduated from RISD in 2017 with a BFA in Graphic Design.
Josh Inch 16 GD currently lives on Orcas Island, WA (previously to the pandemic Seattle, WA) and works full time as a Product Designer at Oculus. His journey to ARVR was not a straightforward one involving boat mechanics, branding design internships in Zurich, Switzerland, a web design internship in Portugal, an internship at Google working on Android, to working full time as a Cartographer at Uber Technologies on navigation map experience. Ultimately, he ended up at Facebook Inc. Where he has been for the past 3 years designing internet browsing experiences for devices such as Oculus Quest, Oculus Rift, and Oculus Go.
Jesse Lehrhoff 03 FAV is a Producer specializing in Post Production. His experience ranges from Virtual Reality, Augmented Reality, Commercials, Music Videos, and Branded Content. He has been working in Virtual Reality & Augmented reality for the last 5 years. Prior to this, he worked in production offices, post production offices, and on set. His credits include: "Chained: A Victorian Nightmare" (VR) & "Sessions: Legion Mixed Reality Experience" (AR), both location based experimental projects involving a combination of VR or AR, as well as immersive theater and live actors. Other credits include: "Ghost In The Shell" the VR experience based on the 2017 Paramount Pictures movie starring Scarlett Johansson and "Nightflyers: VR" based on the SyFy show of the same name. Additionally, he has post produced Music Videos for artists including Ariana Grande, The Weeknd, Prince, Nicki Minaj, Lil Wayne, Eminem, Jay-Z, Drake, Snoop Dogg, Ne-Yo, Alicia Keys, Estelle, & Mary J Blige.
Sara Thacher 04 GL is a creative director and senior Imagineer for Walt Disney Imagineering Research & Development. In this role she works with engineers, computer scientists, and inventors to discover and demonstrate how new technology can become revolutionary new guest experiences. Project highlights include the interactive subscription box experience, The Haunted Mansion: Ghost Post, and an alternate reality experience, The Optimist. She's currently applying this experience and expertise to create immersive Star Wars-themed adventures.